As part of a project to to shed light on how domestic violence is still treated differently from other violent crimes, we requested domestic violence response policies for state police departments in all 50 states. Today, we're looking at North Dakota.
In North Dakota, officers can wait up to 12 hours after after establishing probable cause that a person has assaulted his or her partner, and if that 12 hours passes without an arrest being made, an officer will need to seek an arrest warrant.
A warrantless arrest may only be made if the officer observes a recent injury to the alleged victim, but other than that there is little in the policy to guide the officer while determining if there is probable cause to make an arrest.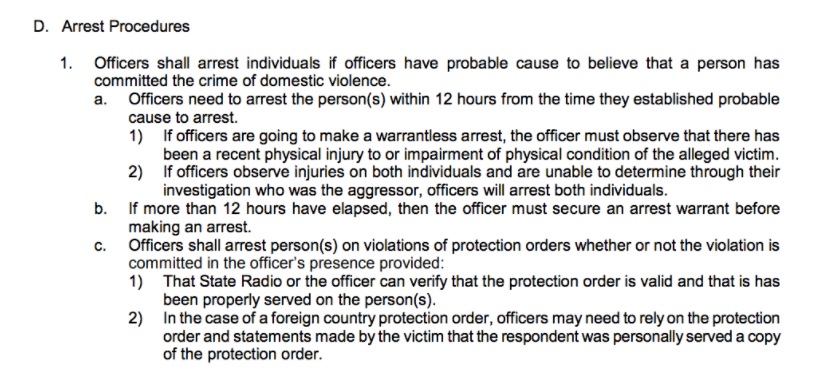 Officers are also directed in the policy to determine who the "aggressor" in the situation was if there are injuries to both parties, as opposed to the "primary aggressor," as is the rule in other states, such as New Jersey. A victim of domestic violence is likely to have defensive wounds at the very least, and possibly have inflicted injury on the attacker in the course of defending his or herself.
If officers arrest both victim and perpetrator without determining who the primary aggressor was - or at least trying to - the victim will be legally penalized for having had the temerity to try and defend herself. If there are children involved, they might get lucky and have a close relative take them, or they might find themselves in the care of the state.
The "victim services" portion of the policy leaves much to be desired as well.

Everything on this list is optional. Police may "offer" to take the victim someplace safe, they can "try" to mediate the dispute, they can "refer" victims for counseling, and most glaringly, they can "request" that "one of the individuals" leaves the scene until things calm down. This gives police the discretion to kick the victim out of his or her home for the crime of being abused.
So under these policies, victims can be arrested, kicked out of their homes, or even lose their children because they had the misfortune of being abused.
Read the full policy embedded below, or on the request page.
---
Image via Wikimedia Commons