Our request for investigations of sexual assault in Texas correctional facilities since 2013 returned a price tag of $1,132,024.30 from the Department of Criminal Justice (TDCJ), which says there are more than 260,000 pages of responsive documents that would require more than 61,000 hours to process.

These are not individually in-depth files. The Office of the Attorney General ruled that only "basic information" was not exempt from the request.

The names of individuals involved, however, are exempt due to their status as "intimate or embarrassing," an expectation which was noted in the original request.
The TDCJ cited the necessity of a hand-search of approximately 2,000 hard-copy case files as a reason for the high cost of the request, but it is unclear how the "basic information" from 2,000 cases amounts to 260,000 pages.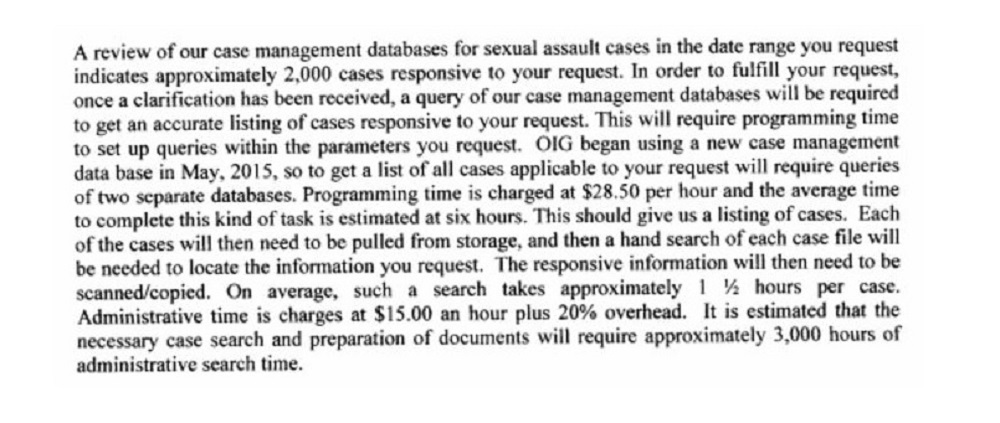 The Office of the Attorney General recommended filing with the Prison Rape Elimination Act offices, who subsequently requested a far more reasonable, though still costly, $551.39 for copies of their division level audits of the Safe Prisons/PREA program since 2016.
Safe Prisons Program Management Office records report that in 2016 alone, the OIG opened 238 sexual assault cases in state-run facilities and another 4 in private prisons.
Read the Safe Prisons report embedded below, or on the request page.
---
Image by Mark via Flickr and licensed under Creative Commons BY 2.0.