In 2011, then-Texas-senator Wendy Davis - of 11 hour filibuster fame - sponsored SB 1636. The bill set guidelines for timely submission and testing of rape kits and uploading DNA profiles to the ones already in CODIS, and earmarked $11 million to begin testing the backlog of rape kits in active cases gathered as far back as 1996.
More recently, Texas became the first state in the nation to enact all of ENDTHEBACKLOG's six pillars of rape kit reform. While this sounds great on paper, and is most certainly a step in the write direction, the hard data is sobering.
Our request for data and policies regarding the collection, maintenance, and testing of backlogged rape kits in Dallas shows that, as of May 2017, more than 1,000 kits still have not been submitted to crime labs. Of those submitted, only 50% have been tested, and just 35% of those tested have been uploaded into CODIS.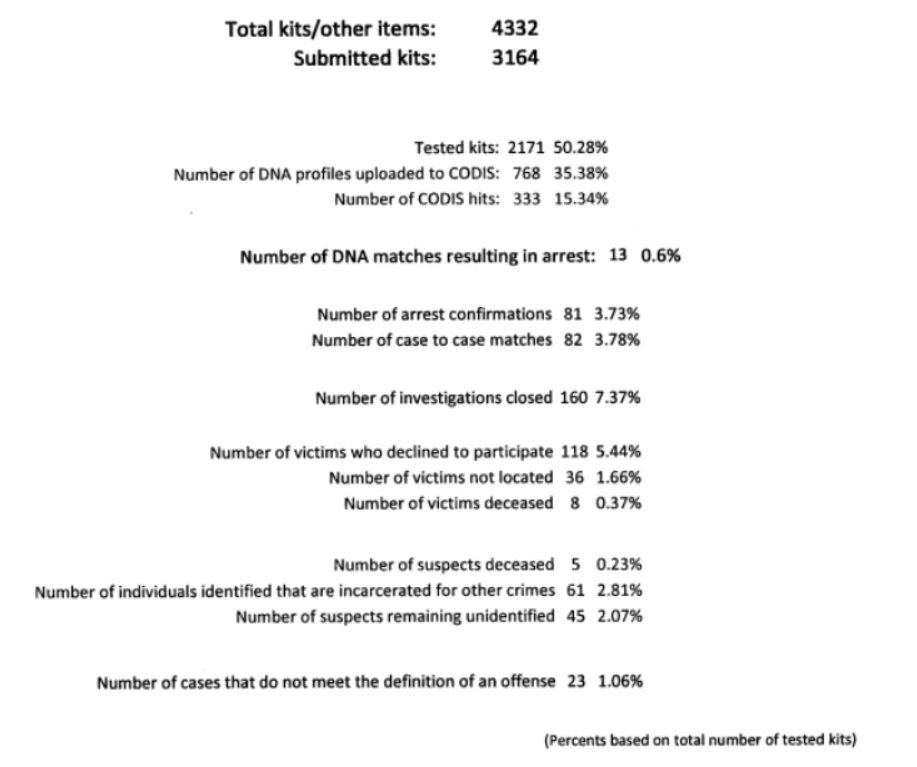 For a city that didn't even have a Sexual Assault Nurse Examiner (SANE) program until 2010 (a program which, according to the Department of Justice, facilitates "a 95 percent increase in successful prosecution of cases"), moving to test more than 2,000 kits in seven years is a feat that should be applauded, but it's important to note that the work here is not done. Our other requests with law enforcement in other areas of Texas haven't shown more headway on the issue - Collin County didn't send us any data, using the excuse that asking for "the number of kits collected and booked into evidence from the period of January 1, 2000 through the date this request is processed" was a question and therefore outside the scope of public records law. The Denton, Texas police department still has not acknowledge our request. The Brazoria County sheriff's office says they have no records regarding the testing of rape kits.
Dallas is an important reminder that, even though reform has been enacted, it's important to follow the data and continue to push for all kits to be tested and uploaded into CODIS.
Read the full records embedded below, or on the request page:
Want to get involved? Add your town to our project via the form below, and we'll submit a request to your local law enforcement.
---
Image via END THE BACKLOG