A couple months ago we received some documents from the Dane County Sheriff's Office regarding their deployment from Wisconsin to North Dakota to participate in suppressing the NoDAPL protests at Standing Rock. We sent a follow up request for emails about Standing Rock, which just came in - albeit with copious redactions.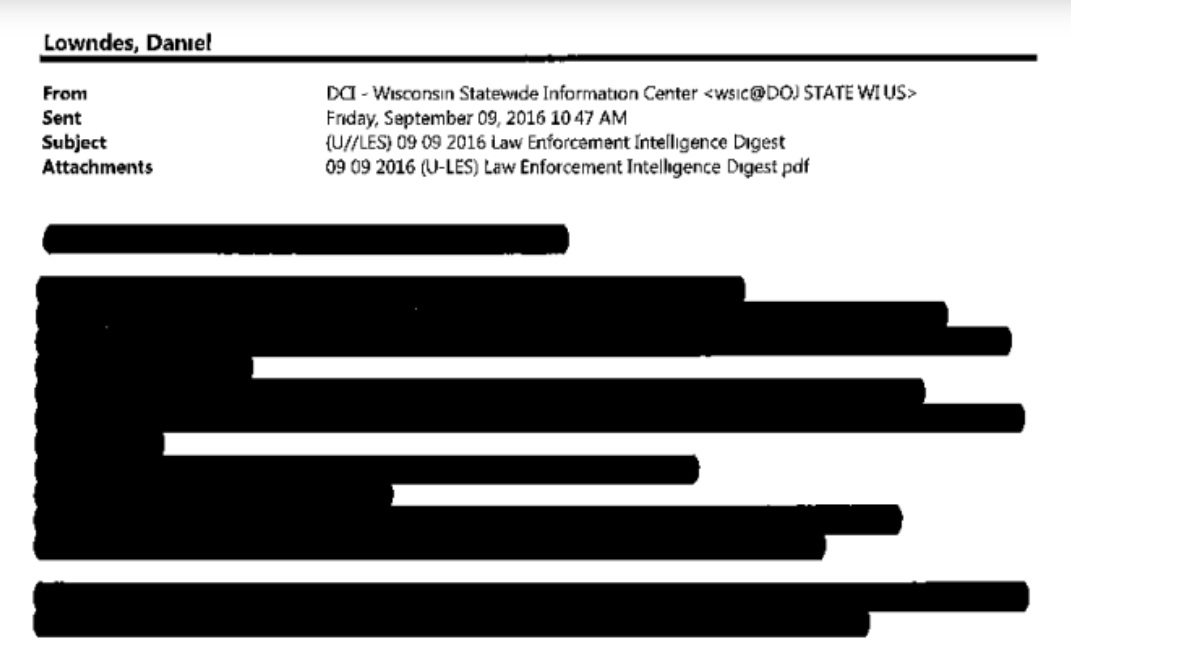 But aside from the bland form swapping, meeting planning, and black boxes, there are also some fascinating emails that Sheriff Dave Mahoney swapped with constituents, the great majority of whom were notably unhappy. Because of this outpouring, Sheriff Mahoney turned his deployment around after just one week, cutting off the remaining two.
One email reads that DCSO is "accessory to state violence" against indigenous people.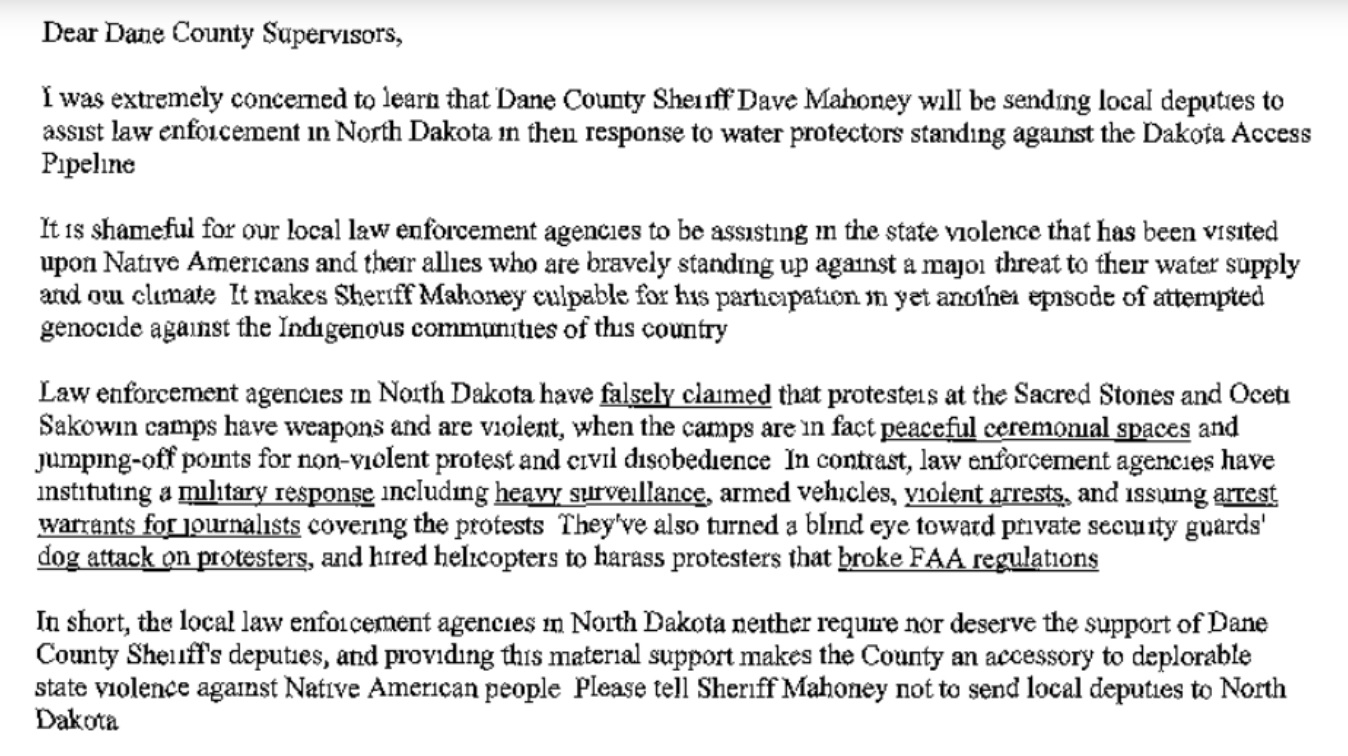 Another strongly insinuates that the difference between how Mahoney handled the protests in 2011 at the Wisconsin State Capitol building over Governor Walker's Wisconsin Budget Repair Bill, and the Standing Rock protests, was because of partisan politics - and the fact that the Standing Rock movement was indigenous.

Sheriff Mahoney had strong words for these constituents in his emails and over the phone when I called him for comment.
In one email Mahoney states that he didn't send his deputies to North Dakota to "benefit the oil industry," or "further oppress" the Standing Rock Reservation, and in a move which differs from most other law enforcement officer's statements, said that he considered the protests peaceful. To another citizen of Dane County, WI he writes that he is "taken aback by some of the supposition and banter." Several times, both over the phone and in the emails Sheriff Mahoney claimed that his goal was to allow for the safety of the protesters to "express freedom of speech and freedom to air grievances."

Over the phone Sheriff Mahoney explained to me that "When the situation in North Dakota began over the pipeline, I had been asked by the National Sheriff's Association and by the Department of Justice to travel to North Dakota to speak to the sheriffs who didn't have much experience with large gatherings." Sheriff Mahoney was exceedingly proud of how his men had handled the 120,000 plus 2011 protests in Madison, to acclaim from the community, and assured me that his deputies did nothing different in North Dakota.
As for a comment about the other agencies from North Dakota and elsewhere, Mahoney was more reticent. He did confirm that the reason Dane County left Morton County early was entirely constituent activism - an example of direct citizen action influencing politics.
Read the full release below, or on the request page.
---
Image via Mike Best's public records request