It turns out that EMAC deployments are not only opportunities for law enforcement to study up on counter-demonstration tactics but are also pretty expensive.
Records received from the Dane County Sheriff's Office in Wisconsin indicate that the daily personnel costs for the 13 deputies that were sent to Morton County, North Dakota came to $82,269, with additional travel costs of $8,373, for a total of $91,166 a day. The deployment was scheduled to last for 22 days, so if we do the math, that is about $2,005,652 that would have been spent by North Dakota taxpayers to dispatch sheriff's deputies from central Wisconsin all the way to southern North Dakota.

In the EMAC agreement itself, $252,832 was the accepted maximum amount to be paid by North Dakota.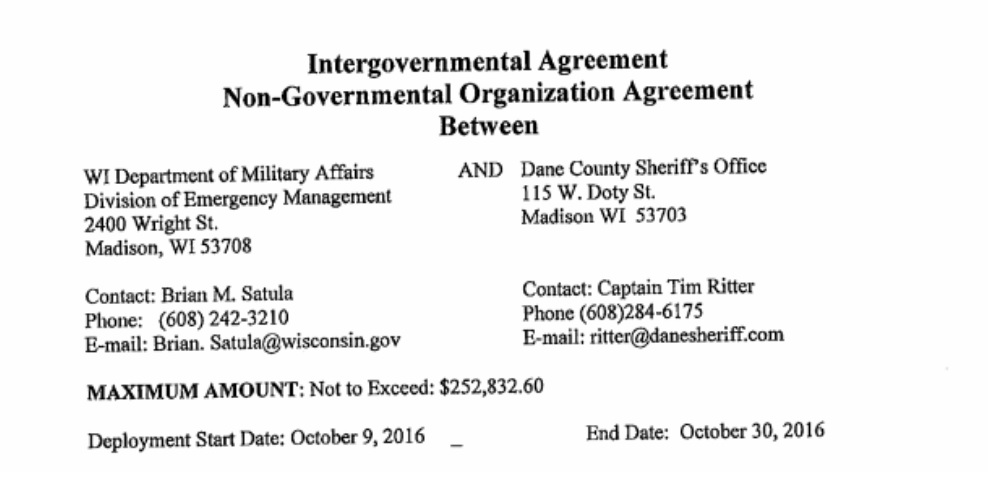 However, the accord also contained the condition, "This amount is to be used as an estimate only and the final amount will be based on actual costs." It appears that the actual costs were substantially higher than anticipated. These figures may have played a large part in Sheriff Dave Mahoney terminating the last two week-long rotations the agreement had called for, pulling out after just eight days.
Even those eight days would have cost North Dakota $729,328, and thousands in overtime pay for the Dane County Sheriff's Office.

Sheriff Mahoney declared the withdrawal was due to issues in his own community that needed attention. However, he also noted that after the first week the EMAC agreement would not pay for the overtime of the deputies back in Dane County filling in. When you see the potential figures, his decision seems more obvious.
While some effects of the EMAC on the Standing Rock demonstration have been covered here and elsewhere, little has been made of how expensive it was for North Dakotans and the states that responded to it. Ultimately, it is up to North Dakotans and residents of the other states that deployed law enforcement, to decide if that is how they want their tax dollars spent: putting down a nonviolent demonstration against an oil pipeline.
We have also sent out similar requests to other states and law enforcement agencies that responded to the EMAC, and will report back on whatever we manage to dig up. Read the full release embedded below, or on the request page.
---
Image via Red Rock Rising Facebook