In southeastern Massachusetts the swamp yankees have supposedly lived side by side with many members of the spirit world, but finding official records of supernatural encounters in the area known as the Bridgewater Triangle can be tough.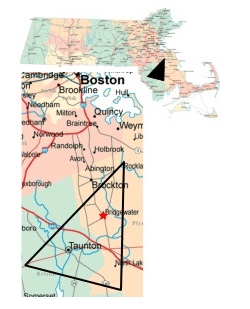 Requests to the numerous police departments in the towns encompassed by the supposed pen of paranormal activity have come up empty so far. We'll update accordingly if anything comes in.
Despite an apparent dearth of official documentation, people have reported UFO sightings, thunderbirds, a redhead hitchhiker on Route 44 in Rehoboth, and ghostly apparitions in the Hockamock Swamp.
Although sightings from the spirit world have been tough to nail down, in the late 1990s police found a series of dead and mutilated cows, some of which had been drained of their blood, and allegedly used in ritualistic killings.
As terrifying as the unknown is, there's a good chance that your neighbors are stranger and scarier than anything your imagination can conjure up.
---
Image by Wikimedia Commons