Decades before Johnny Depp stepped into the role for Black Mass, the real-life James Joseph "Whitey" Bulger, Jr.'s crime organization didn't need the Hollywood treatment to deliver drama.
According to documents requested by MuckRock's Tom Nash, the FBI's file on the Winter Hill Gang focused on intelligence "pertaining to past and current members" of the organization and primarily investigated illegal gambling.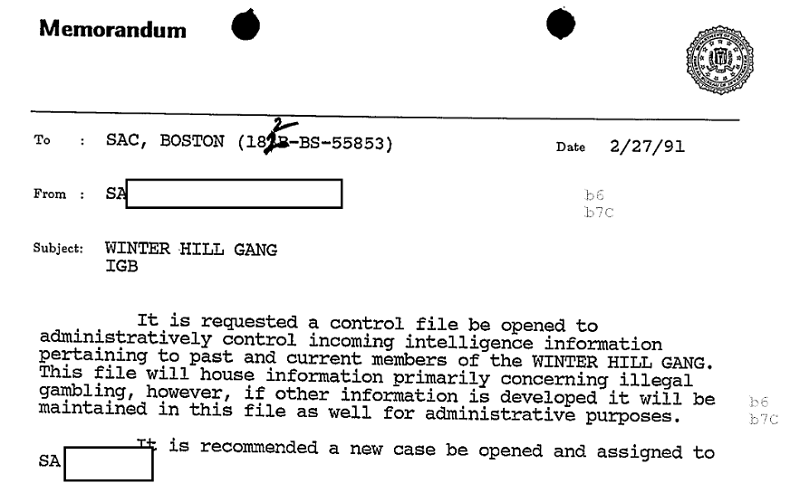 Named for its affiliation with the Winter Hill area of Somerville, Massachusetts, and originally led by James "Buddy" McLean and later Howie Winter, the Winter Hill Gang was "not a formal organization" but more of a "group of criminals, loosely affiliated by ethnic similarity," among a few general traits.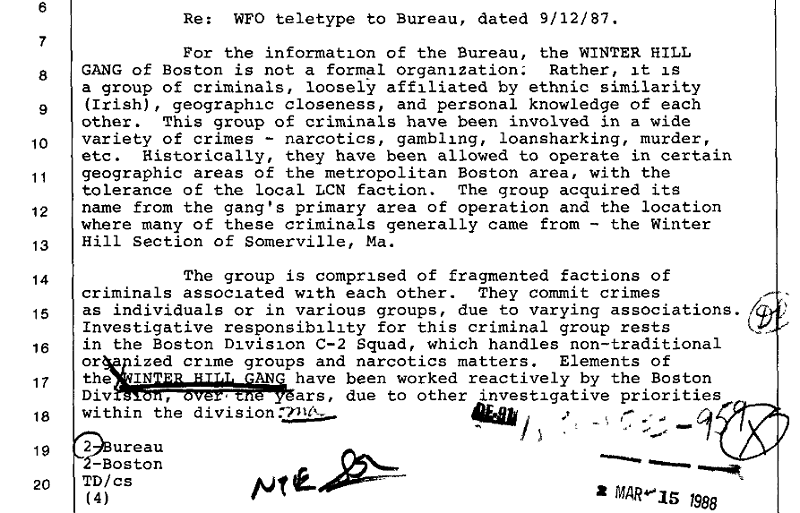 Bulger took over operations in late '70s and relocated the headquarters to the Lancaster Street Garage in Boston.
The files start in the '80s, with a few granted expenditure requests forms to "further penetrate the Winter Hill Gang at Boston."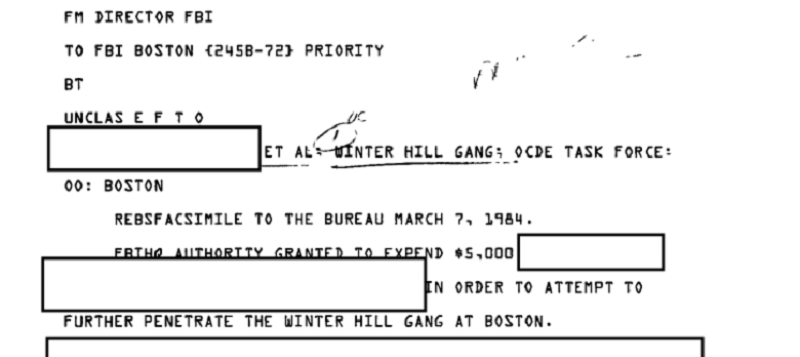 With many of the major players likely still alive, the heavily-redacted documents mostly cover the latter years of WHG in the '90s. This includes intel on the comings and goings of bookies with ties to the organization, investigations into alleged ties to local unions and illegal gambling in and around the city.
In a letter received by the U.S. Attorney's office in Boston, October 23, 1991, an informant reveals the location of an alleged illegal poker room operating at the corner of Locust Street and Dorchester Avenue in Dorchester.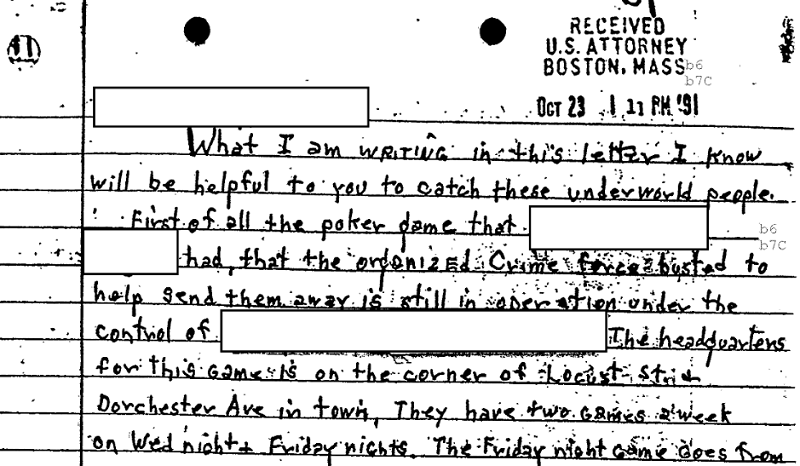 He also recounts the cautionary tale of one man who was forced to sell everything and leave town after dealings with said "underworld people."

A memo dated May 8, 1991, references an informant discussing the whereabouts of an undisclosed "Federal Fugitive" and offers a character analysis of two opposing figures – one "a quiet, unassuming, and bright individual," the other "loud, obnoxious, a conman." One hangs around "wise guys," while the other doesn't.

A 1992 memo redirects pertinent info to file "CLEANSHAVE," subsequently revealed as intel from top-level informant Timothy A. Connolly III (not to be confused with corrupt ex-FBI Special Agent John Connolly). The code name, supposedly, is a reference by Timothy Connolly to what Whitey Bulger might do if he discovered he was wearing a wire. Bulger himself was first allegedly enlisted as an FBI informant in the '70s, informing on several others, including T. Connolly.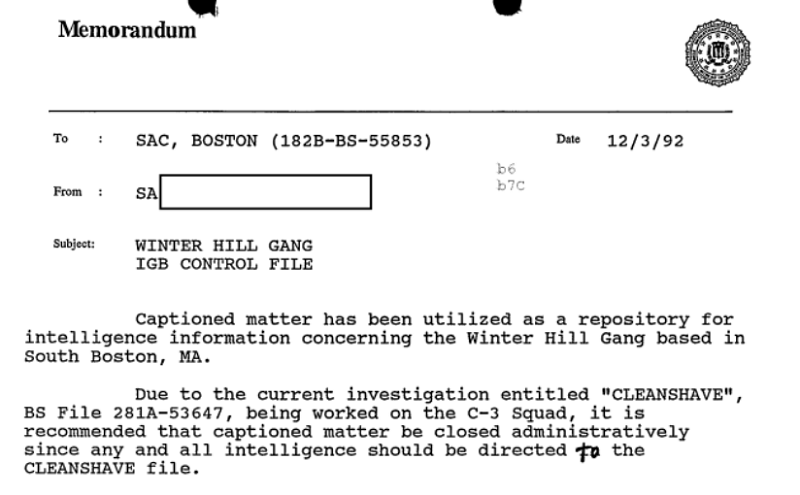 Whitey Bulger's name only appears on photocopied pages of Boston media news clippings collected and contained in the file, including Boston Herald columnist and radio host Howie Carr's September 27, 1991 article on his then-ongoing feud with Bulger. Carr reported that a suspect in a multi-defendant federal court case for attempted robbery had stated "Bulger was 'henbleep' with a 'certain newspaper writer.'" Another associate later clarified, "Boy, does Whitey hate Howie."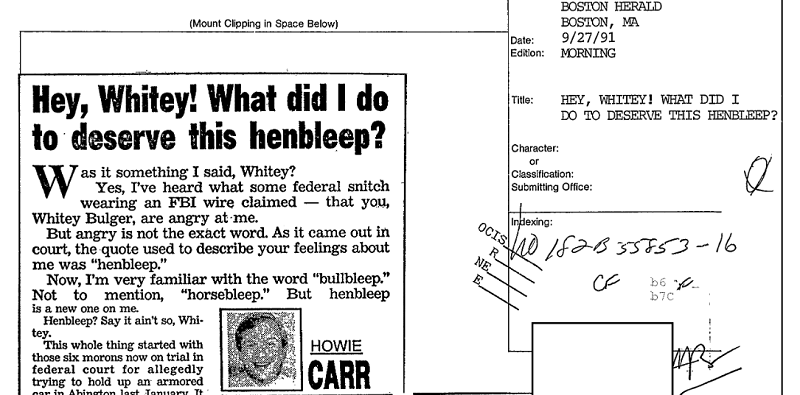 As Carr mockingly explains, "Henbleep" is likely a new form of "Bullbleep."
Carr goes on to describe an alleged incident in which a top aide of then-Massachusetts Senate President William "Billy" Bulger refused to shake Carr's hand in court. When Carr, known for repeatedly calling Bill Bulger a "corrupt midget," questioned the aides refusal, he responded: "I don't want to get your disease." Carr claims that Team Bulger unfairly singled him out despite being one of several reporters working the Bulger beat and reporting on his activities.

According to State Police documents released during Whitey Bulger's 2013 trial, Carr was likely the target of multiple failed assassination attempts by Bulger.
The largest of the files has been embedded below, and the rest can be found on the request page.
---
Image via WGBH/U.S. Attorney's Office