After an 11-month wait, the Federal Bureau of Investigation has finally released the file they have on renowned Marxist historian Philip Foner. Although the file is short - only 45 pages - it is heavily redacted, with even most of the dates blocked out. A document dated 1984 makes reference to a "security matter case" that prompted an investigation in 1946; however, those files appear to have been entirely withheld.

Beginning in 1941 when he finished his PhD at Columbia University, Foner became synonymous with labor history. He navigated his way through a fraught early career, fighting his way through a 1941 blacklist alongside his twin brother (and fellow labor historian) Jack Foner, which saw both Foner's run out of their teaching positions at the City College of New York. Their two other brothers were also dismissed from working in the city's school system.

Despite accusations of plagiarism later in his life, Foner is best remembered for over 100 publications, including a massive 10-part history of the American Labor Movement which he published between 1947 and 1994.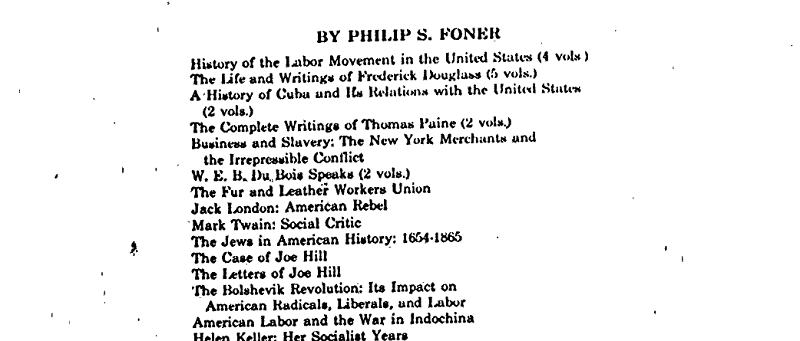 Foner eventually became a long time professor at Lincoln University, a historically black college outside of Philadelphia. He died December 14, 1994.

Files from the 1984 make reference to the fact that Foner was being closely followed during the 1960s, listing his request to visit countries like Cuba, North Vietnam, and the Soviet Union for research purposes. A 1964 incident even described an FBI special agent following Foner to Soviet Embassy.

Other undated files show a bit of confusion at which brother lived in Maine, which means the the file was written at least after 1967 when Jack Foner, father of historian Eric Foner, went to teach at Colby College.
The final and largest piece of the files appears to be a heavily redacted 1987 investigation into Foner's finances, including his apartments and credit.
I am still currently awaiting the FBI's file on Jack Foner as I continue my ongoing investigation in the FBI and CIA's surveillance of Marxist and labor historians in the twentieth century.
Read the rest of the file on the request page, or embedded here:
---
Image via Roam Agency