Last week, a gas explosion tore through three buildings in New York City's East Village, killing two people, injuring 22, and leaving dozens more homeless. City officials are investigating the circumstances, but the consensus suspect is natural gas leaks, a particularly sneaky saboteur in the American northeast.
Boston and Massachusetts as a whole have not been immune to the environmental, financial, and lethal effects of a centuries old infrastructure that has allowed hundreds of millions, possibly well over a billion, dollars to leak out without any account. Last year, the Massachusetts legislature passed a law to help municipalities get the gas leak information they need to prevent similar destruction and waste in their communities. So far only Boston seems to really know that it exists.

The MA Department of Public Utilities recently released the sole inquiry made for information under the new law. Last June, Bill H. 4164 had unanimous support in the MA Legislature and entered the General Laws as Chapter 164, Sections 144 and 145. It requires all gas companies to use a "uniform natural gas leaks classification" to report the location, classification, and date of recent and planned repairs on all leaks in their systems. Towns can ask the DPU for that information; it lets them know where leaks are and how to prioritize construction plans, and, furthermore, the law requires municipalities to notify gas companies of "significant projects," allowing them time to fix high risk leaks in areas already slated for construction.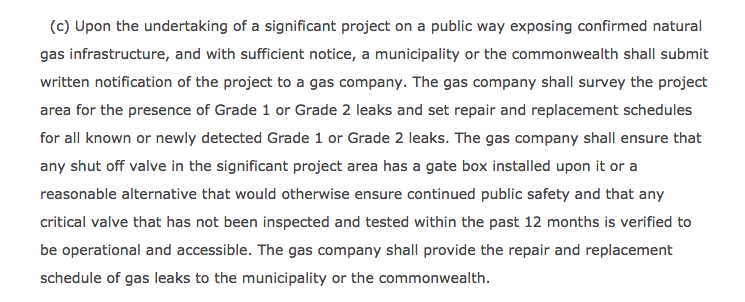 The thing is, in the whole state, only the City of Boston's Environment Department seems to have taken advantage of the new right.
"Even minor gas leaks are concerns from health, environmental, and economic perspectives," according to Austin Blackmon, Boston's Chief of Environment, Energy, and Open Space. "We wanted to be proactive and request the data as soon as it was available to determine how the City could best approach the issue."
MuckRock has been conducting a survey of towns in and around Middlesex County, asking for all materials they've received as a result of the law. The DPU's response to a related request confirmed what the municipal responses suggested: many towns are unaware of the law or their ability to use it. Most towns have returned no responsive documents or have suggested that the request be referred to the utility companies themselves. Brookline was able to provide materials regarding "outstanding gas leaks," but the town received this data in August 2014 directly from National Grid.

MA roads took a particularly hard beating this winter, and a recent article in the Boston Globe noted that while they are some of the most utilized in the nation, Massachusetts roads are also some of the least funded. Part of the new law's intention was to allow municipalities the ability to coordinate with divisions that conduct repair efforts, giving utility companies the opportunity to fix faulty pipes during municipal construction projects.

Amid concerns about lapses in maintenance to the nation's infrastructure, it's a local example of a great governmental inefficiency. Even if an issue is identified, even if productive steps are offered, even if a bill is introduced and gets by commercial opposition and partisan bickering (unanimously, no less), and that bill is signed into law and added to the statutes—even then its effect is severely limited by the extent to which it is known about my the other government officials for whom it was intended and the extent to which they can make that data actionable. That gap in the system does nothing to help prevent disasters like the ones in New York or Springfield or Hopkinton.

"The main issue is that it is not clear whether the reported leaks refer to leaks in the street or inside people's homes. We are most interested in the street leaks as the pipes are larger, so the leaks are greater, and they are likely to remain unfixed for longer," Mr. Blackmon said. "As we get clarity on the data, we will continue to coordinate with all relevant departments, including Public Works."
The statute also allows for gas companies to offer a sort of preemptive action plan to the State, which makes them eligible for the recovery of certain associated repair costs.

MuckRock is continuing its inquiry into municipal plans for natural gas leak repair. If your town or city is one we've gotten a "no responsive docs" response from, let your elected officials know that you want them to do something about it. If we haven't asked your municipality yet, add it to the Google Form or send us a message at info@muckrock.com.
---
Image by Adnan Islam via Wikimedia Commons and is licensed under CC BY-SA 2.0