The Selective Service System (SSS) maintains a database of all 18- to 25-year-old men in the United States eligible for military service. Conscription, or "the draft," involves a constantly changing dataset of more than 16 million names.
The SSS also manages a much smaller dataset — that of the FOIA requests it receives, processes and fulfills. In fiscal year 2013, the agency reported that it received a total of 18 FOIA requests. But it seems SSS is having a hard time accessing this database, or providing a log of these 18 requests.
Last November, MuckRock user Jason Smathers submitted a request for a copy of the SSS's FOIA logs since 2004. In response, the SSS wrote that "the database that has that information is currently unavailable and we are unable to access the requested information at this time. As soon as we are able to gather the information from the database we will provide it to you."
That response arrived in December. Since, MuckRock has followed up twice, only to receive the same response.
It is unclear how, or if, the SSS is keeping track of their FOIA requests. The 2014 edition of the agency's Chief FOIA Officer Report, which every federal agency is required to file annually, has not been posted online yet. Attempts to contact the FOIA office have not been successful.
However, according to the SSS Chief FOIA Officer Report for 2013, the agency has not implemented FOIA request tracking systems because its volume of requests is so low and the technological capabilities of SSS's FOIA system are "more than adequate."
"In FY2012 both the median and the average number of days for a response to a FOIA request was 2 days," the report said.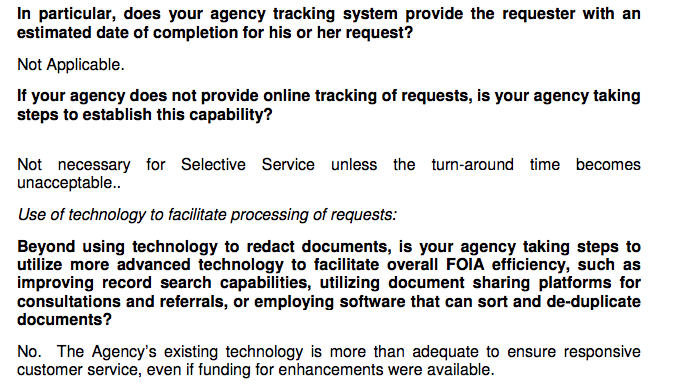 MuckRock will continue to send followups to the Selective Service System until their database is functional and the request is fulfilled. You can follow this request here.
---
Image via Wikimedia Commons