Six months after the initial inquiry, the FBI has fulfilled MuckRock's request for files on the March 11, 2004 Madrid train bombing. The Bureau released a total of 3,853 pages on the attack and the agency's involvement in the investigation, plus dozens more outlining exemptions, redactions and deletions from the file.
This is a massive file, and we want as many eyes on it as possible. Help us comb through reams of Courier type and illegible special agent scratch, and get a better idea of just how the FBI was involved in the Madrid aftermath: see below for details on our FBI scavenger hunt. But first, a few of the highlights we've found so far out of the first 169 pages in the file.
The initial suspect in the bombing was the Euskadi Ta Askatasuna (ETA), an armed Basque nationalist and separatist group. The file includes a brief and partially redacted history of ETA.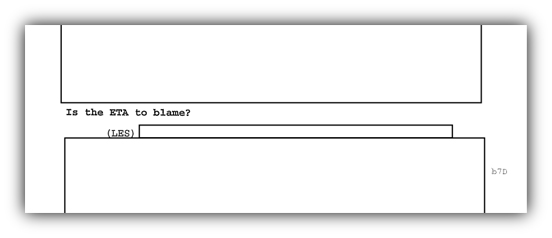 The New York Police Department went to Spain. Helping wasn't the goal, it seems. Instead, the NYPD was there to research subway bombings.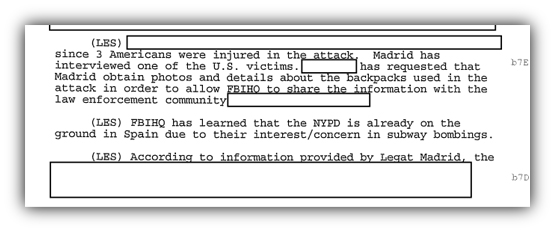 An FBI scandal broke out in the months following the Madrid train bombing when the bureau falsely accused an Oregon lawyer. The culprit in the accusation was faulty latent fingerprint analysis.

From just the first 169 pages of the document (from which an additional 144 pages are deleted), it's clear that FBI HQ plus field offices in New York, Boston, Los Angeles, Chicago, Phoenix, Las Vegas and Portland and attachés from Caracas, Venezuela, Paris and Madrid are all involved in the investigation.
We know there's even more of interest in the remaining pages that we haven't had time to sift through yet. So MuckRock is throwing down a challenge: can you find the most interesting page, paragraph or redaction in the FBI's Madrid file? Submit your findings through Twitter.
The first file is embedded below, and the rest can be found on the request page.
---
Image via The Black Vault