While the Federal Bureau of Investigation kept close tabs on many civil rights activists, its records on Thelma Glass aren't related to her advocacy.
Glass was a lead organizer in the Women's Political Council, the Alabama group that organized the Montgomery Bus Boycott in 1955. Her file focuses on an incident more than 30 years after Rosa Parks refused to give up her seat.

In 1987, the FBI's Civil Rights Division investigated an allegation that the Montgomery Sheriff's Department and an Alabama State Trooper harassed Glass and two others in the car during a traffic stop.

Accounts from the parties involved vary significantly, with officers from the Montgomery Sheriff's Department portraying the events much differently than Glass and her colleagues.
According to officer testimony, the traffic stop transpired on a rainy evening in March, when a Montgomery police car was travelling on Highway 231 South and requested assistance in stopping a speeding Lincoln Town Car, later found to be carrying Glass. The Town Car was speeding past traffic and clocked in at 83 miles per hour, according to officer testimony. In her testimony, Glass insists they were only traveling between 50-55 mph.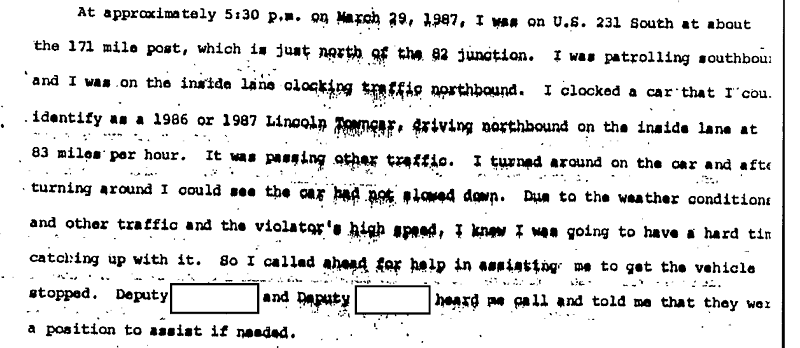 Once the car was pulled over, officers instructed the driver to exit the vehicle over the P.A. system, to no avail. After repeating the demand, the passenger door opened and Glass began to exit, which prompted an officer to draw his weapon.

Glass was ordered back in the car, and the driver was ordered out of the car and given a ticket. The incident, which occurred on March 29, 1987, came under scrutiny by Alabama State Representative Alvin Holmes, who claimed the officer's treatment of Glass and her colleagues included "unnecessary harassment, intimidation, and drawing and threatening with a dangerous weapon against three prominent black retired senior citizens."
Glass' signed testimony is also included in the file (with and without her name redacted).

After the incident was challenged, members of the Montgomery County Sheriff's Office Complaint and Disciplinary review board were unanimous in their opinion that the officers acted properly and that no further action was warranted. The Sheriff's office of Montgomery County concurred with the board's decision.
The FBI Civil Rights division deemed the matter an insignificant case because there was "scant evidence to show that such conduct was either excessive or motivated by racial animus," and no action was taken against the police officers.

Glass died in July 2012 at the age of 96.
Read the full file embedded below, or on the request page:
---
Image via Wikimedia Commons