UK tabloid The Daily Express was the first to report that UAVs would be used to track down Christopher Dorner, writing that the ex-LAPD man was to be the "first human target for remotely-controlled airborne drones on U.S. soil." A number of American outlets uncritically echoed the "first human target" claim, with msnNOW reporting, "It's official: The drone war has come home to America."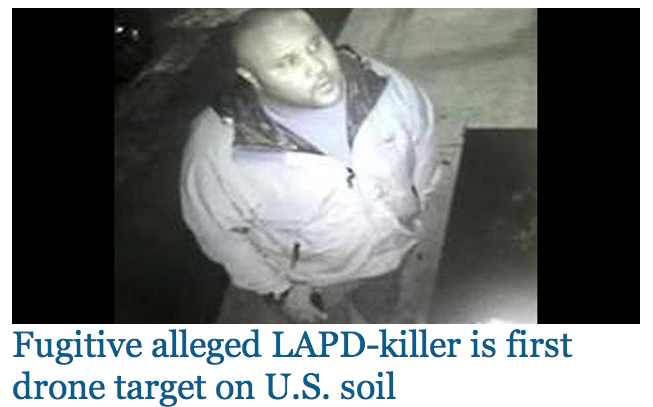 The headline, which msnNOW changed two days later, here is wrong on three counts. First is the factual issue of CBP support to the search for Dorner. Parker Higgins, an activist at Drone Census partner the Electronic Frontier Foundation, suggested early on that this was a "massive drone hoax," questioning the Express article's dubious sourcing and suspicious absence of corroboration. Mashable confirmed with Border Protection officials that "CBP UAS [unmanned aerial systems] are not flying in support of the search." [Update: msnNOW revised its article on February 11, removing the "drone war" sentence and changing its headline to "Report: Fugitive alleged killer is target of police drone" while continuing to cite the Express as an authoritative source. Gizmodo's article and headline remain unrevised.]
Beyond the first-order factual hurdle, this would not even be the first time that Border Protection UAVs have been used for local law enforcement investigations. That honor goes to a June 2011 incident in North Dakota, in which a CBP drone was called in by the Grand Forks Police Department during an armed standoff to pinpoint a suspect's location on his farm. That case is currently making its way through appeals. The Department of Homeland Security has lent its UAVs to local police on several occasions since.
Third, Dorner would not be the "target" of CBP UAVs in the same way that persons on the infamous "kill list" are targeted for armed drone strikes. Domestic drones are almost uniformly outfitted with surveillance payloads rather than weapons, typically digital still, video and thermal imaging cameras. This includes Border Protection UAVs. While the Dorner search is of a considerably higher profile, Border Patrol has been using surveillance drones along the border for years.
The Daily Express reports duped many, then, by virtue of CBP's long history of lending drones to local investigations, reportedly without any formal process or audit procedure for such UAV loans. Had the manhunt story been true, the novelty, then, would have come not from the involvement of federal UAVs, but from Border Protection's explicit justification for deploying its unmanned vehicles. The Express fabricated a quote from a CBP spokesperson expressing "the government's fear that Dorner will make a dash for the Mexican border." While fabricated, this quote aligns with CBP's implicit position that it has jurisdiction to fly surveillance drones in support of local investigations.
In July 2012, MuckRock sent CBP the same FOIA request sent to the 375 agencies queried as part of the 2012 Drone Census in an attempt to shed light on its UAV policies and procedures. Border Protection has failed to respond to the original request and five follow-ups over the past six months. CBP's policies thus remain opaque not only with respect to cases like the Dorner search but in regards to drone surveillance overall. If nothing else, this hoax magnifies the fact that Border Protection has yet to elaborate any justification or policy for flying drones outside of border patrol activities: the closest thing to transparency the American people have on this issue is a fake quote from a foreign tabloid.
Read MuckRock's unanswered FOIA request to U.S. Customs and Border Protection regarding their use of drones here.
The Seattle police department shuttered its UAV program last week following weeks of citizen backlash and strong criticism from the city council. Mayor Mike McGinn directed SPD to return its two drones to their vendors on Thursday and to "focus its resources on public safety and the community building work that is the department's priority."
Documents released to MuckRock in August 2012 indicated that SPD was in the market for an additional two UAV units despite never having used drones in field operations. SPD had also retracted its drone policy after less than a month on the books and without issuing any replacement directives on the use of UAVs.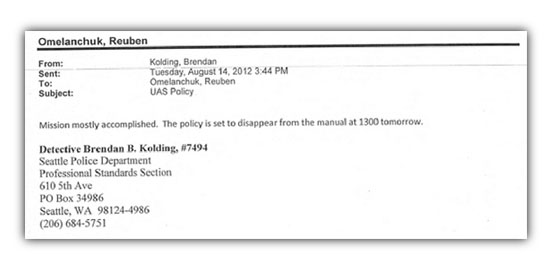 A follow-up call to SPD Detective Brendan Kolding from the Professional Standards Section confirmed that the drone guidelines had been eliminated and not superseded. "We do not have anything on the books governing use of drones," Det. Kolding said in an interview. "But I'm sure we won't deploy [the drones] until we do have a policy." Detective Kolding would not comment on the rationale behind rescinding the policy without any replacement guidelines.
Read Seattle's drone documents here.
Twin drone resolutions enacted in Virginia last week are the first successful legislative measure against use of UAVs by law enforcement. The Virginia legislature passed a two-year moratorium on law enforcement drones on February 5. The day before, the Charlottesville city council approved a resolution in favor of the state ban. The resolution also expressed the city's intent to abstain from conducting law enforcement surveillance with any drones owned by the municipality.
Some lawmakers suggested that a debate over drones in Virginia was premature. While a recent UAV purchase by the sheriff of Russell County figured strongly in the moratorium debate, the Washington Post reported that "there are no drones in operation in the commonwealth."
Documents released to MuckRock suggest otherwise. A July 2012 decision paper from the Virginia Department of Emergency (VDEM) Management indicate that "the Commonwealth's Department of Military Affairs has UAVs in their inventory […] designed to perform surveillance and reconnaissance." The documents do not clarify exactly how many drones have been purchased by the Department of Military Affairs, which oversees the Virginia Army National Guard. The FAA has not released any documents authorizing the Virginia Department of Military Affairs to fly UAVs, although the Virginia Army National Guard was included on a September 2012 list of authorized agencies released to U.S. Representative Ed Markey.
It is unclear, then, to what extent the Virginia Army National Guard is authorized to operate its UAV units. Also murky is the effect Virginia's proposed moratorium, which awaits the governor's signature, might affect drones operated by the state national guard.
Read the VDEM drone documents here. Read MuckRock's records request to the Virginia Army National Guard here.
---
Image via Flickr and is licensed under CC BY-SA 2.0