As part of MuckRock and Electronic Frontier Foundation's ongoing Drone Census, the San Diego County Sheriff's Department received the same Freedom of Information request sent to agencies across the country.
Like many agencies, the Sheriff's office responded that they had no documents relating to drones. But in this case, MuckRock discovered there were responsive documents — which were only released by a different city.
These documents detailing San Diego's drone interest were received from the Seattle Police Department, which, while detailing its own aerial drone program, showed clear evidence of drone interest from the San Diego County Sheriff's Department.
Seattle Police Department released more than 250 pages of emails, internal memos and contracts, including sales quotes from four manufacturers of unmanned aerial vehicles (UAVs). A November 2011 email from a Datron World Communications sales manager to the Seattle Police contact included a sales quote prepared for the San Diego County Sheriff's Department earlier that year for a Scout UAV.

The Datron representative explained that a San Diego County Sheriff's team had "visited Datron's facility and experienced the [drone] system with all three cameras," and that the team "left with a flashdrive full of personal footage and a new found [sic] purpose for submitting their wish-list early."
He encouraged the Seattle Police Department to use the sales quote sent to San Diego County "as a reference point for configuring [its] system."
The estimate is dated July 28, 2011 and addressed to a sergeant in the Special Investigations Division of the San Diego County Sheriff's Office. Estimated costs total $131,087 for one Datron Scout UAV system, including a thermal imaging camera package and operator training for four students at Datron's facility in Vista, CA.
The San Diego County Sheriff's Department was not on the list acquired by EFF of public agencies that had applied for Federal Aviation Administration authorization to fly drones in domestic airspace.
It was, however, among the agencies submitted by MuckRock users through the Drone Census page, and MuckRock sent a request to the San Diego County Sheriff for documents related to the department's use, interest in and purchase of drone technology on July 12, 2012.
On July 19, 2012, a legal advisor from the San Diego County Sheriff's office indicated that it had no documents related to drones or UAVs. The email stated clearly that the department had "no records that are responsive […] pertaining to aerial drones."
Until the Seattle Police Department passed along its documents in late August, MuckRock had no reason to doubt the San Diego Sheriff's response.
On Sept. 4, MuckRock sent a follow-up email to the San Diego County Sheriff's Department seeking an explanation of the Datron sales quote, as well as confirmation that no further documents were available related to the Sheriff's interest in purchasing a drone.
The Sheriff's legal advisor sent a response by mail on September 13, indicating that the department "declines to comment on the sales quotation referenced in your September 4, 2012 letter."
As is true in most states, California's public records law provides that documents related to equipment purchases are matters of public record unless exempted by statute. Accordingly, the San Diego County Sheriff and other public agencies have the latitude to justify denial of public records requests, but not to "deny comment" when faced with such a request.
Upon an appeal to this effect, the San Diego County Sheriff confirmed that the department "does not maintain drones, nor are we in the process of acquiring them," and that the department had chosen not to purchase drones following an "inquiry as to the type of drone equipment that is available to public safety agencies, the cost, and the expected performance."
The Sheriff refuses, however, to release any communications related to the sales quote or test demonstration alluded to in the Datron emails to Seattle police. The Sheriff's office says these records are exempt as part of the deliberative process, since the department "must be free to gather information and weigh alternatives in confidence before arriving at a course of action."
The Sheriff's legal advisor also says that "there is very little public benefit in the release of such records" since its inquiries into Datron's drone unit did not result in purchasing any equipment.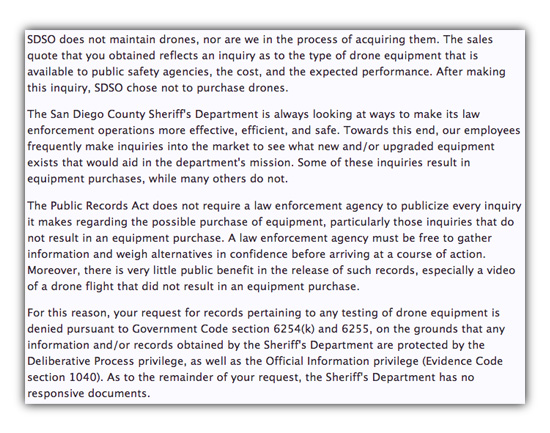 But public records law puts the burden of evidence not on those who seek disclosure, but on those who would keep them from public view. Evidence Code section 1040 of California's disclosure law, which the San Diego County Sheriff's office has invoked as a basis for its denial, provides that public agencies may refuse to disclose official information in the case that such disclosure "is against the public interest because there is a necessity for preserving the confidentiality of the information that outweighs the necessity for disclosure in the interest of justice."
The onus is on the Sheriff to demonstrate how releasing the documents sought by MuckRock would injure the public interest.
While the San Diego County Sheriff declined to purchase drones, other police departments have conducted similarly confidential inquiries and ended up acquiring UAVs without the benefit of public scrutiny. Police in Seattle, for instance, recently apologized for going ahead with drones purchases without adequately consulting the city council, much less the general public. The Alameda County Sheriff also faced vocal protest and concern when its plans to employ drones became public.
The public has a right to know when and how government agencies use potentially invasive technologies such as drones. The public also has a right to be consulted when agencies consider adopting the technology in the first place, and should have a say as to what restrictions are put in place to prevent its misuse.
---
Image via Wikimedia Commons and is licensed under CC BY-SA 3.0