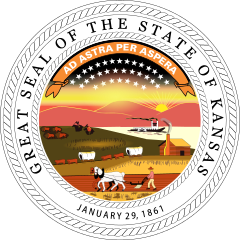 Kansas, USA
Kansas Public Records Guide
The Kansas Open Records Act
(ORA)
Enacted in 1984
Overview
The KORA includes strong public policy initiatives such as, "It is declared to be the public policy of this State that public records shall be open for inspection by any person unless otherwise provided by this act, and this act shall be liberally construed and applied to promote such policy." While there are certainly aspects to the act that back this statement up,such as the three business day response times an agency is allowed. Fees must be kept to actual costs of labor required in completing the request. Although, it is disappointing to see no pro bono or media waiver available. Attorney fees can be won however, and agencies can be fined up to $500 if they violate the law with intent Like most states there is no citizenship requirement here. Interestingly, there is no appeals time limit here. Sooner is always better though regardless of which state you are appealing in.
Kansas has 50 very specifically written exemptions in their FOIL. Many are the standard kind of exemption seen in many other states, dealing with personal information, public safety, and ensuring fair competition in business. As with other states with laundry list style exemptions, a look through them is recommended when requesting information here.
The Law
Response time of three business days after request is filed
All branches of government covered by KORA. Individual legislators are not subject
No limitations on citizenship of requestor
No administrative appeals process-appeals go directly to Kansas Court of Appeals
Supplemental
Kansas record retention schedules
The Details
Can you submit a request if you're not a resident?
Yes.
However, the Kansas law permits an agency to require proof of identification. - K.S.A. 45-220(b)
To whom does this apply?
Executive?
Yes.
Legislative?
Yes, however records of legislators themselves are not deemed public records under the act.
Judicial?
Yes, the entire judicial system is covered by KORA except individual judges themselves.
Who is exempted?
The records which are made and maintained by individual state legislators are not subject to the law. This also goes for members "of the governing body of any political or taxing subdivision of the state." K.S.A. 45-217(f)(2). This means members of local governing bodies are themselves not subject to FOIA. Kansas stipulates that all public officers or employees of a subdivision are not subject to the law if they are not provided with an office open to the public 35 hours a week.
Is there a designated records custodian?
No. Instead an agency must designate a local FOIA officer to resolve the dispute.
How long do they have to respond?
Three business days.
Does the agency have to give you a tracking number or estimated date of completion?
No.
Can they ask why you ask?
No.
What enforcement?
If an agency is found guilty by a court of knowingly violating KORA then they can be fined up to $500 and attorney fees will be awarded to the prevailing party.
Fees?
Agencies are allowed to charge for the actual cost of their employees searching and copying records and time spent on the request. Electronic records may only be charged for any computer services necessary to fulfill the request and for staff time. Agencies may charge advanced payment in Kansas.
Are there fee waivers for media requests or those made in the public interest?
The act does not provide for any waivers only that an agency may charge actual costs.
Attorney's fees - Can you win them?
Yes, if you are able to prevail in your appeal then attorney fees can be awarded.
Exemptions and Appeals
What exemptions exist?
Kansas has laundry list style exemptions. There are 50 specific exemptions, and if you are requesting in Kansas it may be helpful to check out the full list of exemptions below in the resources section. Most of the exemptions deal with protecting sealed, preliminary, or confidential documents, personal information like finances or medical information, or protecting police investigative methods from disclosure. Emergency or security procedures that would put the public at further risk are also exempted, as are records that would constitute trade secrets. Because of the laundry list style, there are exemptions that deal very specifically with the exempted records topics above.
Do they have to tell you why a portion or pages were redacted or withheld?
Yes.
How much time do you have to appeal?
While it is always best to appeal in a timely fashion, there is no set appeals time limit.
Can you appeal the courts?
Yes. Appealing to the Kansas Court of Appeals or the corresponding District Court is the only option for recourse in Kansas.
Resources
Organizations
Kansas Sunshine Coalition for Open Government
Attorneys and Law Firms
The following attorneys and law firms have practiced public records law. Names marked with an asterisk have indicated a willingness to offer pro bono services on a case by case basis.
There are currently no experienced public records law attorneys that we know of in Kansas. Write to us at info@MuckRock.com if you know of any and want to help us out!
Successful appeals
News Stories on Public Records Laws in the State
Blogs and feeds primarily focused on public records in Kansas
Public Records Guide and Advice
Newsletters
Big FOIA wins
Have a public records success story? Let us know!
Stats
| | |
| --- | --- |
| Filed | 668 |
| Completed | 236 |
| Rejected | 73 |
| No Responsive Documents | 158 |
| Awaiting Acknowledgement | 22 |
| Awaiting Response | 16 |
| Requiring Action | 53 |
| Overdue | 37 |
| | |
| --- | --- |
| Appeals awaiting response | 2 |
Allowed Response Time

3 days

Average Response Time

76 days

Success Rate

31.14%

Average Fee

$305.65
19.46% of requests have a fee
Top Localities See All
| Jurisdiction | Requests |
| --- | --- |
| Wichita, KS | 68 |
| Topeka, KS | 48 |
| Kansas City, KS | 33 |
| Shawnee County, KS | 14 |
| Overland Park, KS | 14 |
| Olathe, KS | 13 |
| Johnson County, KS | 11 |
| Lawrence, KS | 10 |
| Riley County, KS | 7 |
| Sedgwick County, KS | 6 |