Public health experts have long warned that the true death toll of the pandemic in the U.S. is up to 20% higher than the official tally, leaving as many as 200,000 COVID deaths uncounted. But without an audit of official death numbers — like Peru's government conducted, more than doubling the country's COVID death count — the lives and details behind these deaths remain hidden. The Brown Institute and MuckRock's Documenting COVID-19 project and the USA TODAY Network spent months investigating where and why COVID-19 deaths go uncounted.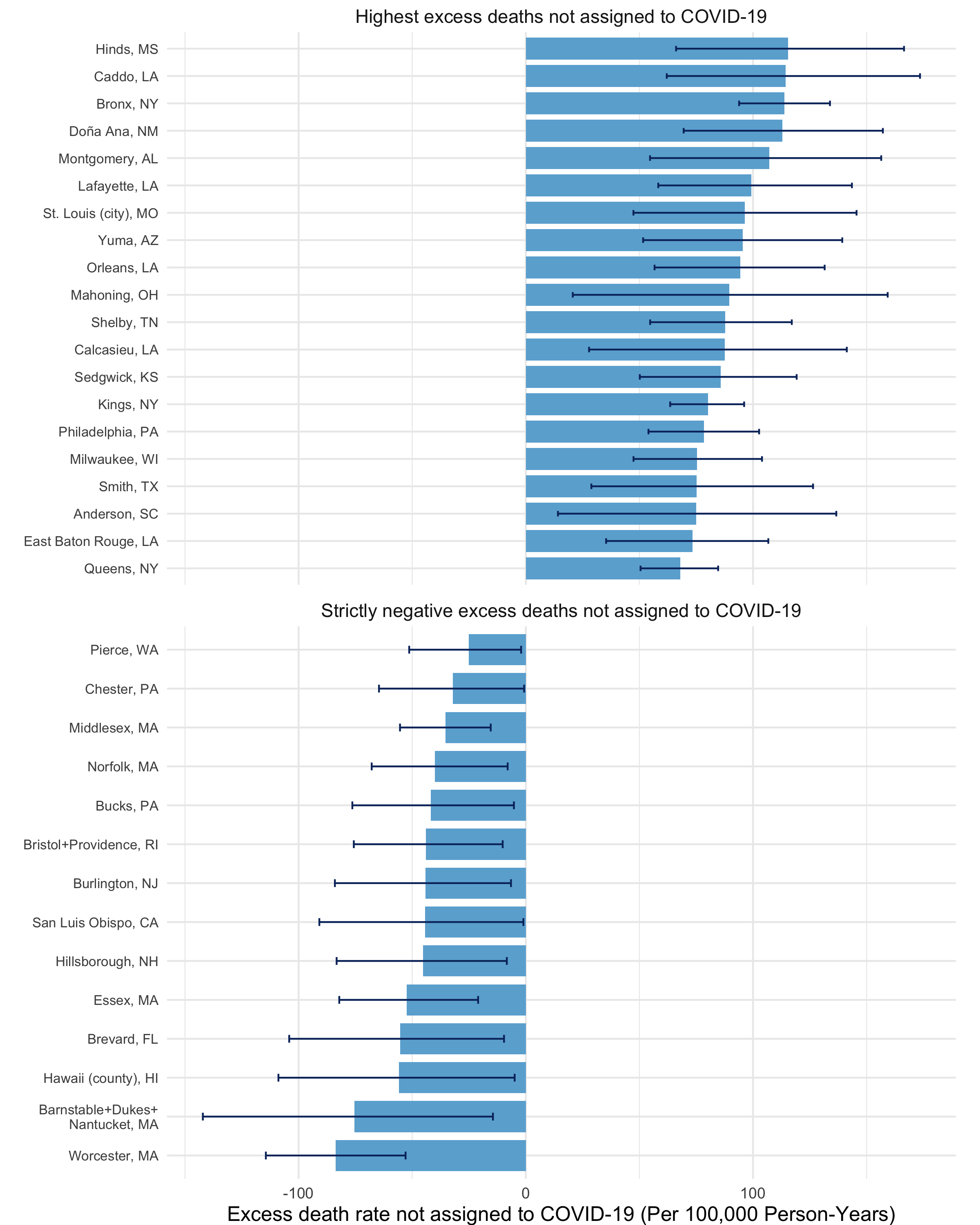 For our Uncounted investigation, journalists from five newsrooms worked together to analyze CDC mortality data and follow that data to where it originates at the local level, through death certificates. We compared official COVID death figures with models developed by the CDC, in coordination with a team of demographers at Boston University; we collected death certificates and other primary source documents and then had medical examiners and physicians review them for errors and omissions; and we interviewed more than 100 medical examiners, coroners, public health experts, families and policymakers.
As part of this project, we developed models of expected deaths in every U.S. county, a level of granularity never before reported on a national scale. The team then identified states and counties that had the highest rates of deaths that were: (a) more than any normal, pre-pandemic year and (b) weren't attributed to COVID. In these areas, reporters found an unusual increase in deaths from natural causes, especially deaths occurring at home, and we spoke with local corners and medical examiners who investigated and certified the death certificates in these cases.
What we found: Short-staffed, undertrained and overworked coroners and medical examiners were all but unified in when and how to investigate a possible death from COVID-19. Some took the family's word for what they believed was their loved one's cause of death. Others didn't review medical histories or order tests to look for COVID-19, but expected the state or family members to provide documentation. Death investigators and some physicians attributed deaths to inaccurate and nonspecific causes that are meaningless to pathologists, but closely resemble symptoms of COVID-19.
Our investigation reveals the country's central problem with tracking COVID-19 deaths: Where people live and die has a lot to do with the accuracy of their death certificate. Some deaths are investigated with state-of-the-art technology and expertise; others don't go beyond a phone call with the family.
The Uncounted series aims to fill in some of the gaps in how deaths are counted and understand why they might go missing. The project is a collaboration between the Documenting COVID-19 project at Columbia University's Brown Institute for Media Innovation and MuckRock; the USA TODAY network; and local reporters, including those from outlets from hard-hit states Missouri, Louisiana and Mississippi. It's part of the Documenting COVID-19 project's larger goal to figure out how public records and resulting data influence and shape government policy.
As part of the project, Documenting COVID-19 is sharing the data used for the larger investigation to help local newsrooms investigate how COVID deaths are certified and counted in their community. We'll be updating this spreadsheet with new data and tools for reporters in the coming months. We also held a webinar on our reporting process and shared our slides here. We've received tips through our callout form from New York to Wyoming, and are already working with reporters in the USA TODAY Network in Georgia and Wisconsin to replicate these stories in their state and region.
Much of the impact from this project, published in three parts in mid-to-late December, is still evolving. But the CDC said in a statement that our findings go beyond what they are able to provide, and said forthcoming working papers would seek to address some of the more common reporting errors.
"We're trying to push out as much information as we can, but we don't have the resources to go digging in all of these counties. So it's great that you're doing this," Bob Anderson, the CDC's chief of mortality statistics, told us."The sort of information that you're digging up can help us, potentially, to improve the quality of the data."
Where have COVID-19 deaths been undercounted — and why?
The Uncounted series tries to answer the following questions:
Where have COVID-19 deaths been undercounted — and why? And what other causes of death are rising in the United States, in the pandemic era?
We found that the misreporting of "excess deaths" stems largely from an undertrained and underfunded patchwork of death investigation systems across the country.
The term "excess death" refers to the estimate of how many more people died in a given time period and region than were expected. The expected number of deaths is derived through statistical modeling, and typically accounts for changing mortality trends. Epidemiologists and demographers have used excess mortality to measure natural and non-natural disasters, like Hurricane Maria and opioid overdose deaths.
In the case of COVID-19 death analysis, epidemiologists and demographers use excess death analysis to compare what happened in 2020 and 2021 to a fictional scenario in which the world wasn't hit by COVID-19. These comparisons allow us to see the full reach and toll of the pandemic. For example, researchers at Boston University predicted that 853 people would havve died in Cape Girardeau, Missouri, in 2020 if the pandemic didn't happen. The actual number of deaths in Cape Girardeau was 1,079. The gap between 852 and 1,079 results in 226 excess deaths.