MuckRock's commitment in the time of COVID
Things are strange right now but, as MuckRock's Executive Editor Sarah Alvarez wrote in yesterday's newsletter, we're focused on what we can do to reduce harm and get our communities the information they need. We remain as committed as ever to government accountability and assisting our audience and the journalism community in the ways that we can. To do this, your contribution would be a huge help.
Please let us know if you have encountered additional trouble accessing records or the important meetings government officials are holding at this time. If you are a newsroom that could use additional assistance filing requests or supporting your breaking news efforts, reach out to us at info@muckrock.com.
Coronavirus and the Freedom of Information
With the federal government and nearly every state in a declared state of emergency, sudden and sweeping changes to government access and accountability will continue to get authorization.
Some government records offices are having an easier time than others adjusting to changes in work environments in response to COVID-19.
Many federal FOIA offices - including EPA, Department of Agriculture, and the Department of Energy, reported E&E News - have transitioned to remote work conditions and claim that operations will continue, adopting a workflow heavy on electronic communication. The Federal Bureau of Investigation, though, took the strange step of cutting off electronic submissions altogether, requiring any requests to be made via snail mail rather than by email or the agency eFOIPA portal. The FBI hasn't provided additional clarification for the reasoning since an agency attorney told Buzzfeed News the FBI "cannot do the work remotely, due to the system's security constraints."
This is crazy but then again FBI and FOIA is a disastrous combo

FBI will no longer accept FOIA requests electronically because of #coronavirus. Instead, the bureau wants requesters to leave their homes and mail the request in. pic.twitter.com/SFA6C1xdPP

— Jason Leopold (@JasonLeopold) March 18, 2020
Wish they'd tell the @FBI to do the same. #FOIA https://t.co/iQMAqH67eu

— Adam A. Marshall (@a_marshall_plan) March 18, 2020
Meanwhile, things at the Securities and Exchange Commission FOIA office sound as though they're moving swimmingly. The agency's Chief FOIA Officer Barry Walters told MuckRock that nearly everyone has transitioned to telework at this point and things are approaching an equilibrium within their operations.
"Many on the team regularly telework several days a week, so it was fairly easy on our side to go full-time," Walters wrote. "As you know, the FOIA Office essentially doesn't have documents and has to get them from the program offices, so their transition has slowed the process just a little. But we're as close to normal as we can be under the circumstances, and exploring ways to maximize the use of technology to increase efficiency."
Local governments are extending deadlines or suspending FOIA operations as they move to pause non-essential work. Emergency legislation in Washington, D.C. included extending deadlines for all FOIA requests, and the Cities of Philadelphia and Chicago are among those that informed current requesters of similar changes. Fresno, California notified requesters this week that its responses to requests will be suspended until "the state of emergency has ended."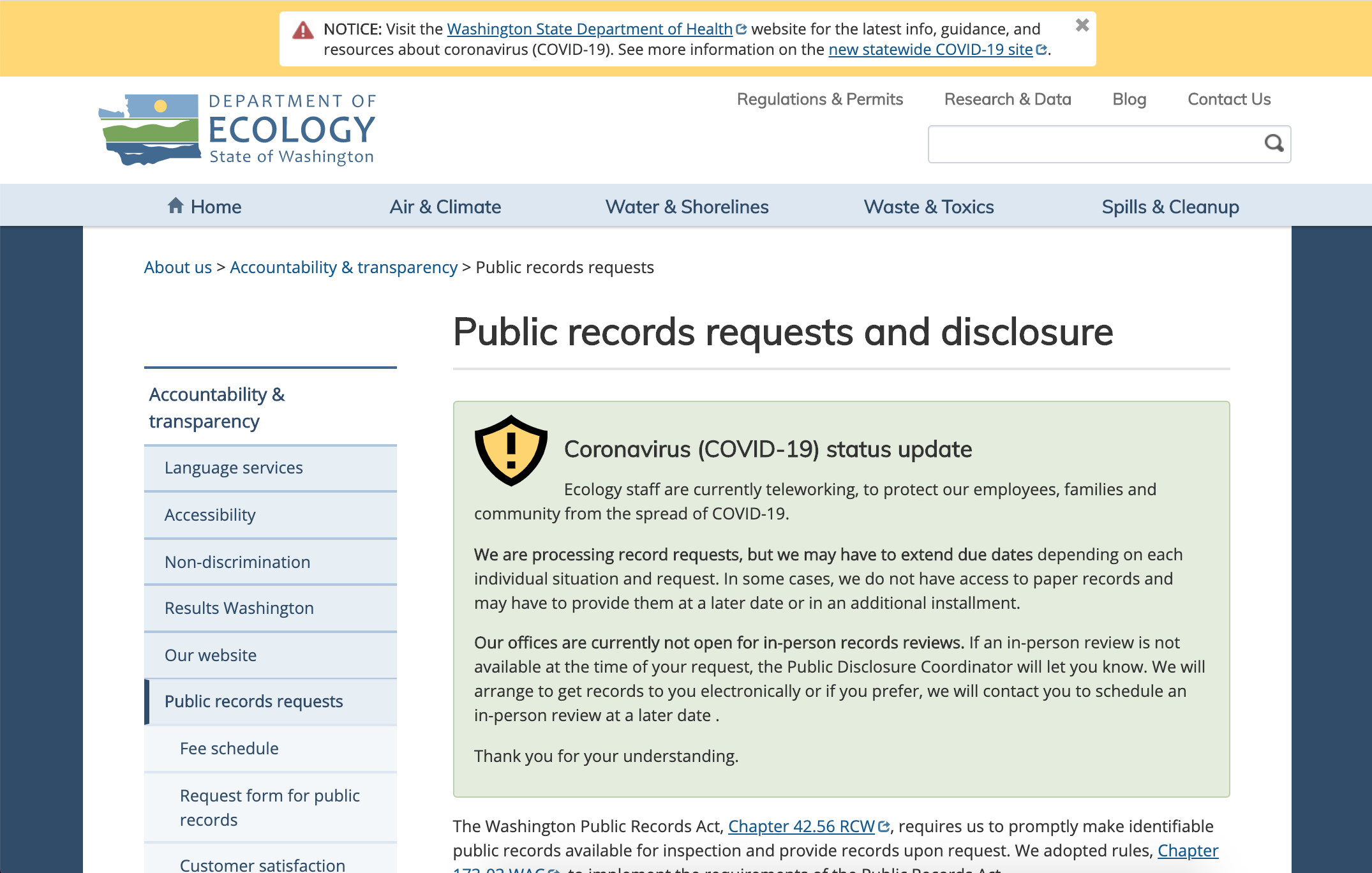 We'll be tracking changes to FOIA offices, but we'll need your help, too. Let us know if your local FOI policies are changing. On Monday, MuckRock user Emma Best filed requests with agencies for their plans to change FOIA operations in response to the disease. You can get updates on those and any of our requests related COVID-19 by clicking "Follow" on the request pages.
MuckRock's Sunshine Week Specials
We know this was a stranger Sunshine Week than usual and we were glad to continue to spread the good word of transparency.
Yesterday, MuckRock Executive Director Michael Morisy hosted a FOIA 101 webinar. You can find the footage here.
On Friday, our Senior Reporter Beryl Lipton moderated a Twitter chat between a dozen of the leading open government groups in the country. Did you miss it? You can find all the questions and responses on the hashtag #SunshineChat2020.
We were sad to cancel all of our scheduled Sunshine Week events but still had plenty of chances to highlight our great partners and the others working in the transparency space. You can explore and follow some of our #FOIAFriends via that hashtag on Twitter.
Help us stay informed.
There are a lot of changes to daily life right now, and the opportunities to hinder or halt the public's right to information are abundant. Please help us stay posted on the change coming to your communities by sending us a message at info@muckrock.com and we hope you and yours stay healthy and cared for.