Although the law of the land for federal agencies, the Freedom of Information Act gives states the discretion to set their own rules for public records law. Last month, we reviewed a number of bills set for hearings in this year's legislative session. With deliberations well underway, policy makers across the country are looking to revise, modify, strengthen, and even weaken the state of state public records law. As we wrap up Sunshine Week 2019, we've compiled the ultimate list of transparency bills making the rounds throughout state houses and senates.
State Representative Juandalynn Givan (D-Jefferson County) introduced House Bill 36, which would mandate recordings produced by law enforcement are not public record. The bill would also "establish a procedure to determine whether, to whom, and what portions of a recording may be disclosed or a copy released." Recordings would only be released to the person in the video or recording or a representative of that person.

A handful of exemptions written into Arkansas bills are currently pending votes from the state's house and senate. The state's FOIA can oftentimes be vague to the point where lawmakers aren't really sure what's exempt or not. Many of the exemptions noted below are embedded within larger bills or addresses within specific directives. You can read more about these bills on the Arkansas Press Association's newsletter.
The Golden state is looking to add new exemptions to its public records act.
Assembly Member Laura Friedman (D-Glendale) introduced Assembly Bill 700, which would exempt personal telephone numbers of public university faculty members and records relating to their address, calendars, and appointment logs.
In addition, a new public records proposal has caused mass controversy across California. Senate Bill 615, introduced by [Senator Ben Hueso](https://sd40.senate.ca.gov/, was pulled from consideration this week after widespread outcry against it. The bill would have required that requesters meet with an agency before a lawsuit to sort issues with records requests. In addition, requesters would have had to prove in court that agencies stalled compliance to a request "knowingly, willfully and without substantial justification."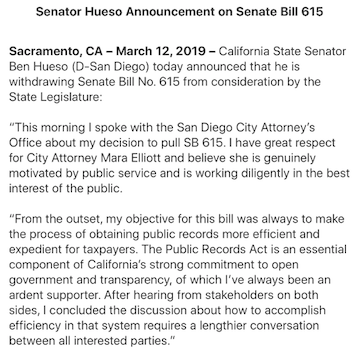 Law enforcement agencies are under close watch in the centennial state. House Bill 1119, introduced by State Representative James Coleman and Senator Mike Foote unlocks peace officer internal investigation records. However, the bill would allow some information be redacted before released. In addition, records custodians will provide a summary of the file to the requester, which then allows the requester access to the file after the summary has been reviewed. The bill now lies in the Senate.
Contrary to Colorado, Senate Bill 970 allows law enforcement to retain items seized in criminal investigation records, without subjecting them to disclosure the state's public records law. The bill was introduced by the state's Judiciary Committee in order to address issues concerning the disclosure of documents seized in criminal investigations.

The Sunshine state is home to one of the oldest, and so-called strongest, public records law in the nation. However, there are no concerte deadlines or appeal process in Florida, leaving the only enforcement up to a court of law. Similarly, the state holds narrowly crafted exemptions, which proves tricky depending on what you're looking for. Below is a compilation of bills with specific carve-outs to records or information in the state. You can read more about each bill and opinions by the Florida First Amendment Foundation.
In the Aloha state, Senator Les Ihara introduced Senate Bill 678 SD1, which would extend the state's sunshine provisions to its legislature. The bill would also require all floor votes, except first readings, be printed on the order of the da before considerations. The bill currently lies in the Senate.

After public outcry against a threatening bill to open records, House Bill 387 failed to pass the Senate Judiciary Committee. As written, Representative Jason Petrie's (R-Elkton) bill would have exempted trade secrets from disclosure and amended the state's records law to include an in-state requester provision. However, transparency advocates in the state rallied against the proposal and shed light on its effects on records law.
A new bill in the state is making its way up to the Senate to regulate new exemptions in the state. HB 0086, authored by Representative Jason Zachary (R-Knoxville), would require all email communication policies be posted on an agency's website. In a later amendment to the bill, lawmakers modified the language to also require all legislation in House that creates a new public records exception be reviewed by the House Committee for review and recommendation. The bill is now in the Senate, pending review.
The recent 2016 public records left many loopholes in the states records law. However, lawmakers in the state are looking to fill-in the gaps and close any discrepencies within records law.
Most recently, Representative Antonio Cabral (D- New Bedford) has proposed a new bill that would take a multifaceted approach at strengthening the state's appeals process in public records matters. H. 2676 would create a new commission to govern the existing records division under the Secretary of State's office and create a new Division of Public Record Appeals to enhance the appeals process.
Legislators in Michigan are considering nine bills that would expand Michigan's Freedom of Information Act and include the governor and lieutenant governor in the act. It would also create a separate Legislative Open Records Act, or LORA, for the state's legislature. House Bills 4007 through 4016 highlight specific directives to strengthen records law, including limiting fee requests/mileg.aspx?page=BillStatus&objectname=2019-HB-4013) when agencies are slow to respond. More specifically, House Bills 4007 and 4008 pertain to the governor's office and House Bills 4009 through 3016 create a new LORA for lawmakers and their offices. Update 3/22/19: The Michigan House of Representative passes bills to extend the state's FOIA to the legislature. It now lies with the Senate.
The Beaver state has a handful of bills seeking to reform the states records law and aid requesters.
House Bill 2353 introduced by Representative Karin Power (D-Milwaukie), would call for agencies to pay requesters in the event that the state's Attorney General, District Attorney, or court finds that an agency did not respond to a request in a reasonable time, or failed to respond. The bill currently lies in the house.

Power also sponsored HB 2430, which would make the Public Records Advisory Council a permanent body. Currently the Council is set to dissolve in 2020.
Similarly, House Bill 2431 would require every state agency to submit an annual report on how many records requests were received and how many have yet to be fulfilled over a year. The reports would be sent to the Attorney General's office, the state's Public Records Advocate, and the Legislature for review. The HB 2431 was sponsored by Sen. Power, but introduced on behalf of the Public Records Advisory Council, which was created as a result of the state's 2017 records reforms.
Additionally, Sen. Power introduced House Bill 2345, which would cut records fees in half for any member of the news media, and waive them in full for a request "describing requested records with specificity and only inlcudes records in which there is a public interest."

Policymakers in the Lone Star State are looking to peel the layers of secrecy on government contracts granted by the court ruling Boeing v Paxton. The Bipartisan effort spearheaded by state Senator Kirk Watson (D-Austin) and Representative Giovanni Capriglione (R-Southlake) takes shape in two bills that would require companies doing business with government reveal the total cost for projects. SB 943 and HB 2189 are currently making the rounds through the House and Senate. Update 3/22/19: The Texas House of Representative gave preliminary approval for this bill. A final approval is pending before it is sent over to Senate.
Legislators in Utah are redefining law enforcement transparency at private institutions. Senate Bill 197 clarifies that police departments, even at private institutions, are subject to the state's public records law. Senator Curtis Bramble (R- Wasatch) sponsored the bill, which has passed the Senate and now awaits enrollment into law.

Are there other public records bills we might have missed? Let us know via the form below!
---
Image via Wikimedia Commons