Over 150,000 acres were ravaged in Northern California last November, taking with it 86 lives and tens of billions of dollars in property damage. Butte County's Camp Fire marks the list as one of California's top 20 largest wildfires in history, leaving massive structural and environmental damages for years to come. With ongoing investigations to determine a culprit, all roads seem to lead to California's biggest investor-owned utility company, Pacific Gas & Electric.
PG&E is primed as a top suspect as officials speculate the company's equipment came in close contact with trees and branches, igniting the fire. Although severe news for PG&E, the speculations don't come as a surprise. The utility company has been held responsible for 17 fires during California's 2017 wildfire season, which includes the destruction of over 30,000 acres in the Redwood Fire, 9,000 acres in the Cascade fire and over 8,000 acres in the La Porte Fire. In these fires, officials found the company guilty for failing to remove trees from the proximity of power lines, a similar accusation PG&E is facing for the Camp Fire.
With an escalating debt toppling at least $7 billion in damages for the Camp Fire alone, the corporation has filed for bankruptcy yet again. It's also looking to seek approval for a $5.5 billion debtor-in-possession financing agreement to support operations and ongoing safety initiatives. PG&E previously filed for bankruptcy back in 2001 due to an over $9 billion debt during the early '00's California energy crisis. It's unclear how the company's bankruptcy move will affect customers and ongoing business of safe utility service, but the precedent leaves room for rate discrepancies and potential service interruption for millions.
"Year after year from pipeline breaks to fires, it shows that our model is one that certainly leaves a door open to a lack of real accountability for the public to have real oversight into these utility companies," said Renewable Energy Policy Analyst for Food and Water Watch, Jim Walsh.
In a press release issued this week the company said they "intend to work together with customers, employees and other stakeholders to create a more sustainable foundation for the delivery of safe, reliable, and affordable service in the years ahead."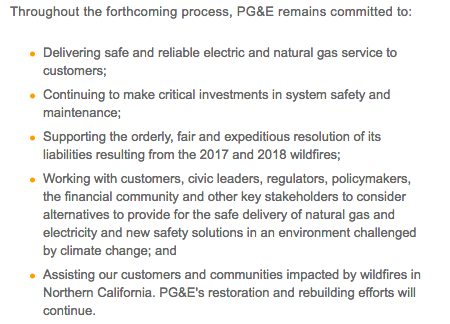 Despite these claims, the company still clings to secrecy when it comes to its operations.
The California Public Utilities Commission regulates privately-owned electric, natural gas, telecommunications, water, and transportation companies in the state. Five governor-appointed commissioners lead the commission and provide protection against fraud, consumer safety, and reasonable rate charges.
"The CPUC regulates services and utilities, protects consumers, safeguards the environment, and assures Californians' access to safe and reliable utility infrastructure and services." - CPUC's Mission statement.
Although limited, there is still some degree of oversight into these companies. This week, the CPUC held an emergency meeting to grant PG&E an exemption from public utility regulations, limit the purpose of its debtor-in-possession financing, and ensure customers aren't affected during PG&E's financial crisis.
According to the CPUC's Director of News & Outreach Director Terrie Prosper, the CPUC holds General Rate Cases for energy utilities every three years. These "proceedings" are used to address the costs of utility services and ensure proper rates for customers.
"These utility companies will hire lawyers or public relation firms to include rate cases to determine what's going to happen with rates. Financial disadvantage and informational disadvantage with a lack of oversight and real investment could've happened and prevented these fires from starting in the first place," said Walsh.
In 2017, PG&E asked for a rate increase, which the CPUC authorized, with PG&E collecting $8.004 billion in "base rates"
Additionally, the Commission calls for Advice Letters, where utilities file a document to the CPUC to make minor changes in rates and services that. Unless ordered by the CPUC, they generally do not require formal public hearings.
It's clear the Commission is moving forward with viable steps to hold PG&E accountable and ensure safety for customers across the state, but the fact remains that this isn't the first time the company is involved in California's wildfires
"What's been difficult to understand is how these damages continue to amount to huge challenges for utility companies but resist to invest in community choice energy and community choice aggregation. We need to move away from those and its not clear to me when you have these different interest the balance of how we in California are getting return on investment," said University of California Professor of Earth System Science, Jim Randerson.
Despite efforts to keep watch on privately-owned utility companies, the state holds limited oversight power into privately-owned investor companies like PG&E. Furthermore, PG&E isn't subject to the California Public Records Act allowing lots of wiggle room for investor owned priorities to take precedence.
"The things that I've been concerned about is conflict of interest between investor, rate payers and the state, it's a very different interest," added Randerson. "While the state is making progress to limit fossil fusion emissions, rate payers want to see bills lowered and maintain a moderate level of rise in their pay. Investors really are at odds. So this conflict of interest and transparency is very challenging for the state moving forward."
Most recently, newly-elected California Governor Gavin Newsom chimed in on the matter noting that his new administration would "continue to work to ensure that Californians have access to safe, reliable, and affordable service." The Governor has yet to lay-out further plans to establish regular oversight into privately-owned companies.
"Right now Governor Newsom needs to take control of public utility commissions and he needs to be actively involved in state control of PG&E into smaller owned municipalities or have Counties and the state take over," added Walsh. "We learned one thing. We cannot have PG&E go forward as is. Governor newsom needs to step forward with strong leadership, not just with PG&E, but utility regulation into the state."
Within the next couple of weeks, the steps California takes to address issues within PG&E and privately-owned utility companies will determine the state's commitment to accountability into these entities. The power to regulate and ensure safe practices for utility consumers continues to lie with massive corporations and shareholders.
"Transparency is very critical for making progress in climate change and not having this conflict lead to an outcome that we don't want," said Renderson.
PG&E's filing is embedded below.
Do know a quasi-public corporation in your state that's lacking oversight? Let us know!
Image via Vandenberg Air Force Base