The Board of Selectman in Sandwich, Massachusetts is under fire this month following an open meeting law complaint filed by Barnstable County Commissioner Ronald Beaty.
The complaint calls out the town's Board of Selectmen for mislabeling an executive session item on the Board's December 20th, 2018 meeting agenda. In his complaint, Beaty writes that the description of the executive session topic was "not sufficiently specific to properly inform the public of what would be discussed" during the session. It also cites the Board's failure to routinely release executive session minutes, which is a mandate under Massachusetts Open Meeting Law.
Legally, boards like the Selectman can hold these private, executive sessions because they enter into discussion of private items such as bargainings, lawsuits, or applicants for a public job. However, each board still has the responsibility to review and release those minutes to the public.
Executive session minutes must be approved in a timely manner, just like open session minutes. Executive session minutes may be withheld from disclosure "as long as publication may defeat the lawful purposes of the executive session, but no longer." G.L. c. 30A, § 22(f).
"Open, transparent and accountable local government is of paramount importance," wrote Beaty to MuckRock via email. "When a public body violates the Open Meeting Law as outlined and alleged within the content of the complaint against the Town of Sandwich Board of Selectmen, it is detrimental to the public interest as well as a breach of the public trust."
Currently, Sandwich publishes its regular agenda items, but fails to publicly release executive agenda items or post them on their website.

Beaty hopes the Board takes action to ensure similar issues with the release of executive minutes do not happen again. He calls the failure to do so a "violation" and requests that all members of the public body and its staff be mandated to undergo training on the Open Meeting Law within 60 days, according to the complaint. Nonetheless, Sandwich isn't the only town who's failed to keep up with Massachusetts records law.
In 2016, MuckRock sent over 100 requests to towns all over Massachusetts to gage their responsiveness to records requests and check to see which jurisdictions have been keeping up with reviewing and releasing executive session minutes. Through each request, MuckRock found that Massachusetts towns such as Mashpee, Townsend, and Westford provided the records in question free of charge. Other towns like Lincoln and Pepperell asked for over $200 to release those same minutes.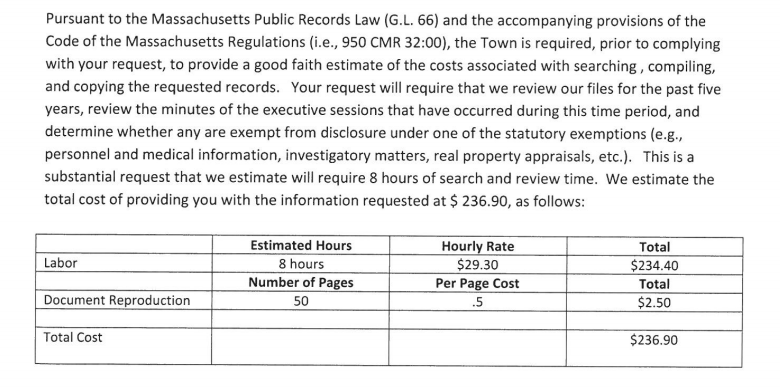 After contacting the Board of Selectmen in Sandwich, Assistant Town Manager Douglas Lapp said the Board is set to discuss the complaint at the Board's first meeting of the year on January 24. However, it's unclear if the Board will begin to release its executive session minutes or respond to Beaty's complaint. Despite the complaint, it's clear that Sandwich is in violation of the law and not providing full transparency to its residents.
Beaty's complaint is embedded below:
Do you have a public records issue in Massachusetts? Let us know!
*Image by Kenneth C. Zirkel via Wikimedia Commons and is liscened under CC BY-SA 4.0