In this week's FOIA round-up, public records show massive federal spending on protecting Confederate cemeteries post-Charlottesville, the Trump administration's policy of withholding documents requested with FOIA at the Fish and Wildlife Service, and a police fraternity allowing cops to escape DUI charges in Illinois. Also, an extensive FOIA-focused report details systemic flaws in the Illinois state FOIA process.
See a great use of public records we missed? Send over your favorite FOIA stories via email, on Twitter, or on Facebook, and maybe we'll include them in the next round-up. And if you'd like even more inspiration, read past round-ups.
VA spent millions securing Confederate cemeteries
After a white nationalist murdered counter-protest Heather Heyer during the August 2017 Unite the Right rally in Charlottesville, Virginia, the federal government moved to protect Confederate symbols. An Associated Press report from this week revealed the federal Department of Veterans Affairs has spent almost $3 million on private security for Confederate cemeteries since Charlottesville.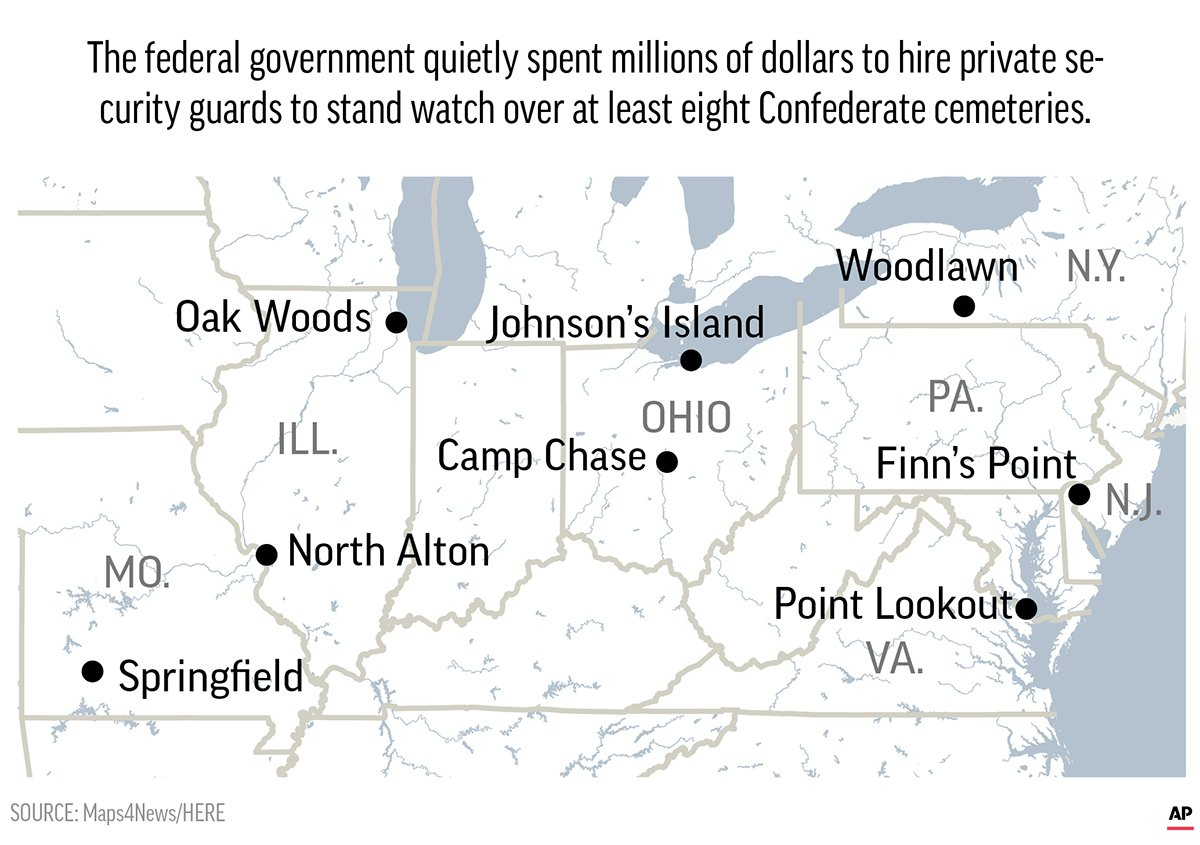 The AP used FOIA to obtain contracts with security agencies for 24/7 protection of the sites. In some cases, security was put in place immediately following the vandalism of Confederate monuments at other locations around the country. None of the guarded cemeteries has been vandalized since security was added last year.
Read the full report here.
Conservation agency told to withhold documents
Federal officials at the US Fish and Wildlife Service instructed employees to be less transparent when responding to certain FOIA requests, according to an internal memo obtained by the Guardian.
The guidance contains a list of records that "should be considered for withholding in full or in part" from the public, including draft versions of policies and rules; internal PowerPoint presentations and webinars; deliberative email communications and meeting notes; and others.

Such records should be carefully reviewed and possibly withheld, the guidance suggests, if they might hamper the defense of the government's decisions in certain court cases and cause "foreseeable harm" to the federal government by sowing "public confusion" or subjecting officials to public scrutiny and thereby creating a "chilling effect" on internal decision-making processes.
The Fish and Wildlife Service administers the Endangered Species Act. Under the Trump Administration, officials have moved to gut the law. Conservation advocates say documents obtained via FOIA from the agency have been critical in legal battles defending endangered species.
Read the full report here
Illinois FOIA enforcement fails requesters
Illinois residents and journalists filing requests for records under the Illinois Freedom of Information Act are routinely barred from accessing them, according to a report published by ProPublica Illinois and the Chicago Sun-Times. The story focuses the public access counselor, known as the PAC, in the attorney general's office — the body responsible for enforcing public records and open meetings statutes and responding to appeals from requesters.
Often, though, the public still gets shut out. Government bodies around the state routinely ignore or misinterpret the FOIA and OMA, according to a ProPublica Illinois analysis of the nearly 30,000 appeals the PAC has received.*

The PAC's staff of more than a dozen attorneys struggles to wade through the cases, regularly taking months or even years to resolve them. When it does rule, it seldom uses its full authority to order government agencies to comply with the laws. And in the rare cases when it does, the office's orders are sometimes blown off. Violators face few consequences.*
The report cites multiple instances in which requesters waited close to a decade for their requests to be resolved. Some such cases are illustrated in Susie Cagle's comics attached to the piece.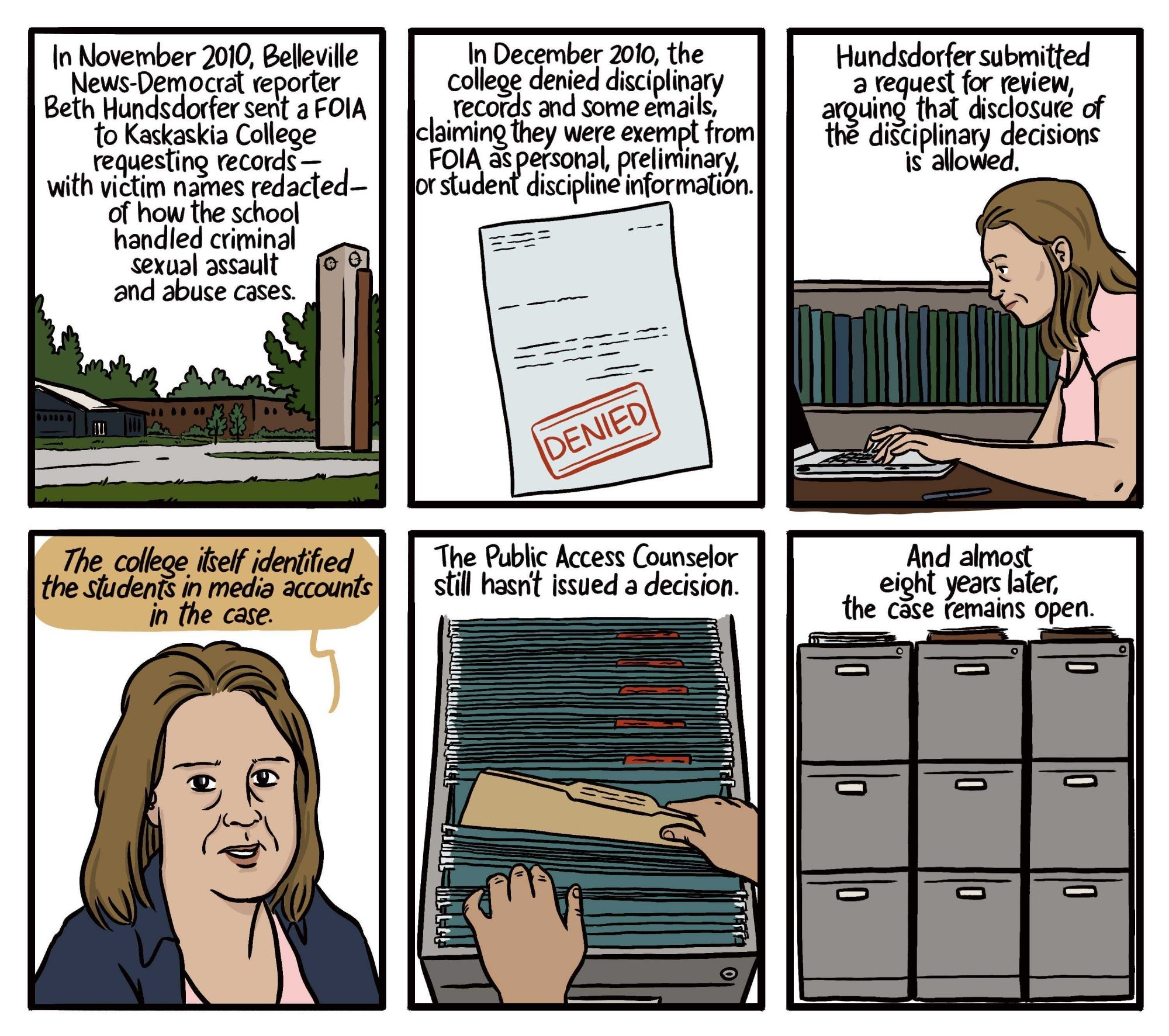 Read the full report here.
Drunk Lake County cops allowed to Uber home
Lake County, Illinois, police officers pulled over for driving with a blood alcohol content over the legal limit have been allowed to call for rides home, rather than face consequences, according to the Chicago Tribune. Reporters at the Lake County News-Sun used FOIA to obtain dash cam video and audio from a police phone call showing officers allowing Waukegan Officer Daniel Ramirez to call for an Uber home after being pulled over for speeding while intoxicated in November of 2017.
"I hate to give the guy — He blew a 0.17," the officer said during the phone call. "We're not going to give him a break if he's claiming to be an officer and he's not an officer anymore*."
This incident is the third example of law enforcement allowing inebriated officers to get rides home that year, said the report. Police moved the drunk officers' cars for safekeeping rather than requiring a tow.
Read the full report here.
Read a great FOIA-based news story we should highlight? Let us know and maybe we can include it in our next roundup! Send it over via email, on Twitter, or on Facebook.
---
Image by Jud McCranie via Wikimedia Commons and is licensed under CC BY-SA 4.0