Fourteen organizations have joined in on a public records lawsuit calling for the release of the Boston Police Department's "gang" database, which the group claims labels, tracks, and shares information about young people it alleges to be involved in gangs.
The lawsuit points to the fact that not much is known about the database, but groups like the American Civil Liberties Union of Massachusetts, who are spearheading the lawsuit, worry about the misrepresentations a "gang" database would have on minorities.
"Being labeled as a gang member has catastrophic consequences for non-citizens. The use of the database could mean detention and deportation for many," said the Executive Director of ACLU Massachusetts, Carol Rose.
The BPD refuses to release the information on the grounds of three frequently cited law enforcement exemptions in the state's public records law. BPD claims the Privacy Exemption as a means of refusing to release information on individuals. They also claim the Investigatory Exemption, which withholds any knowledge of ongoing investigations, and an exemption on security measures.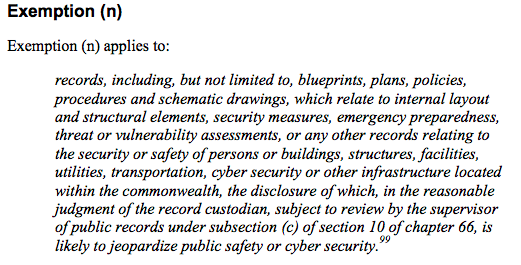 Yet the ACLU of Massachusetts believes that none of those exemptions are substantial enough to withhold information.
"The privacy exemption does not apply because we asked for the entire data. We're not looking for people's names or anything that could be tied to people's privacy," said ACLU's Director of Technology Kade Crockford ACLU of Massachusetts during a press conference. "The [investigatory exemption] can't be used because it doesn't show prejudice in their response to us. Exemption n also falls short and allows an agency to withhold blueprints, procedures or security."
This isn't the first time the BPD rejects a public records request based on the aforementioned exemptions. Just last week, the Boston Globe won an appeal against the BPD after the department refused to release photos of an officer and detective. The BPD also cited exemption f as their reason to withhold documents.
Nonetheless, other groups around the country have proved successful in retrieving similar data. Groups in California and Chicago have also fought for the release of "gang" data from police departments.
"Many other cities have disclosed this type of information on their database. We're not asking for information too different than the type of information we sued for in our stop-and-frisk litigation," added Crockford. "We're seeing the same thing unfold in secret here as young people are categorized as gang members because of who they are and who they are seen associating with."
Read the full compliant embedded below
Have your own Massachusetts records story? Let us know via the form below.
Image via Boston Police Department Facebook