Thanks to FOIA, more Mnuchin came out this week, but this time they also showcase Mitch McConnell's golden touch. See them and read other FOIA stories, plus take advantage of the last chance to win free swag and MuckRock requests by digging through Donald Rumsfeld's memos.
See a great use of public records we missed? Send over your favorite FOIA stories via email, on Twitter, or on Facebook, and maybe we'll include them in the next roundup. And if you'd like even more inspiration, read past round ups.
BuzzFeed uses FOIA to sneak into Fort Knox
Tarini Parti reviews photos of Treasury Secretary Steve Mnuchin and Mitch McConnell having fun inspecting the gold at Fort Knox.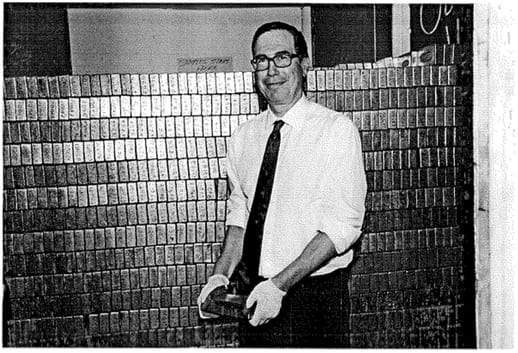 Mnuchin and McConnell weren't the only ones to have fun, however. As Parti noted, the photos were ripe for remixing:
i am so sorry pic.twitter.com/6jfSTl2s6g

— Shoshana Weissmann, Sloth Committee Chair (@senatorshoshana) May 18, 2018
about to drop the hottest album of the summer pic.twitter.com/WYx56LJdEG

— Josh Billinson (@jbillinson) May 18, 2018
See more of the pictures at BuzzFeed, and find earlier pics of Mnuchin watching the eclipse at ThinkProgress. Danielle McClean talked with us about how she came across that stash of pictures in a previous FOIA round-up.
Want to work in FOIA? Some job openings that might be of interest
FOIA is a wide field with a lot of interesting career opportunities. Here are a few we've recently come across:
Know of another cool FOIA-centric job opportunity? Let us know!
This week's #RummysSnowflakes winners … and your last chance to win free MuckRock requests and swag while uncovering history!
This past week, you helped crowdsource almost 200 more submissions in the #RummysSnowflakes Assignment, which is exploring a cache of thousands of pages of memos released by the National Security Archive.
Every volunteer who contributed at least five submissions in the last week will get a free MuckRock request added to their account later today, and we've picked not one but *two new winners for this week's most interesting find!
First is user Daniel Van Schooten, who spotted a memo from Rumsfeld saying a would-be whistleblower "ought to be put down" after their allegations were found not to be sustained:
Next is an entry from Gilman Grundy, which outlined possible criteria under which the U.S. military should enter engagements:
Thanks to both of them and everyone who has contributed so far.
But it's not too late for you to pitch in!
A reminder that the person who submits the most entries over the course of the four-week content will be given 25 free requests plus an extra special MuckRock Swag Pack, sent anywhere in the United States, plus one more weekly winner with the most interesting find will get a free item from the MuckRock Swag Store.
Help us continue to expand the data set by helping crowdsource the rest of the information! Just one weeks left until the ultimate winner is announced.
Read a great FOIA-based news story we should highlight? Let us know and maybe we can include it in our next roundup! Send it over via email, on Twitter, or on Facebook.
---
Header image public domain via BuzzFeed FOIA request.