As we've written about before, Ernest Hemingway's relationship with the Federal Bureau of Investigation would charitably be described as "strained." Hemingway would tell anybody who'd listen that he thought the Bureau were a bunch of Nazi mediocrities …

and the FBI in turn dismissed Hemingway as a drunken phony.

As his file shows, however, all of that changed when Hemingway finally did something the Bureau agreed with: he died.
In January of 1964, three years after Hemingway's suicide, FBI Director J. Edgar Hoover received a letter from the journalist Quentin Reynolds, a member of the FBI's special contacts list and personal friend of Hoover's. Reynolds had been in contact with Hemingway's widow, Mary, who was upset that Cuba had recently begun issuing a commemorative stamp bearing the author's likeness.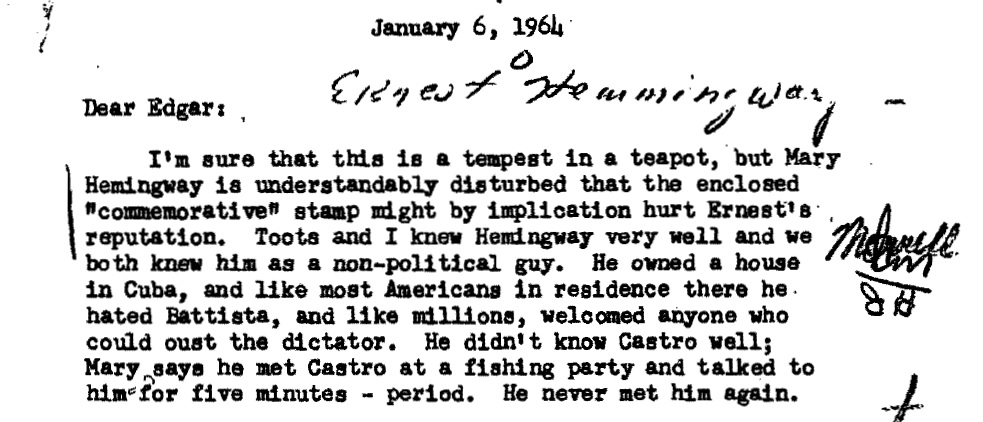 Reynolds, echoing Mary's concerns that the stamp would be seen as a sign of Hemingway's posthumous support for the revolutionary Cuban government …

wanted to get ahead of some "jerk columnist" and let Hoover know that Hemingway was no Red.

Reynolds apologized to Hoover for involving him in such a "trivial" issue and even included the stamps for reference (though Mary would really like them back if possible).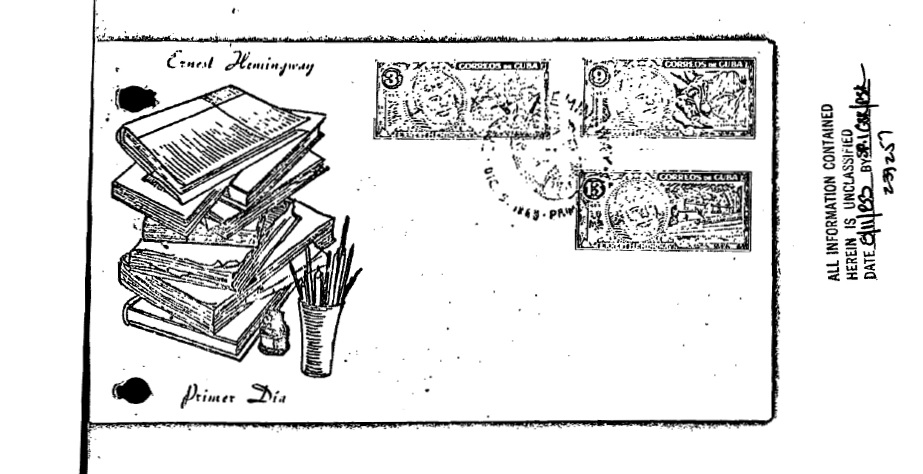 In a handwritten note intended only for the Bureau's eyes, Hoover, known for his brusqueness, penned a surprisingly thoughtful response:

Which, if you have trouble with Hoover's trademark scrawl, reads:
"Knowing Hemingway as I did, I doubt he had any Communist leanings. He was a rough, tough, guy always for the underdog."
Surprisingly kind, considering that the Hemingway had repeatedly called Hoover the head of "the American Gestapo."
Hoover wrote back to Reynolds, assuring him that a note will be placed in Hemingway's file and returning the stamps. Continuing a streak of uncharacteristic warmth, he even redacted the 'J.' and 'Hoover' from his sign-off, opting for the more personal 'Edgar.'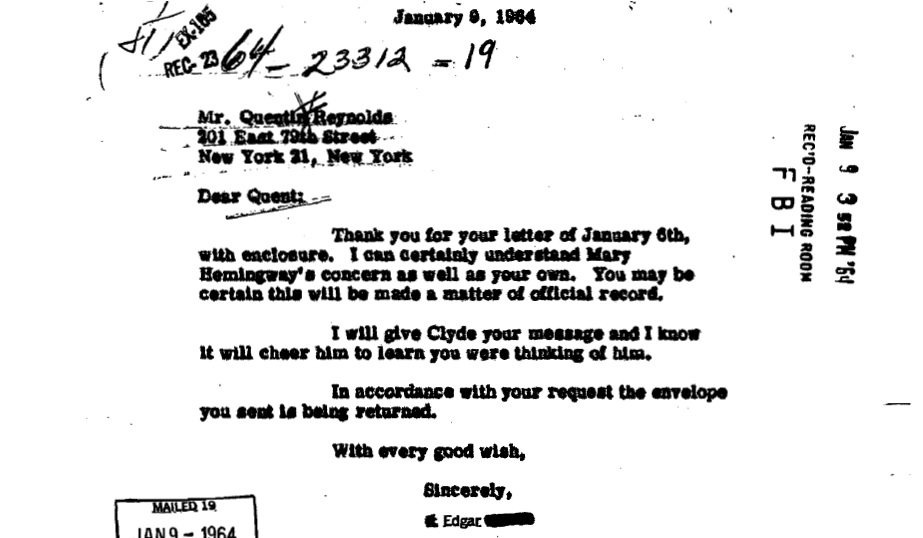 Read the full file embedded below, or on the request page.
---
Image via Wikimedia Commons