Our contest to crowdsource #RummysSnowflakes is officially over, so now it's a time to congratulate the winners and see the results!
The project was launched after the National Security Archive won its fight to force the release of former Secretary of Defense Donald Rumsfeld's "Snowflake" memos.
We weren't sure how the last week would go, but contributions kept pouring in: Since last Wednesday, we've had 202 contributions, bringing the grand total of submissions to 1390.
The results mix the mundane ("Rumsfeld misses his dentist") to the tragic (a memo regarding the criteria for military engagements, few of which seem to have been met in the War on Terror).
There are a lost of fascinating finds in this most recent batch, but this week's award is to Gilman Grundy, who identified a memo outlining "on the ground" challenges of operations in Afghanistan. The memo was written by a "West Point grad" who had spent some time on the ground in the country, but whose name is redacted. It was brought to the Secretary of Defense's attention (with a stamp noting that he did, indeed, review it) by David "Hack" Hackworth.
Thanks to Gilman for highlighting the memo.
And thanks to all who participated! Everyone who submitted five or more entries over the last week will get a free MuckRock request added to their account, and we're excited to announce the overall winner who submitted the most entries.
First, a look at the distribution of submissions.
115 total volunteers submitted during the duration of the four week-plus-two-days contest, totaling 1,390 submissions.
28 users only submitted one entry.
The mean average was 12 submissions per user.
The median average was four submissions.
Seven users submitted more than fifty responses.
Four users submitted more than 75 responses.
Two users submitted an incredible hundred+ responses
Here's that all graphed out: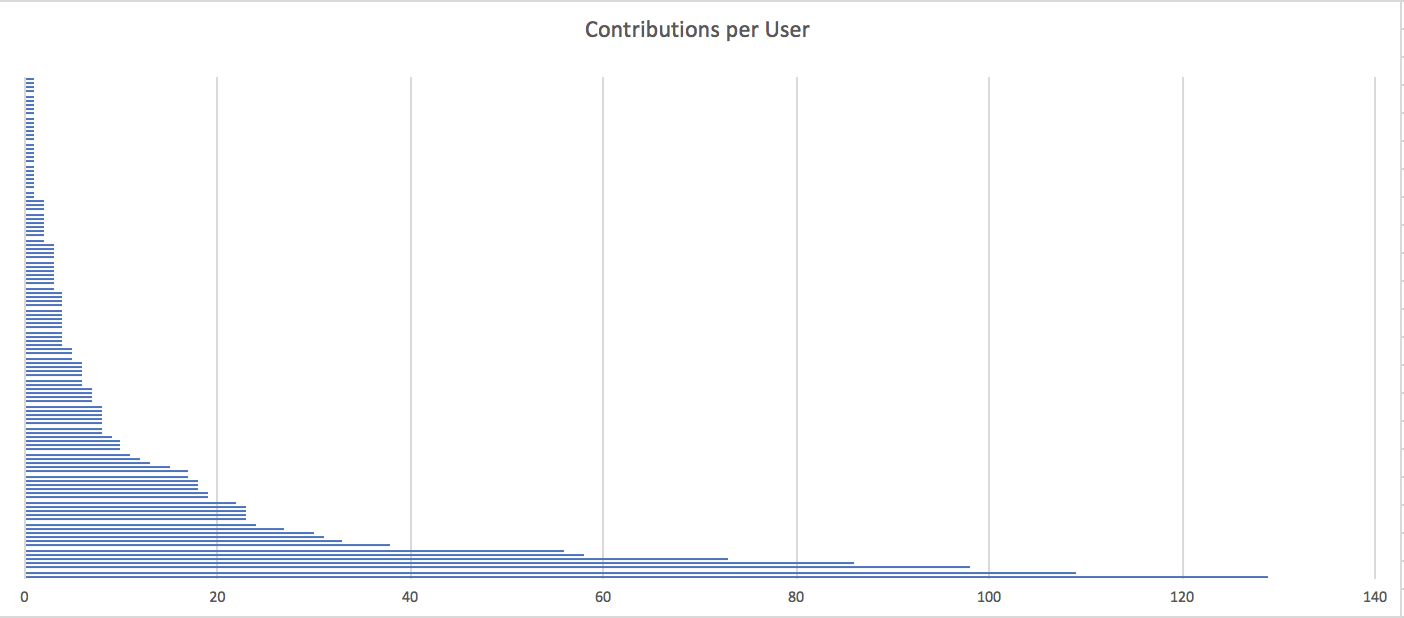 And the number one submitter, with 129 submissions, was … also Gilman Grundy!
To dig into all the submissions yourself, you can download the complete submission set as a CSV here.
That download also includes like suggested tags, whether a note includes handwriting, whether the reader subjectively thought the information was "newsworthy," and more.
Have a large set of documents you'd like help analyzing? Check out MuckRock Assignments, or email us.
And while we won't be giving away more requests or prizes, you can still help analyze the data by helping out with the assignment:
It will automatically close once every page has been read through three times, but for now there's still plenty to discover.
---
Image by Martin Kalfatovic via Flickr and is liscended under CC BY-NC-SA 2.0