The U.S. Citizenship and Immigration Services announced a new effort last month, confirming that it would be reexamining the records of naturalized citizens and creating a centralized group to recommend stripping citizenship benefits from those found to have obtained them fraudulently.
The agency will be staffing up its Los Angeles field office with lawyers and immigration officers tasked with actively identifying naturalized citizens who received citizenship using a false name or with a criminal background, confirmed the Director of USCIS L. Francis Cissna.
"We finally have a process in place to get to the bottom of all these bad cases and start denaturalizing people who should not have been naturalized in the first place," Cissna told the Associated Press. "What we're looking at, when you boil it all down, is potentially a few thousand cases."
Though the so-called "denaturalization task force" is becoming a Trump-era reality - joining the administration's controversial collection of tough-on-immigration proposals - moves have been ongoing since the Obama administration to identify ineligible individuals who nonetheless managed to get citizenship. A September 2016 report from the Department of Homeland Security Inspector General found that hundreds of illegible immigrants had been naturalized even though more effective digitization of fingerprint records could have prevented the slips.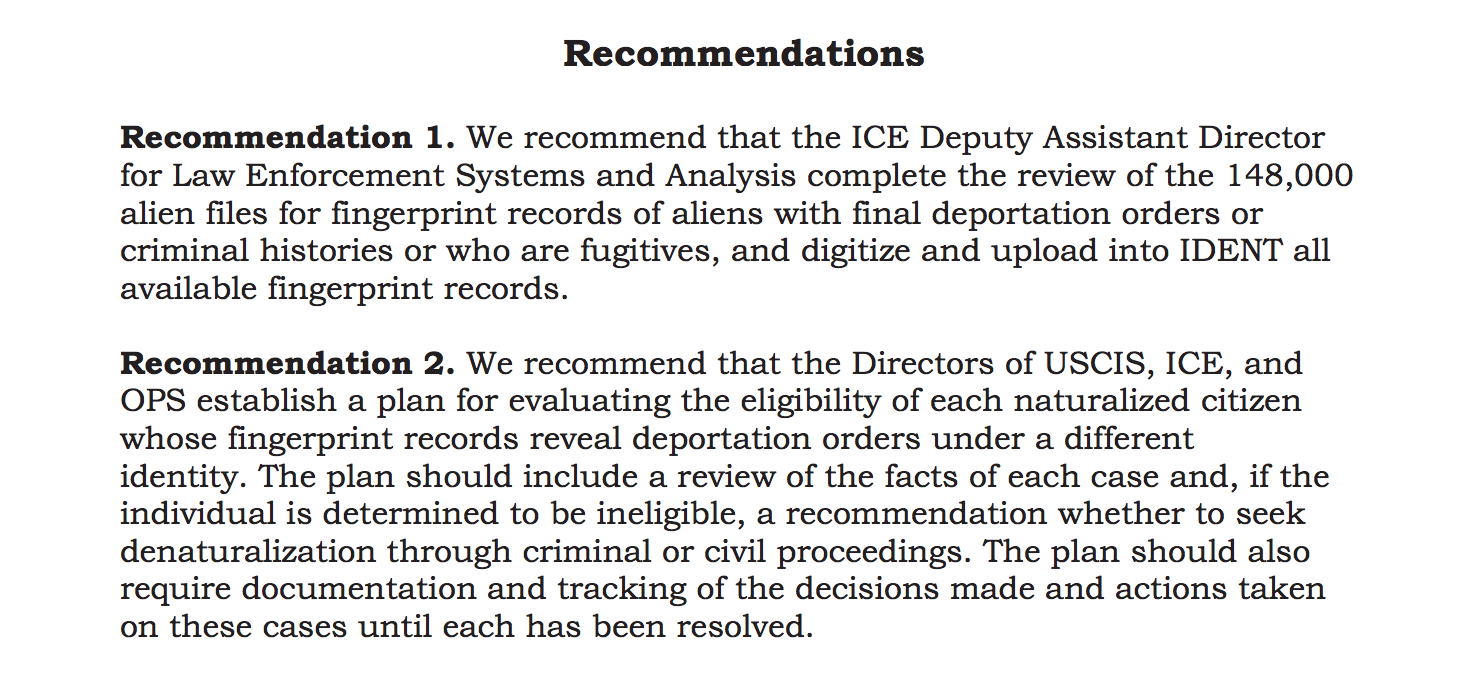 And the ongoing cross-agency programs Operation Janus and Operation Second Look have both been focused on naming illegal naturalization acquisition.
Nonetheless, the current administration has made a particularly notable rally around limiting foreign-born entry into the country, legal or otherwise. It has insisted on prohibiting travel from particular countries, called for the construction of a wall to separate the U.S. from Mexico, and has implemented a zero-tolerance policy for those entering the country without authorization.
The number of undocumented immigrants in the country currently hovers between 11 and 12 million, as estimate based on data from the U.S. Census Bureau's American Community Survey. Of course, this data is affected by the willingness of those reporting and the thoroughness of the actual collectors; the Department of Homeland Security is limited in its ability to accurately report such information, and its most recent available estimate is four years old and likely quite a bit higher than the actual numbers.
However, additional details regarding the new hires and allocation of resources have not yet been released. A FOIA request on the subject is still awaiting response, and can be followed here.
The DHS OIG report is embedded below.
---
Image via U.S. National Archives Flickr