Beyond its buildings and its land, your city's assets may not be obvious, even though among them are the means by which pensions are funded and new projects are undertaken.
Your municipality is probably buying bonds, holding shares in stock, and making other financial investments, ways your tax dollars are used to theoretically ensure returns for residents later on. Nearly 80 interested citizens have submitted their towns to MuckRock's crowdsourced look at what towns around the country are holding for resources, and we've gotten nearly 20 complete responses from Middlebury, Vermont and Tivoli, New York to San Jose and Malibu
Some states require their local governments to organize a plan for managing assets. In New Jersey, for example, under 40A § 5-14, each municipality must "adopt a cash management plan and shall deposit, or invest, or both deposit and invest, its funds pursuant to that plan." Freehold, New Jersey sent us their most recent resolution, and, presumably, every other city unit in the state has something similar, so if you're from the Garden State and want us to request your city's cash management plan, let us know via the form below.
Logan, Utahshared with us its holdings broken down by value.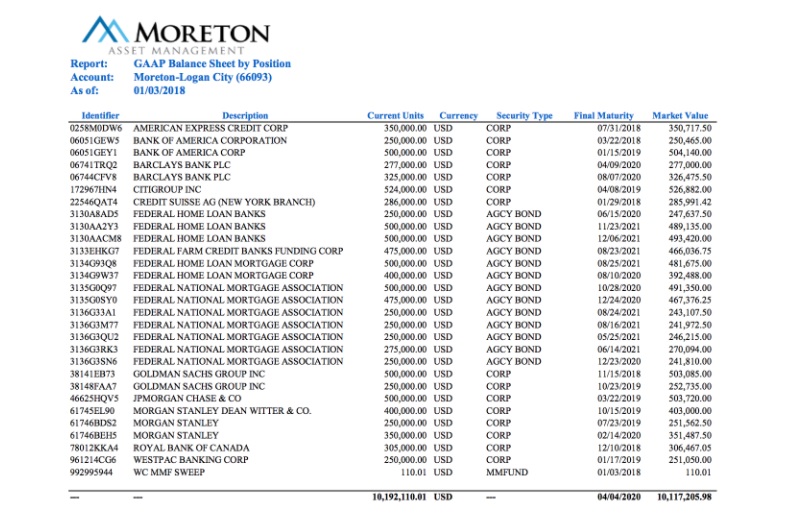 The City of Malibu, California provided its annual financial report, which includes summaries of the City's holdings and debt …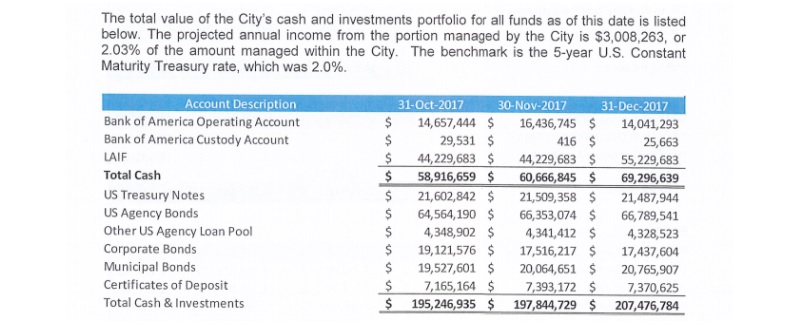 and the City of Ventura noted that its portfolio would return over $3 million this year.
MuckRock is still working on collecting materials. Have experience in municipal investing? Help us out by giving us some feedback via info@muckrock.com or via the form below.
Want to be kept up-to-date on this project? Sign up for our mailing list, or follow along on the request page.
---
Image via Wikimedia Commons