Last Thursday, MuckRock, along with Boston Hassle, held our first ever Public Internet Potluck. We had an assortment of active organizations who tabled the event including the American Civil Liberties Union, Black and Pink, Civic Series, Deeper than Water, and Spare Change News. There were lots of opportunities for those who came to get involved in local community activism, as well as organizational swag and plenty of reading material.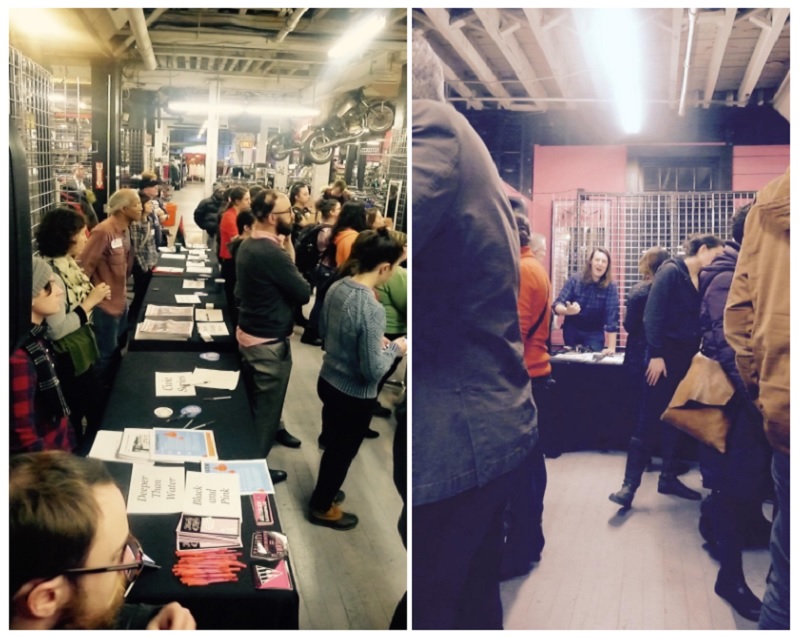 Photos courtesy of Mark Davis
Emceed by MuckRock's very own co-founder Michael Morisy, those in attendance heard rousing speeches that mixed public interest passion with well-timed humor.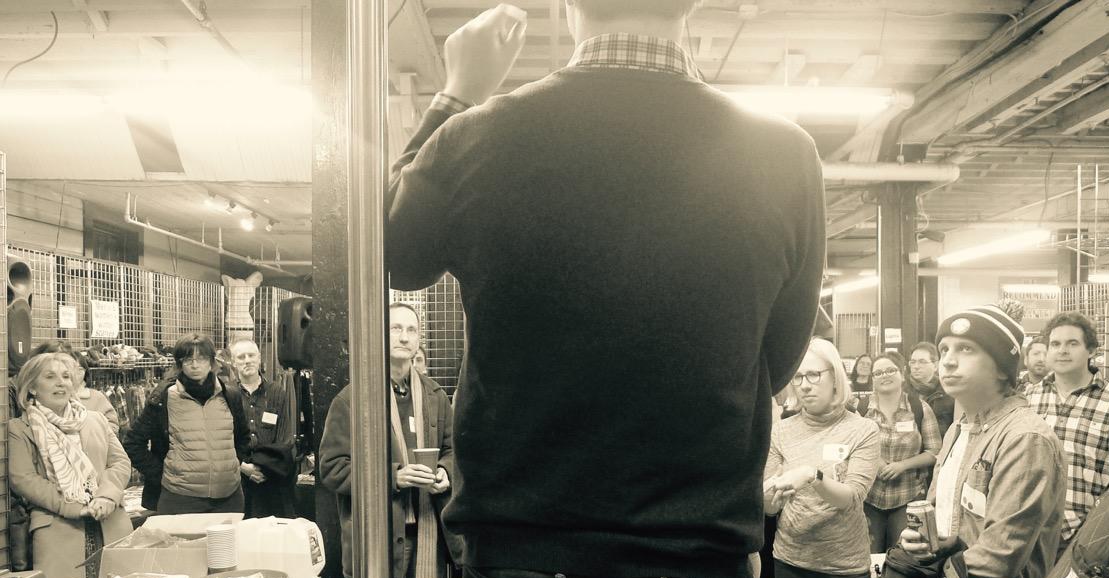 Photo courtesy of Mark Davis
Kade Crockford of ACLU Massachusetts spoke about how on a daily basis her organization looks to public records to strengthen their advocacy work. Crockford also expressed her frustration - felt by MuckRock and anyone who champions government transparency - that those in a position of authority to block our access to public information are often the same ones who actively violate our civil liberties through unbridled, mass surveillance.
State Representative Mike Connolly touched upon his involvement in Occupy Boston and how his disillusionment with the established parties drove him to get involved in the politics. There was also a hilarious anecdote about his first misguided political engagement, when as a kid he made an ill-fated attempt at canvasing around his liberal, Massachusetts neighborhood for George H. Bush.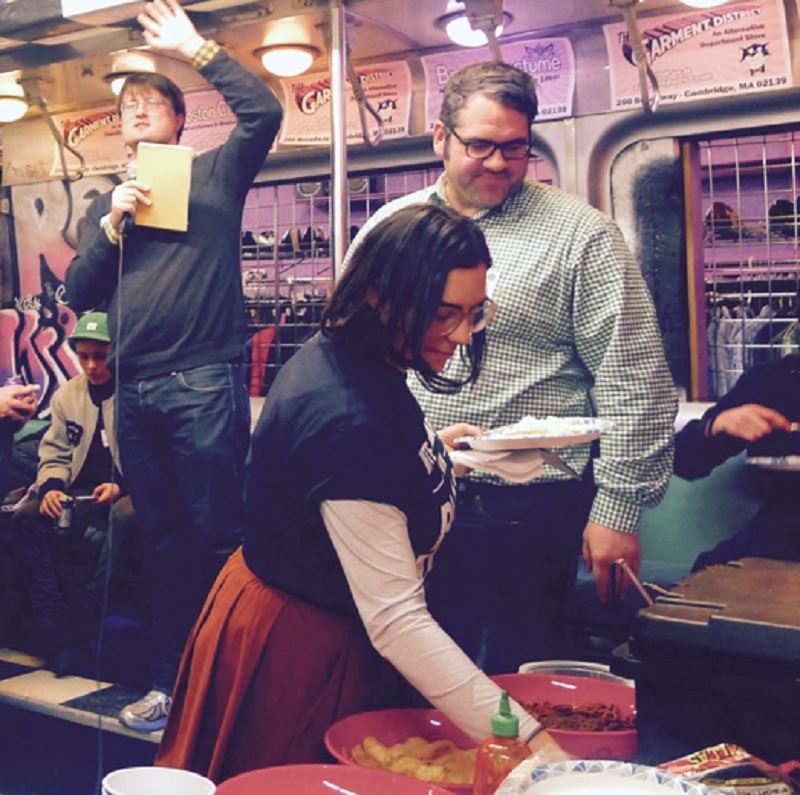 Photo courtesy of Mark Davis
The number of involved and enthusiastic citizens without an organization affiliation present was a stirring testament to civic engagement, particularly under an administration that on a day to day ignores the interests and ethics of the public.
The event space held between 50 to 60 engrossed individuals dispersed around cocktail tables who snacked and spoke about the work they do and what issues ignite them. The voices of activists, artists, freelance writers, municipal members, and non-profit workers filled the little corner of the Garment District with positivity and enthusiasm with discussions around the plight of their communities.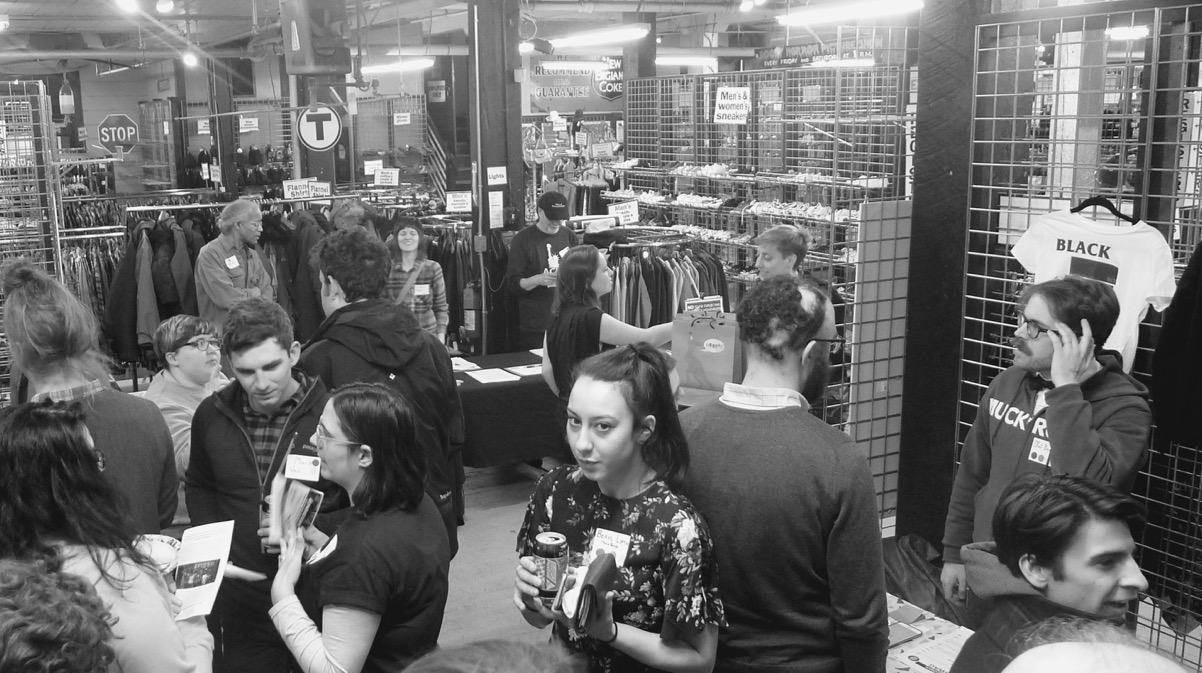 Photo courtesy of Mark Davis
We want to extend a big thank you to The Garment District for hosting us and Food Not Bombs for supplying the ultimate means of unification - burritos! Special shout out to our friends over at Boston Hassle - without whom this event would have never have happened! Collaborating with a group like Boston Hassle was a great experience for MuckRock, as art and culture will always be a formidable vessel for political action. Moving forward, we hope to see more events like these held throughout Greater Boston area, and beyond!
---
Image via Beryl Lipton