What's considered public record or not is not a new debate. But the increasing prevalence of social media use amongst government agencies and officials, such as Twitter, brings up a new debate: If you delete social media posts on an official account, is it a violation of public records laws?
In this week's FOIA round-up, we take a look at Slate's Muira McCammon exploring that question, along with one official's commitment to physically mailing FOIA materials, increasing records fees for student newspapers at Kansas public universities, and the chance to nominate yourself or someone else to improve FOIA compliance within the National Archives and Records Administration.
See a great use of public records we missed? Send over your favorite FOIA stories via email, on Twitter, or on Facebook, and maybe we'll include them in the next roundup. And if you'd like even more inspiration, read past round ups.
What a waste of postage
North Carolina's Legislative Services Officer Paul Coble is either averse to technology or very supportive of the U.S. Postal service - meaning that he'd rather violate state public records law and cost taxpayers money to respond to records requests by postal mail instead of email, Melissa Boughton from NC Policy Watch reports:
On January 16, Policy Watch sent Coble a request for "any documentation on responses from state legislators, their aides or other personnel to an email sent to them last week from Wesley Taylor regarding 'Subsistence and Travel Waivers.'" The request asked for responsive documents to be sent electronically.

Instead, on March 5, after several emails and phone calls, including inquiries from an attorney employed by the North Carolina Justice Center (the parent organization of NC Policy Watch), Coble mailed some paper copies of emails and a thumb drive of one Excel spreadsheet.
Coble is violating state law "by not providing documents in electronic format, which is required by North Carolina General Statute §132-6.2," Boughton writes.
Each page printed costs taxpayers 47 cents, which doesn't include packaging or postage. With the rate Coble is going, that surely adds up. And he doesn't show any sign of stopping:
Coble violated the law again this week when he used the Postal Service to mail Policy Watch a website link in response to a request for documentation reflecting the North Carolina General Assembly's and Legislative Services Office's public records policies and procedures.
Heavy fees for Kansas student publications
Wichita State University's independent student newspaper, The Sunflower, received a $1,605 bill for emails they requested through the Kansas Open Records Act.
While this isn't the most exorbitant fee we've ever seen, what's interesting is the manner in which the university charged the paper.
Wichita State General Counsel David Moses, handling the request on behalf of the university, initially quoted $409 to collect the records in December 2017. He later revised the estimate to $593, which the newspaper paid. About two months later, he sent the documents with a comment that the request was "overly broad, ambiguous and vague … which does not relate to the legitimate concern to the public," according to The Sunflower, and added that he would "send an invoice for additional charges in the near future." He never responded when they tried to clarify what "near future" meant.
It wasn't until last week that The Sunflower received the "final invoice," seeking an additional $1,012.
Of the documents they received (2,102 pages total), 928 had redactions and 539 of the pages were completely black.
This high fee isn't an outlier either. Another recent KORA request by The Sunflower racked up an estimated $1,500 in fees, $750 of it required upfront. Other state colleges in Kansas are dealing with high fees too:
The Kansan was charged $132.50 in 2016 in addition to $561 spent on two previous requests to obtain information regarding sexual misconduct cases. The Collegian was charged $1,375 to produce similar records; and at the time, WSU produced the records free of charge. The following year, the Kansan again requested records related to sexual assault and were once quoted a bill at $1,057.50.
Earlier this year, KU wanted $838.60 to produce emails from administrators related to Facebook founder Mark Zuckerberg's invite-only visit to the university.
The Sunflower's opinion page editor Evan Pflugradt writes that the quotes are "nonsensical and unreasonable."
Are social media posts by government agencies considered public records?
US Army St Patrick's Day video showing shamrocks being fired from weapons gets mixed response online pic.twitter.com/EeELEq2A20

— BBC News (UK) (@BBCNews) March 19, 2018
Long answer short: Depends who you ask.
It's debatable whether social media posts for government officials are a matter of public record, but what about the official accounts of the agencies themselves?
As Muira McCammon reports for Slate, there is no universal policy for social media retention:
You might think that there should be a law that would prevent all agencies from deleting tweets left and right - but that law does not yet exist in the United States. Although the Federal Records Act governs agencies' records-management responsibilities, it has left us with a problem: As a matter of policy, it isn't a problem for federal agencies to delete their tweets unless their internal records-management staff has pre-established that tweets are "permanent records" and registered them as such with the National Archives and Records Administration. If it thinks that tweets are "non-records," there's no obligation to archive them. So, with regard to tweets, an agency has to elect to be transparent in the first place before we can expect it to be transparent….
This has caused widespread differences in what's available for official records. There are initiatives, such as ProPublica's Politwoops project, McCammon points out, that track and archive public officials' tweets, but there isn't a service that tracks the social media accounts of government agencies.
That's why McCammon started a project of her own: archiving every federal agency's Twitter feeds. But this approach is still not foolproof:
If I made a web archive of @USArmy on Nov. 27, 2017, it would not automatically add tweets posted afterward, and it wouldn't capture tweets deleted on the account before Nov. 27. Still, to me, this approach seems a thousand times better than just accepting what I get back from federal agencies themselves or relying on the Wayback Machine's crawler to grab all federal agency tweets before they're deleted.
Seeking nominations for FOIA Council
NARA is seeking nominations for their FOIA Advisory Committee.
The committee was established in 2013 to "identify procedures and methods for improving compliance" with FOIA. Members serve a two-year term limit.
It consists of 10 government and 10 non-government representatives:
Government members: Three FOIA professionals from Cabinet-level Departments; four FOIA professionals from non-Cabinet agencies; one representative from the Department of Justice, Office of Information Policy; and one representative from OGIS.

Non-Governmental members: Three individuals representing the interests of non-governmental organizations that advocate on FOIA matters; two individuals representing the interests of FOIA requesters who qualify for the "all other" FOIA requester fee category; one individual representing the interests of requesters who qualify for the "news media" FOIA requester fee category; one individual representing the interests of requesters who qualify for the "commercial" FOIA requester fee category; one individual representing the interests of historians and history-related organizations; and one individual representing the interests of academia.
Applications are due June 1st by 5 p.m. EDT. Nominees will selected for appointment in summer 2018.
You can find the nomination requirements here.
Send us your favorite FOIA stories - and chat public records today at noon!
Our next FOIA Chat is today at noon, with special guest Troy Thibodeaux, data journalism team editor at The Associated Press. Join MuckRock's FOIA Slack to take part, and read up on what you missed in our discussion with Adam Marshall.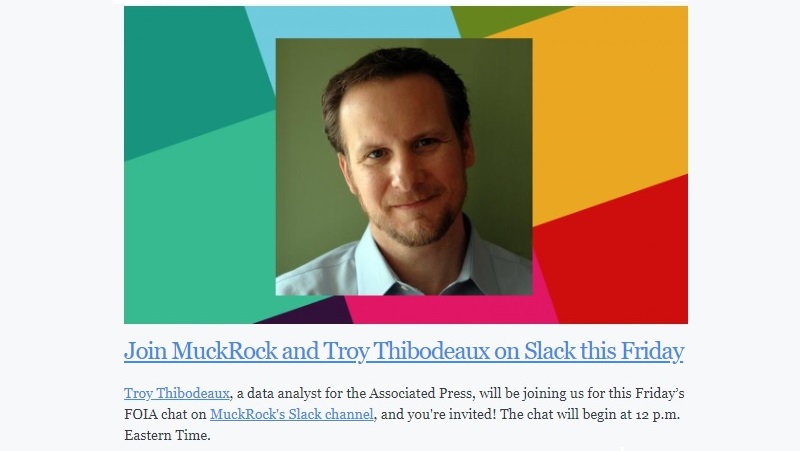 Seen a great FOIA-based news story we should highlight? Let us know and maybe we can include it in our next roundup! Send it over via email, on Twitter, or on Facebook.
---
Image via PXHere