An incident from the height of J. Edgar Hoover's reign as FBI Director illustrate the lengths the Bureau would go to squash rumors surrounding Hoover's sexuality - and the dire consequences for those found spreading those rumors.
The incident can be found roughly at the halfway mark in Hoover's own FBI file, and begins rather inauspiciously enough with a memo to the Director from Assistant Director D. M. Ladd, regarding a Bureau Supervisor Roy Wood's favorite place to grab lunch.

Things took a rather serious turn, however, when Wood revealed a shocking story relayed to him by a diner employee. That man had attended a dance the evening prior, where a fellow partygoer had uttered some salacious gossip regarding the Director.

Ladd suggested that Wood track down the man and his Baltimore sources, so that they can be "vigorously set straight." Hoover emphatically agreed.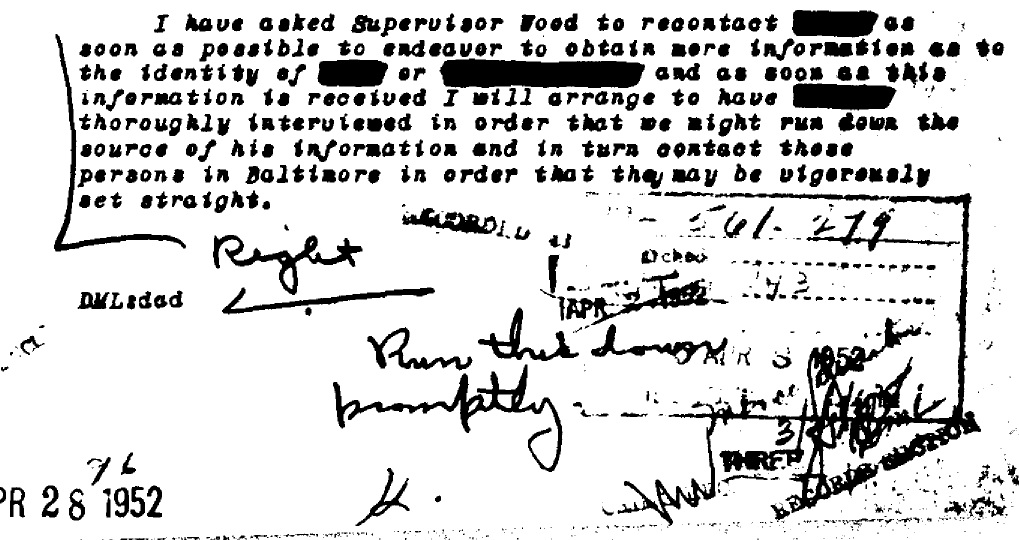 The next day, Wood spoke again to his original source, who couldn't remember much about the rumormonger, other than he taught "Latin dancing."

Armed with this knowledge, Wood employed some impressive dance detective work to discover a promising lead - a former instructor whose day job was in government and who owned a telephone.
Using these clues, Wood narrowed it to a single suspect in Arlington, Virginia.

That same evening, Mr. ██████, a budget examiner at the National Labor Relations Board, found himself playing host to two unexpected guests: FBI Special Agents Delavigne and Jenkins.

After a few questions, the Special Agents were able to determine that they had indeed found their man.

So they got right into it: had ██████ indeed said that horrible thing about the Director, and, if so, why?

██████ cracked immediately, admitting he had said it, but insisted he didn't know why …

and denied knowing any gossipy dance instructors from Baltimore.

The Special Agents noted that their interrogation of ██████ was quite vigorous, and clearly scaring the hell out of him, but they still doubted his honesty. They theorized that seeing as ██████ was a "rather weak type individual," the entire thing might have been the product of his diseased imagination.

The Special Agents informed ██████ of the "criminal and civil liabilities" of making such statements, as well as chastising him for besmirching "an individual far his superior."

██████ appeared extremely chastened.
The Special Agents concluded the interrogation by looking into ██████'s criminal history and asking him if was a pervert, which he "vigorously denied"

With that, the Special Agents considered the case closed, as - to break out the v-word one last time - ██████ had been "vigorously set straight."

Hoover, however, was not satisfied, and suggested that the matter be brought to ██████'s superior at the NLRB.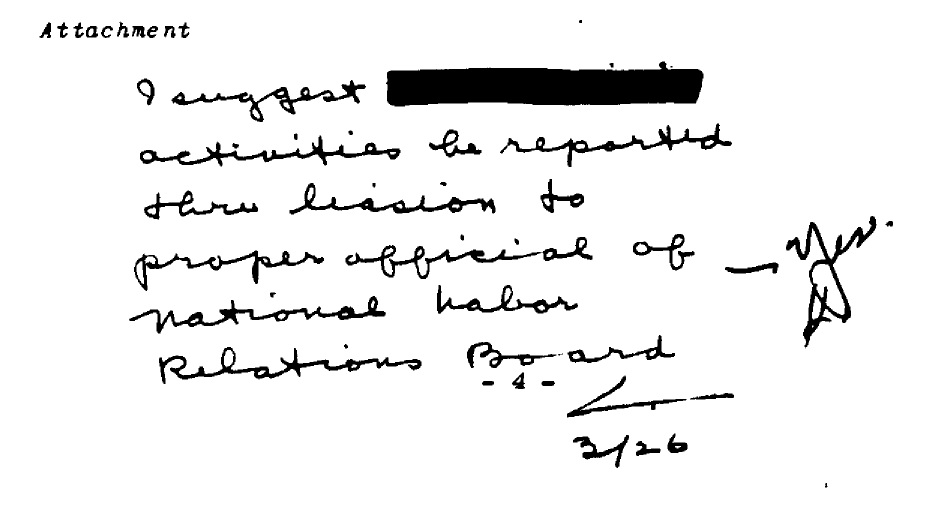 A few days later, Hoover received a memo informing him that ██████'s superior - who had the highest respect for the Director - had been indeed been informed, and was deciding what a the consequences for ██████ would be.

While the ultimate fate of the Latin dancing Labor clerk who make the mistake of striking up a conversation with the wrong person at a party is unknown, one thing is absolutely certain - J. Edgar Hoover was a terrifying man to run afoul of.
Read the file embedded below, or on the request page.
---
Image from the Los Angeles Times photographic archive and in the public domain, via Wikimedia Commons