For a long time, public records and the Freedom of Information Act were lumped in as the old way of doing things: Who has time to wait on a request that could takes weeks or months or years when digital journalists measure deadlines by the hours? How could photocopies of documents be relevant for an audience we're told craves nothing but video?
This week, I'm happy to highlight a number of stories that show how far we come: The Online News Association announced finalists for its annual awards, and all four finalists for the Knight Award for Public Service relied heavily on public records.
Seen a great FOIA-based news story? Let us know and maybe we can include it in our next round up! Send it over via email, on Twitter, or on Facebook.
And the nominees are …
One thing Online Journalism Award nominees have in common? Public records requests. Much of the highlighted reporting among this year's crop of excellent nominees is based on public records requests, but it really stood out to me how all four nominees for the Knight Award for Public Service were made possible to smart records requesting.

The Atlanta Journal-Constitution's Doctors & Sex Abuse highlights the power of persistence and the importance of digging deeper. In this case, an investigative reporter noticed that two-thirds of doctors disciplined for sexual misconduct in Georgia were allowed to practice again.
As they analyzed cases across the country to see if this was a wider pattern, they came across hundreds of thousands of documents, many of which were scraped off agency websites but others which they garnered through dozens of public records requests. Read more about the project here.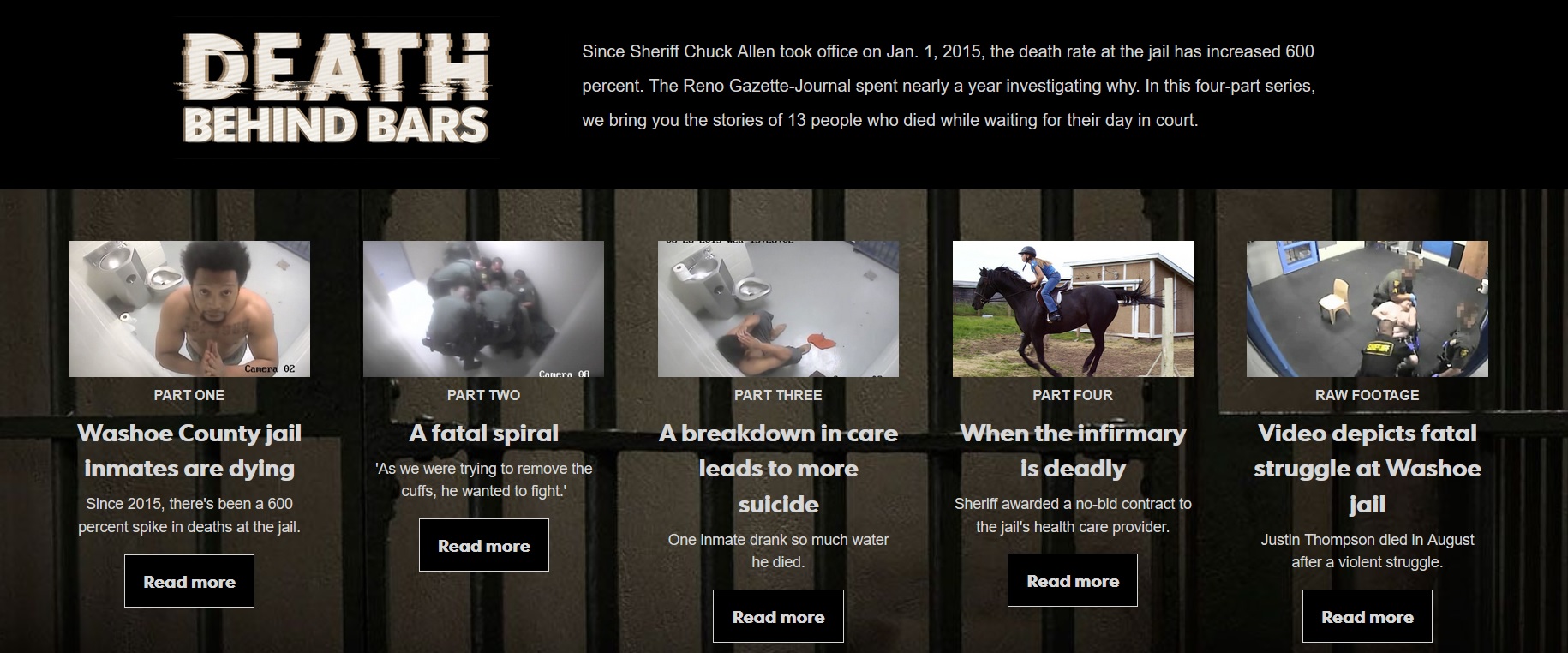 In Death Behind Bars, a database received after a public records request showed a hidden spike in jail deaths — and raised troubling questions about changes to procedures at the jail.
"After we obtained the raw data, we filed even more public records requests," wrote Anjeanette Damon, the reporter on the story. "We obtained police investigation reports, internal risk management investigations from the sheriff's office, a copy of the $5.9 million no-bid contract awarded to NaphCare for medical services, death reports filed with the U.S. Bureau of Justice Statistics and policy documents on use of force in the jail."
The paper also did a great job of documenting how hard it had to fight for some of these records, including a lawsuit for crucial video of an inmate's death. Read more about that project.

Toxic Armories, by The Oregonian / OregonLive, documented the results of an 18-month investigation that showed dangerously high lead levels making people sick and exposing children to danger.
But getting that information wasn't easy, as was noted in the finalist citation:
Obtaining the inspection reports proved difficult. The Guard's central office wouldn't cooperate, so Davis filed more than 100 records requests in all 50 states. He amassed more than 23,000 pages of records from 41 states, enabling us to build a first-of-its-kind database of contaminated armories.
The reporting by The Oregonian/OregonLive led to widespread federal cleanups - which had been recommended, and ignored, 20 years earlier.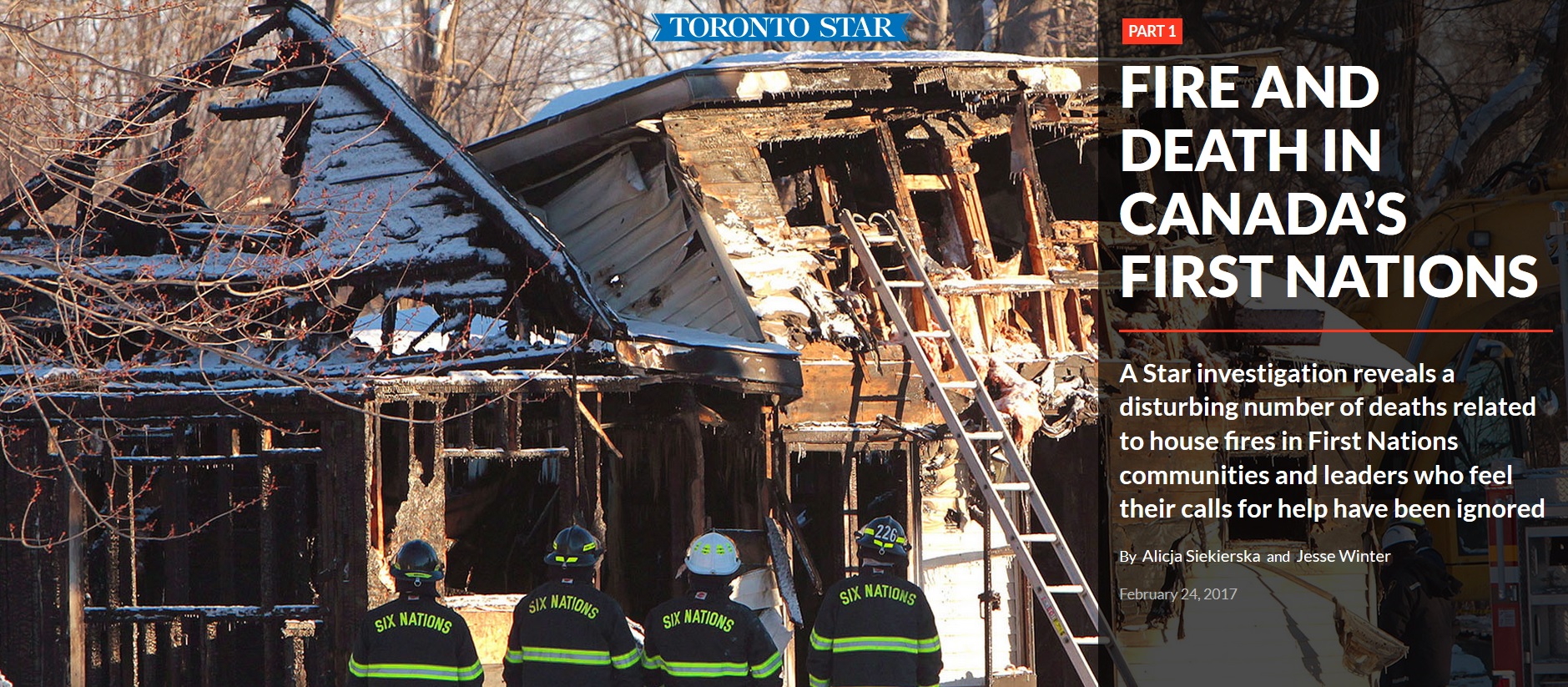 And finally, The Toronto Star's Fire and Death in Canada's First Nations used public records to help tell the heartbreaking story of lives endangered among indigenous people due to ill-prepared emergency resources.
Some of those requests were targeted at data, as the Star reports:
But a Star analysis of raw government data, obtained through a freedom of information request, shows that while the general condition of firefighting assets in First Nations is rated an average 6.8 out of ten, the operational effectiveness of those resources is an average of 2.8 out of ten.

In a 2014 government survey, which included responses from 78 First Nations, about 4 per cent said their fire halls were "non-operational." Nearly 20 per cent described fire hall operations and maintenance conditions as "poor." More than half said their water supply couldn't be relied on to fight fires as the pressure was inadequate.
But it wasn't just data that public records helped get: The Star also used Freedom of Information requests to get letters showing that these problems were well known within agencies:
In 2013, when she was the Liberal indigenous affairs critic, she said the deaths are "a critical issue of public safety," and called for long-sought changes that First Nations leaders and fire prevention experts have been pushing for years. In a letter to then-minister Bernard Valcourt, obtained by the Star through a freedom-of-information request, Bennett called on the department to implement a set of recommendations that the Aboriginal Firefighters Association of Canada and the Canadian Association of Fire Chiefs have asked for repeatedly.
All the stories are fantastic showcases of how FOIA can be used in conjunction with amazing storytelling and top-notch digital presentation to have an impact on improving society.
---
Send over your favorite FOIA stories via email, on Twitter, or on Facebook, and maybe we'll include them in the next roundup.
Image via Online Journalism Awards