The O.G. (Original Gonzo) journalist Hunter S. Thompson wielded a way with words that cut through a lot of 20th-century America's crap, and throughout the mythic course of his life, the moments in which he crossed the country's police state were well-documented in his books and articles.
In some cases, these times also live on in the government's filing cabinets, crumbs in the official record of a citizen concerned but good-humored. Materials living at the Lyndon B. Johnson Presidential Library, for example, are characteristically stamped with the writer's wry wit and the flair of life on the road, sixties-style. Though some of these materials have been published before, the original colorful copies are something special to see.
In the beginning of June 1964, just months before the Gulf of Tonkin incident inspired standard military action in Southeast Asia, HST offered his services to the President and the American people as the governor of American Samoa and a rational representative in the Pacific. Writing from the Holiday Inn in Pierre, South Dakota, he seemed confident of his qualifications and added some extra-human emphasis on the importance of humanity in the Pacific, where the Vietnamese conflict was carrying on.

LBJ's advisor Lawrence O'Brien replied in short order …

to which Hunter, writing from Missoula, Montana, expressed great enthusiasm on behalf of his wardrobe …

his wife and his Doberman.

However, by March, he claimed to be simply too disgusted with American foreign policy to much want to be a part of it. The U.S. position, he said, resembled too much "Nazy Germany's in the Spanish Civil War."

Defending himself against the standard order criticisms of left-leaning loudmouths …

he instead could only provide his best advice for clearing up the situation in Southeast Asia.

Of course, no such reevaluation of the war effort was executed for nearly another decade,so seemingly the President wasn't willing to heed Thompson's suggestion regarding his Secretary of Defense …
or the war in Vietnam generally, despite Hunter's willingness to throw him a "five-cent letter" or few as an honest try.

After fifty years, the sentiments hold up shockingly well.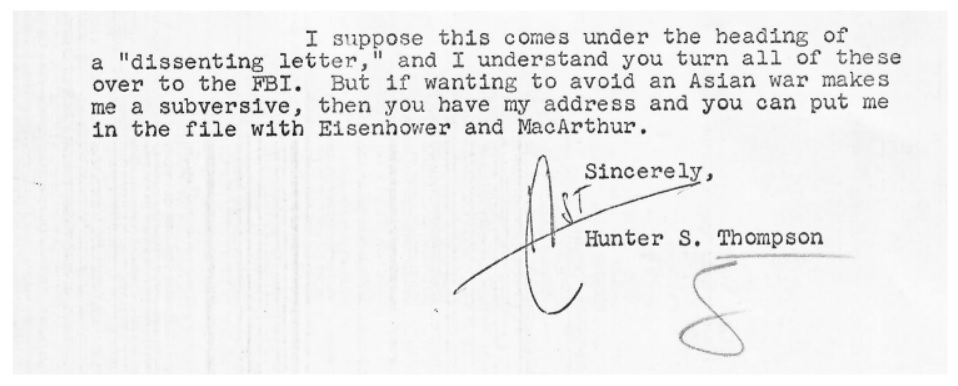 The whole release is available on the request page. You can find it organized chronologically in the timeline below.
---
In honor of H.S.T.'s 80th birthday, MuckRock is submitting public records requests to agencies nationwide that may have materials from the man's life. Have a tip? Let us know on Twitter or at info@muckrock.com. We'll add anything we get to our project.