At Guantanamo Bay, detainees, awaiting hearings that may never come, have access to a 35,000-item detainee library, according to the Miami Herald's Carol Rosenberg. But while that library is primarily filled by donations, its acceptance criteria - and even its current catalogue - are a bizarre open secret, viewable in glimpses but closely guarded against full disclosure, even after four years of review.
Documents released last month in response to a 2013 Freedom of Information Act request for Gitmo Inmate Library Guidelines show strict procedures around vetting materials - even while none of those criteria were deemed suitable for public release.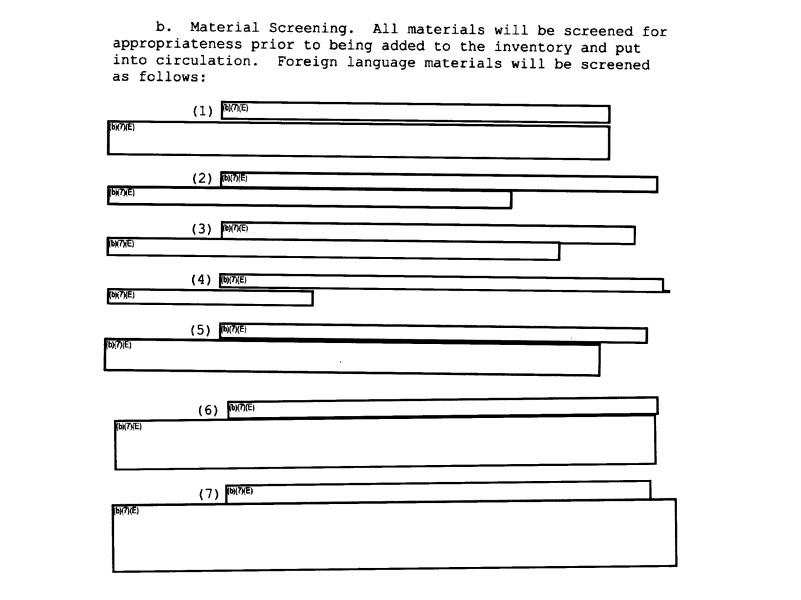 The withholding of that seven-point test is noteworthy because the 2003 Camp Delta Standard Operating Procedures (SOP) also outlines seven criteria for reviewing materials. As cited by researcher Muira McCammon in her paper Stories, Scandals, and Censorship, those criteria include:
(1) Extremism (Modernist writing that incites Jihad)

(2) Militant Islam / Militant Jihad

(3) Anti-American topics

(4) Anti-Semitic topics

(5) Anti-Western topics

(6) Any military topic

(7) Sexual situations
According to the Department of Justice's own guidance, the exemption invoked in the most recent FOIA release, (b)(7)(e), should only be used if "disclosure could reasonably be expected to risk circumvention of the law,' and the exemption is typically used to block information about covert intelligence gathering practices.
Procedures also preclude any materials created specifically for detainees, presumably to reduce the risk of coded messages passing through unwitting censors.

Investigative reporter Jason Leopold documented at least one case where material failed to pass muster for the seven-point test: A detainee's own book, which took a six-year court battle to get through government censors just to be published, was barred from the library.
At the time, a spokesman told Leopold that the library only allowed materials that were "culturally sensitive, non-extremist in nature, and generally non-controversial."
In addition to books and DVDs, the library also offers detainees access to a variety of periodicals - but only after they're are vetted and have been censored.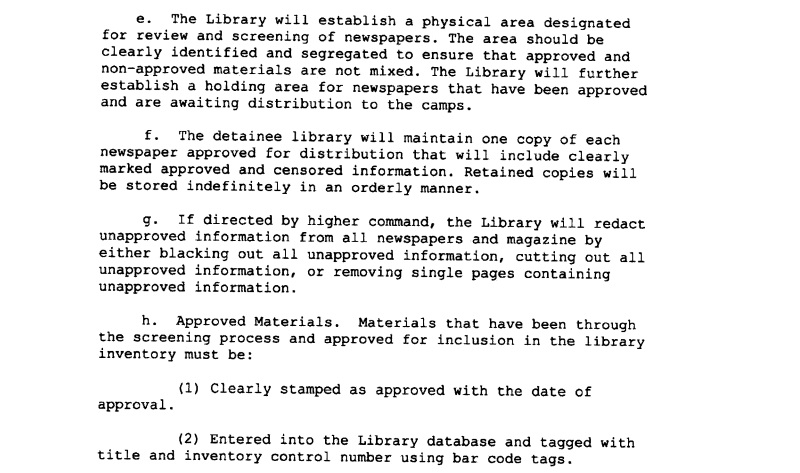 But no reading material has been the source of more controversy at Guantanamo Bay than the Quran. The released materials show strict procedures for Quran handling, including regulations that state only Muslim librarian staff will handle the religious text during exchanges.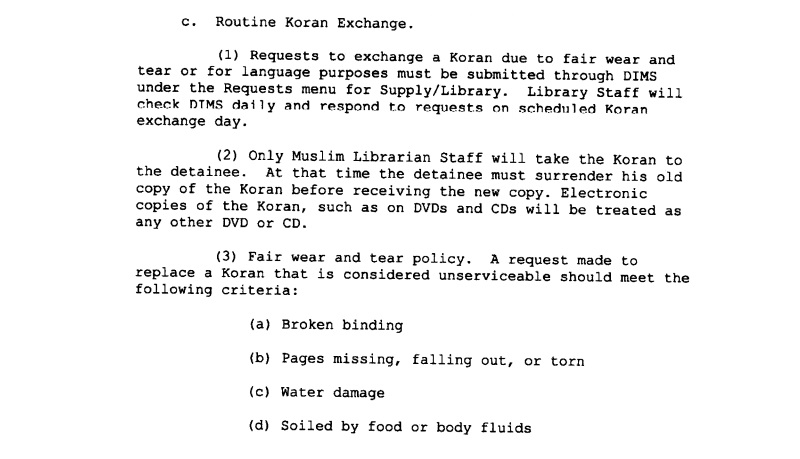 If these procedures were put in place when the document is dated, December 2012, they came years after 2005 allegations of mishandling led to demonstrations throughout the Middle East. While the key report that sparked those protests - a Newsweek story that stated a guard flushed a Quran down a toilet to punish a detainee - was not corroborated by investigators and was retracted by Newsweek, other incidents were found to have occurred.
The instructions also detail that detainees are allotted up to three Qurans each - one in Arabic, one in their native language, and a Tafseer, or annotated, Quran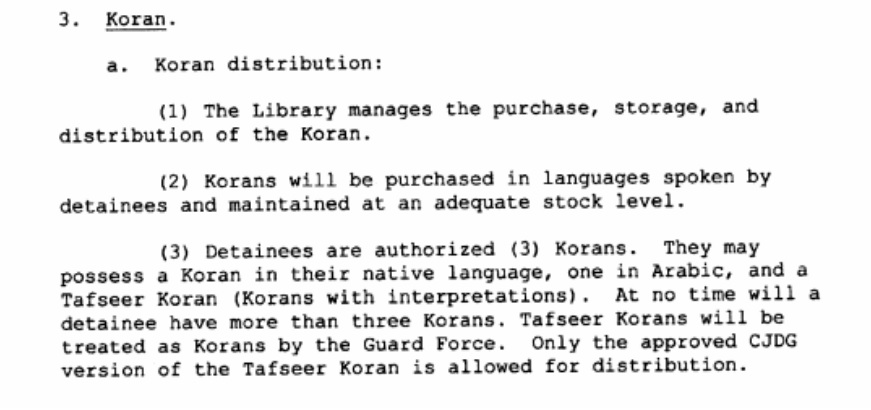 These procedures also note a careful review process when Qurans are turned in, with instructions to look for writing as well as damage: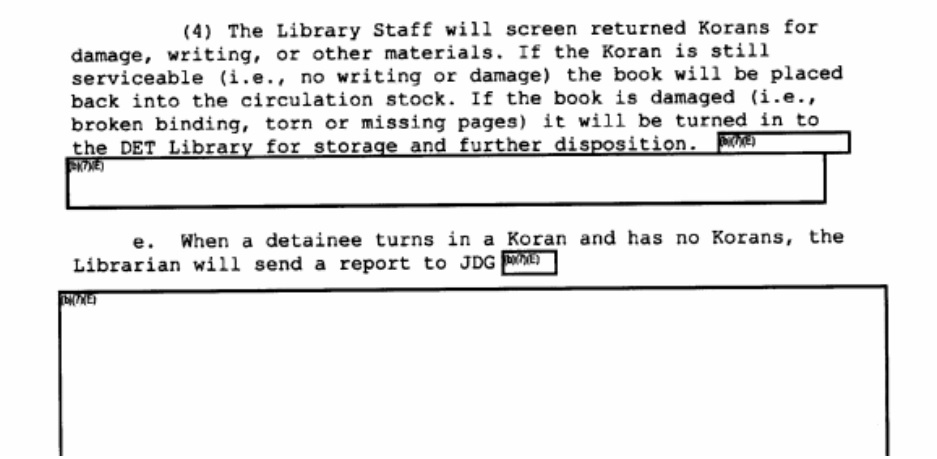 Rosenberg reported that in 2015, three Qurans were seized from detainees by a suspicious guard when it appeared that one detainee's Qurans ended up in another detainees possession. The Qurans were reportedly later returned.
Read the released library procedures below or on the request page, as well as other documentation touching on subjects ranging from detainee art classes to information on classes that were designed to prepare detainees for post-Guantanamo life.
---
Image via Wikimedia Commons