A nationwide prison labor strike last month left prison industries in at least 12 states without workers and some places without correctional officers, challenging already understaffed prison conditions. Among the circumstances most obviously highlighted by the protest was the fact that it is exceptionally difficult to get hard, real-time facts on prison life in general and on prison labor, in particular.
One such example currently on MuckRock's docket brings us back to Kingman, Arizona, home of one of the land's most notoriously difficult private prisons. Recently, the facility was transferred from the care of Management and Training Corporation to GEO Group, who will soon be the beneficiaries of a plan by the state to purchase the building.
In July 2015, while the facility was still under MTC's care, I submitted a request to the Kingman Fire Department, which I'd learned had been using inmate labor. After an initial back-and-forth, I was told that the materials would cost about $150.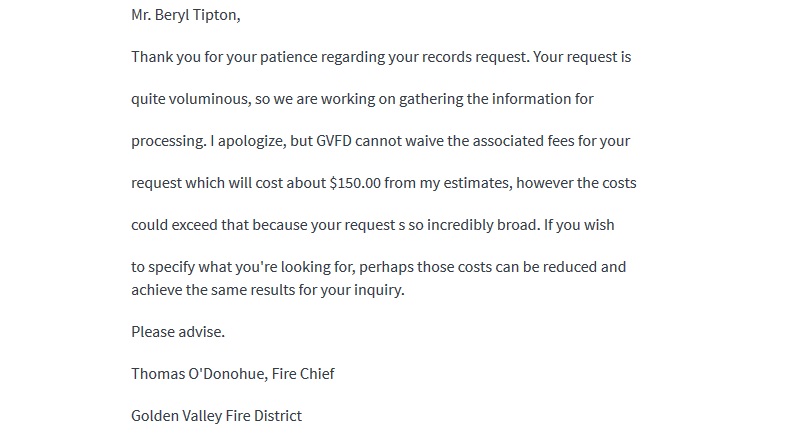 I wasn't prepared to pay that much but was very much interested in the materials, so the Fire Chief said he'd begin without a deposit.

He told he'd found over 400 pages of materials …

but as I prepared to provide payment, Mr. O'Donohue informed me that he would be leaving the Department and that the task would be passed off. It seemed the process would begin anew.

When I heard back in December, I was told there were only about 50 pages.

So I sent a check, which they claimed to have never received.
At this point, the back-peddling began.
In March, they told me they would have to check on which materials could actually be released.
In April, I was told that the Fire Chief would meet with the prison and discuss more about the release then.

And then I was told that the request would be handled through GEO Group. But the majority of materials would have been from the time MTC was in charge.
The last time I heard from the Department was in May.

Inmates remain one of the last groups subjected to the conditions of slavery, a situation Constitutionally protected by the 13th Amendment and obviously problematic, not the least of the reasons for which is the extensive use of prison labor by corporations and the reliance agencies place on them.
MuckRock will be following up on issues inmate labor, private and public, and you can help. Do you know of inmate labor being used by an agency or company in your area? Let us know, and we'll begin asking more to bring greater transparency to slavery in America today.
---
Image via Arizona Correctional Industries Facebook