St. Petersburg, Florida is adorable. Known for holding the Guinness World Record for "most consecutive days of sunshine" (768 days), St. Pete boasts a wide array of museums, beaches, and "The Finest Ballroom in the South."
"The Sunshine City" also employs a two-horse mounted police force featuring Jacob, a quarter horse who divides his sunny days between fighting crime and painting masterpieces.
Thanks to the efforts of Muckrock user Parker Higgins, the St. Petersburg Police Department released their internal communications revealing the activities of the force of nature that is Jacob, the equine artiste.
Yolanda Fernandez, a representative of the Police Department's community awareness division, writes that Jacob has been receiving communications and invitations from all over the world.

He works alongside some of the greatest visual artists …

The opportunities for him are endless …

In fact, Jacob is "rivaling Dali in terms of popularity" …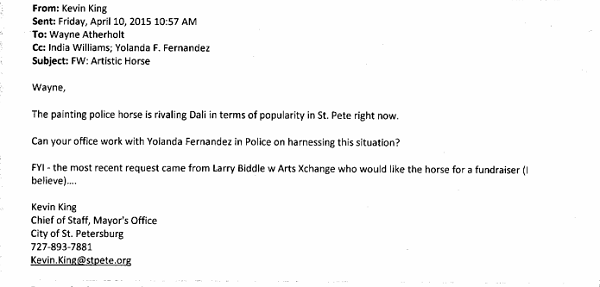 And even Jimmy Fallon recognized Jacob's talents!

Jacob is more than just a novelty, however. He also contributes to charitable organizations …

But, despite all of the demands and pressures of fame, Jacob still finds time to "let loose."

Jacob isn't St. Petersburg's only horse celebrity. Amos the Wonder Horse™ is a "volunteer equine officer" who teaches kids about bullying.

Higgins also put in a request for the somewhat inexplicable trademark and got an explicable response.
Read the full exchange embedded below, or on the request page.
---
Image via St. Petersburg Police Department