Ask how many MQ-9 Reaper drones the US needs for pilot training, and the Air Force budget hawks charged with making that call have an exact figure at the ready: 52 unmanned aircraft, each at a sticker price north of $10 million and total operating cost upwards of $100 million over its lifetime.
But a freshly declassified October 2014 audit obtained by MuckRock via Freedom of Information request finds that the Air Force has few hard numbers to cement such seemingly precise estimates in its budget.
Two officials with the Air Combat Command, which heads up MQ-9 Reaper deployments for the Air Force, told the Defense Department inspector general that "they performed no analyses to justify the specified number of necessary training aircraft."
None.

Pentagon auditors struggled to divine precisely where the Air Force pulled its estimate of 52 MQ-9s required for training purposes, and found that some official documents contained "math errors" that put the number at 51, instead. The report concluded that the figure apparently had no basis in standard metrics, such as the "annual number of students to train, the number of training flights necessary to train each student, and the sustainable aircraft use rate."
Nor did Air Combat Command officials peg estimated need for training drones to the number of Reapers flying missions or the availability of training simulators.
Analysts were similarly puzzled to discover that the Air Combat Command "could not provide any support data" for its estimate that the Air National Guard would need 70 MQ-9 Reapers to operate across its 11 units.
Whether for actual missions or for testing and evaluation, the inspector general team found that the Air Force simply had not done its homework on how many MQ-9s it needs. When auditors requested documentation to back up inventory projections, Air Force officials "provided informal aircraft quantity determinations" and "verbally explained the basis of the planned quantity."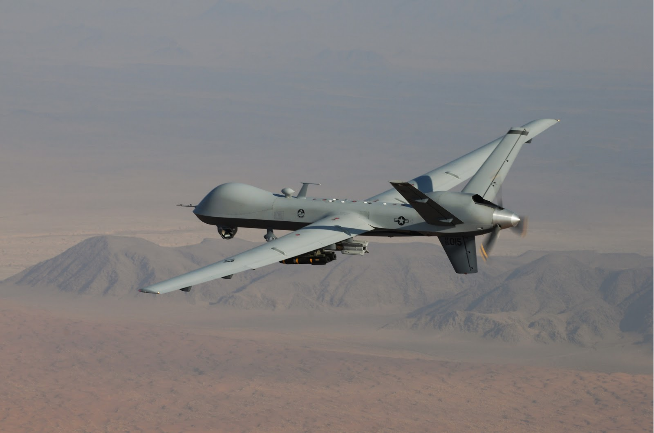 U.S. Air Force Photo / Lt. Col. Leslie Pratt
The Air Force contested the audit's findings, which were initially classified as "For Official Use Only" when announced in September, but released in full without redaction this past week in response to MuckRock's FOIA request. In a press release posted online in early October, top Air Force and Pentagon brass classified the Reaper drone as "a success story" and the audit as incomplete.
"The MQ-9 has played a vital role in combat operations and has resulted in saving American and coalition lives overseas," said Under Secretary of Defense for Intelligence Michael Vickers in the press release. "This is a capability that is in high demand."
"We're working hard to make more, as directed by the Secretary of Defense," echoed Lt. Gen. Robert Otto, Air Force deputy chief of staff for intelligence, surveillance and reconnaissance.
Larger and more powerful than the MQ-1 Predator, per Air Force specs, the MQ-9 Reaper has a wingspan of 66 feet and a range of more than 1,000 miles without the need to refuel. The MQ-9 was introduced in 2001 as a multi-use platform—thus the "M", while the "Q" indicates that the unit is remotely piloted—outfitted to conduct intelligence missions, tactical missile strikes and "irregular warfare operations," to use military jargon.
The Reaper is also a rather expensive piece of hardware, and Pentagon watchdogs worry that cutting corners on budget paperwork risks wasting as much as $8.8 billion on aircraft the Air Force may not actually need.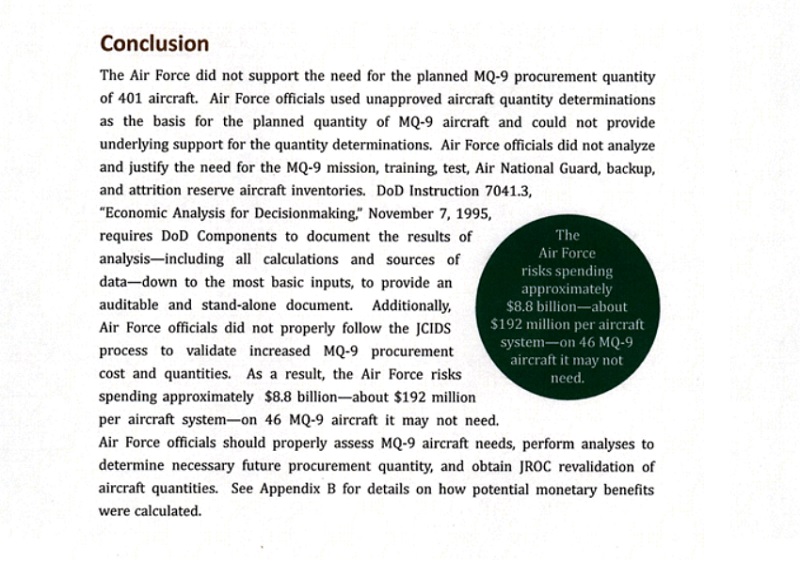 In last year's budget request, the Air Force sought funds to purchase a total of 83 Reapers through 2019, including 12 over the coming year. Congress authorized more than $800 million in spending on the MQ-9 program in the National Defense Authorization Act of 2015, a bill which President Obama signed into law in mid-December.
The last by-the-book budget document that auditors could dig up for the MQ-9 was signed in January 2007. At that time, the Air Force made a detailed accounting of its need for a total of 60 units, and passed that document around for vetting by all the right people.
Since then, the Air Force officials that oversee MQ-9 procurement and planning have expanded their estimate considerably, to 401 aircraft, per the report. The Air Force rebuttal contends that the most current figure is actually 346 Reapers, but it's a substantial expansion all the same.
Standard procedure, the report chides, dictates reupping budget approval for any deviation greater than 10 percent in cost or quantity. The audit calculated a staggering cost increase of 936 percent and an inventory projection increase of 568 percent, but found no documentation to support such ballooning.
Moving forward, overseers of the Air Force drone program "non-concur" with many of the inspector general's conclusions and calculations, but have agreed to update the necessary budget documents. One such meeting was slated to take place in December, with a target date of April 2016 to complete analysis.
Read the report on the request page, or embedded below:
---
Image via Wikimedia Commons