Last March, French transportation company Keolis won a $2.6 billion contract to run the MBTA's commuter rail. A little under a year late, and what was shaping up to be a promising relationship has quickly gone sour, with the MBTA levying six-figure fines for poor service and worse conditions as early as November - months before the nightmare of Massachusetts' record snowfall that would cripple the service, leaving commuters stranded and fuming. What happened?
That's what we want you to help us find out. Shortly after the deal was finalized, the Pioneer Institute worked with MuckRock to get a copy of the contract between the MBTA and Keolis. Since the snow – and the scrutiny – hit, we've been reading over to see what sort of glaring policy missteps we can find, but it's simply too big a job for us to do on our own. We're posting these documents here and on MuckRock for the public to see, and encouraging people to let us know if they find any discrepancies or loopholes or just plain interesting passages.
For starters, we know that Keolis had to submit a "Snow Plan" to the MBTA by Labor Day last year (which we're already asking for a copy of), and that failure to remove snow and ice comes with an $1,000 penalty -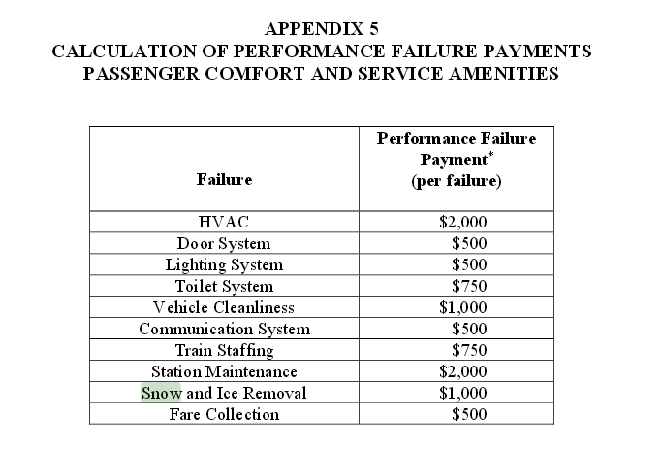 Still, that's only the tip of the (sadly, pun not itended) iceberg – there's still plenty left to look over. Feel free to start with the "Snow Removal" header under Engineering Services, which can be found on page 101 of the first embedded .pdf.
And the terms for terminating the contract, which begin on page 59 of the second .pdf:
You can download a copy of the contract on the request page, and email jpat@muckrock.com and mconnaughton@pioneerinstitute.org with your finds. Good hunting!
Updated: the MBTA has released the Keolis Snow Removal Plan
---
Header image via The Pioneer Institute