In a 1959 feature article published in The New York Post, beatnik poet Allen Ginsberg recounted his answer when asked, "Why is there so much homosexuality in your poetry?"
"Because madam I'm queer," Ginsberg replied. "I sleep with men and women. I am neither queer nor not queer nor am I bisexual."
"My name is Allen Ginsberg and I sleep with whoever I want."

This brief exchange is among the information that FBI agents deemed relevant to include in their file on Ginsberg. Between 1963 and 1971, the FBI compiled a dossier that spanned his political activism, travels abroad, sex life and contributions to modern poetry.
The FBI released 89 pages of investigative documents on Allen Ginsberg this week to fulfill a Freedom of Information Act request filed in November 2012. The agency's response letter indicated that there may be additional FBI files pertaining to Ginsberg, but that a search for the missing records "met with unsuccessful results" and that other documents may have been transferred to the National Archives. Another CIA document was deemed classified and withheld in full.
Ginsberg, who died in 1997, knew that the FBI had investigated him and maintained a file on his activities, having obtained much of this file himself via FOIA.
Documents released to MuckRock indicate that Ginsberg first came to FBI attention in September 1963, nearly eight years after Ginsberg first performed "Howl" in a San Francisco art gallery and six years after Lawrence Ferlinghetti was acquitted of obscenity charges for publishing the poem.

In response to an unspecified agency's request for a name check, the FBI replied that it hadn't investigated Ginsberg to date. Their files did include, however, summaries of press coverage from Ferlinghetti's obscenity trial and arrest records from San Francisco police. The agent who conducted the name check noted the judge's determination that "Howl" had at least some "redeeming social importance."
The FBI decided to dig deeper into Ginsberg's background in 1965 after learning that he would be traveling to Cuba to judge a poetry competition. A February 1965 memo from FBI headquarters directed the New York field office to initiate an investigation to "ascertain whether he is engaged in any activities which would be considered inimical to the interest of the U.S."
Two months later, after conducting dozens of informant interviews and checks of arrest, telephone and other records, the New York office sent back its findings. Their report concluded that Ginsberg's "bizarre" activities did not warrant being added to the "Security Index" of potentially dangerous individuals to be arrested if martial law were declared in the United States.

The New York agents were ordered to conduct their investigation via "circumspect" means and not to interview Ginsberg directly. They determined that such an interview was not warranted and could potentially embarrass the FBI.
"No interview of Ginsberg is recommended at any time," agents wrote, "in view of his narcotic and sexual proclivities, his psychiatric history and his connections with mass media."
In their 23-page report, the FBI distilled Ginsberg's career to date, making frequent references to his advocacy for the legalization of marijuana and "self-admitted" homosexuality.
Much of the report draws from newspaper articles that address his activism around marijuana and Cuban diplomacy, including Ginsberg's participation in demonstrations.

Other press clippings seem to have been selected primarily for their reflection of Ginsberg's sexuality. The report notes one letter the poet wrote to the editor of Jewish Currents in December 1964. In the last sentence of the letter, Ginsberg wrote that LeRoi Jones, a fellow poet and activist who later changed his name to Amiri Baraka, "once kissed me on the lips."

Agents summarized another letter that Ginsberg wrote in October 1961 letter to a magazine: "In the letter Ginsberg admits using narcotics, having homosexual experiences and homosexual love affairs. He describes himself as a person who desired to be a laboring peoples hero. He described his background as Jewish, left wing, atheist, Russian."
In a 1996 interview with the National Security Archive, Ginsberg said that when he reviewed his FBI file, certain press clippings baffled him more than anything.
"And years later, when I got my papers from the FBI under the Freedom of Information Act - because you can get your papers after 15-20 years," Ginsberg recounted, "I found that the FBI had translated a denunciation of me by the Prague youth newspaper Mlada Fronta, saying that I was a corrupter of youth and alcoholic - which I'm not - and not to be trusted."
A legal attache in Bern, Switzerland sent this translated article to the FBI and several law enforcement offices, "in view of the allegation that Ginsberg is addicted to narcotics." The article recounts Ginsberg's expulsion from Czechoslovakia following accusations that he seduced young Czech men and insulted the country.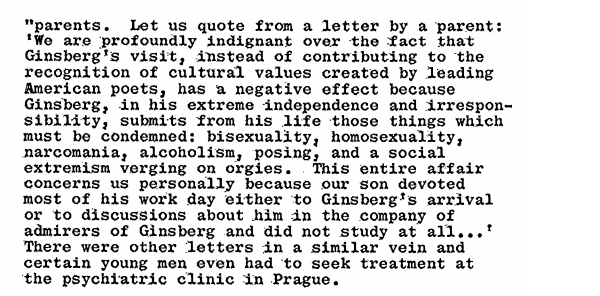 In a November 1984 feature for The New York Times, Ginsberg noted that he took this expulsion from Prague and from Cuba for protesting repression of gay rights as "blithe merit badges."
"But later he discovered in his FBI file that American authorities had cited the Czechoslovak condemnation of him as a 'narcomane and an alcoholic' as a proof of his unworthiness as an American," Francis Clines reported for The Times.
''They were backing the Commies!'' Ginsberg exclaimed.
Notably, the FBI did not cull from these same Prague press clippings that Ginsberg's criticisms of communism also played a part in his expulsion.

While the FBI concluded in its 1965 report that Ginsberg posed no threat, the agency did pass a copy on to the Secret Service. The transmission cover letter cited such broad criteria as "antipathy toward good order and government."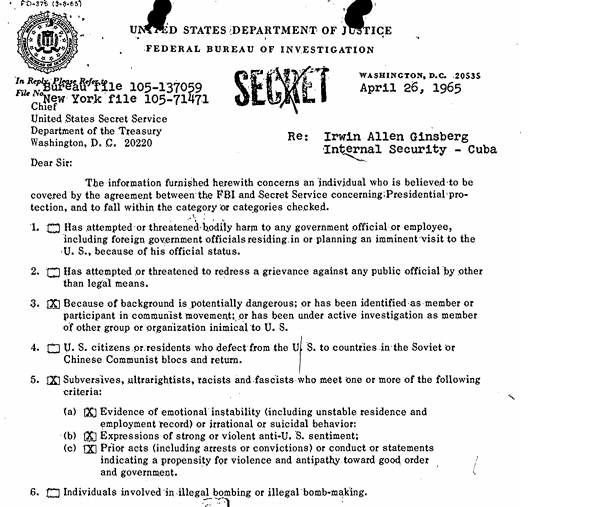 Subsequent documents in Ginsberg's file primarily quote from the 1965 report and press clippings regarding his involvement in protests against the Vietnam War, including anti-draft and tax resistance activities. In 1968, the FBI field office in New York reaffirmed that Ginsberg's activities, "while extremely eccentric," did not merit his inclusion on any blacklists.

A March 1970 memo from the Springfield, IL field office noted Ginsberg's upcoming poetry reading at Quincy College. The agent determined that the event did not warrant sending an FBI agent since "this appearance does not seem to have any connection with New Left activities."
The final document in the file is a name check request submitted in April 1971. In the intervening six-and-a-half years since the FBI first searched its files for Ginsberg, its agents had whittled down its summary of the beatnik's record.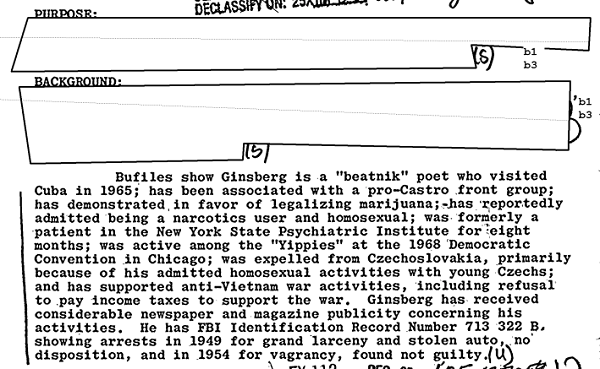 Read the full file on the request page, or embedded below.
---
Image by Michiel Hendryckx via Wikimedia Commons and is licensed under CC BY-SA 3.0