Earlier this month, Immigration and Customs Enforcement posted a call for bids for database access to one of the existing nationwide networks of license plate readers. The next day, the ICE records team responded that they were unable to track down the order that top officials issued last year to scrap a similar proposal amid serious privacy concerns.
License plate readers use high-speed cameras to scan passing vehicles, capture their plate numbers and record the date, time and location of each scan. Such LPRs can be mounted on stationary fixtures such as toll booths or traffic lights, as well as onto vehicles.
Police departments nationwide use LPRs for parking enforcement and to search for suspects, while a handful of commercial entities market their nationwide network of scanners as a tool for locating individuals for a range of purposes.
Last year, ICE posted an ill-fated request for proposals seeking access to one such commercial database.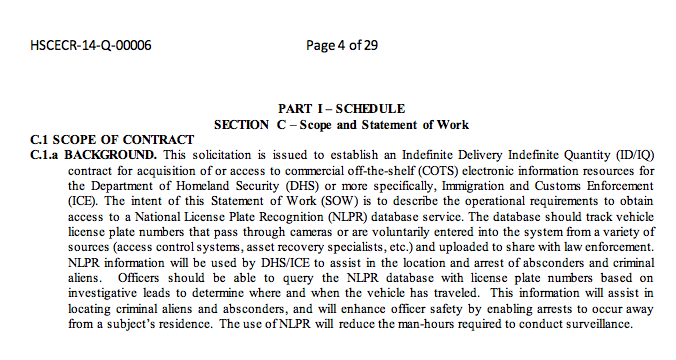 As detailed by the February 2014 solicitation documents, ICE sought an off-the-shelf system such that its officers could "query the [national LPR] database with license plate numbers based on investigative leads to determine where and when the vehicle has traveled." Agents could thus "reduce the man-hours required to conduct surveillance" of "criminal aliens and absconders."
The Department of Homeland Security, which oversees ICE, quickly cancelled the call for bids upon criticism by privacy advocates such as the ACLU and Center for Democracy and Technology.
An ICE spokesperson claimed that the solicitation was posted without the agency's knowledge.
A year later, as ICE preps to review bids once again for the same service, its FOIA office claims inability to dig up any documents related to last year's cancellation or the review that followed.
In response to a public records request filed in February, the ICE FOIA office responded on April 3 that "no records responsive to your request were found." The request sought the cancellation order itself as well as the final review report.
Again, at the time of the cancellation last year, a number of press outlets reported that the cancellation came from Secretary of Homeland Security Jeh Johnson himself.
From the first paragraph of The Washington Post's February 19, 2014 article: "Homeland Security Secretary Jeh Johnson on Wednesday ordered the cancellation of a plan by the Immigration and Customs Enforcement agency to develop a national license-plate tracking system after privacy advocates raised concern about the initiative."
The same day, the Associated Press similarly led its coverage: "The Homeland Security Department abruptly reversed course Wednesday and dropped plans to ask a private company to give the government access to a nationwide database of license plate tracking information. Secretary Jeh Johnson directed that a contract proposal issued last week be canceled. [....] The department said Johnson has ordered a review of the proposal."
Given such an order from the top, it is odd that ICE could locate none of its paper trail.
"As indicated in the FOIA response we were unable to locate any order from Secretary Johnson's office to cancel the procurement," wrote William Quigley, the ICE contracting officer listed on both the canceled as well as the most recent call for bids, by email last week.
"We searched through a large number of emails in our office (Office of Acquisition Management, OAQ) and were unable to locate anything from the Secretary's office in reference to your request."
MuckRock is appealing ICE's determination in light of the above statements by top Department of Homeland Security officials and the national attention garnered by last year's cancellation.
Image by Jammmie999 via Wikimedia Commons and is licensed under CC BY-SA 3.0