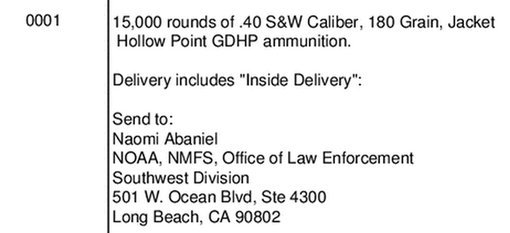 NOAA's forecast includes invoices for hollow point bullets
Enforcement wing spent close to $200k on ammunition in 3 years
The National Oceanic and Atmospheric Administration, a federal agency focused on weather forecasting and coastal restoration, has spent at least $195,000 on firearm ammunition since 2008. Most of the orders request hollow point bullets, which are designed to expand upon entering a target for maximum damage.
The spending is detailed in 15 ammunition orders released to MuckRock user Tom Nash. All orders are dated between early 2008 and August 2011.
The ammunition was sent to various NOAA offices throughout the U.S., including to a Climate Program Office in Florida, a NOAA fisheries department in Massachusetts, and seven NOAA satellite centers in Alaska.
All the ammunition appears to have been purchased for the NOAA's enforcement wing, whose mission is "to protect marine fisheries, wildlife, and habitat by enforcing domestic laws, international treaties, and obligations," according to their website.
All NOAA enforcement agents are federal law enforcement officers and are granted the authority to carry firearms under [a federal law]((http://www.aphis.usda.gov/plant_health/lacey_act/downloads/background--redlinedLaceyamndmnt--forests--may08.pdf) called the Lacey Amendment.
The jurisdiction for these agents include national marine sanctuaries, 85,000 miles of U.S. coastline, and three million square miles of open oceans, according to the NOAA.
Of the hundreds of thousands of bullets purchased, some were paid for at a discounted rate when the NOAA shopped under an FBI contract at the Olin Corporation, a Virginia company that produces ammunition and chemical products.
It also appears that Ammunition Accessories Inc. supplied 41,000 rounds of pistol ammunition to the NOAA free of charge in August 2009. A month later, the NOAA paid more than $14,0000 for bullets at the same company.
A bill introduced in the last Congress by U.S. Sen. Rand Paul would reclassify many wildlife crimes as civil offenses, not federal crimes.
A section of the bill, named the Freedom from Over‐Criminalization and Unjust Seizures (FOCUS) Act of 2012, would strip the current authority employees in the U.S. Department of Fish and Wildlife and the NOAA have to carry firearms. The bill was not voted out of the Senate Committee on Environment and Public Works last Congress, but Paul has said he plans to re-introduce the FOCUS Act this session.
Beside NOAA, a number of other federal agencies have enforcement and investigative divisions authorized to carry firearms, including the Department of Education.
Know another unexpected government armory? Submit a FOIA request by joining MuckRock today. Stay up-to-date on FOIA news by signing up for our mailing list, or by following us on Twitter and liking us on Facebook.