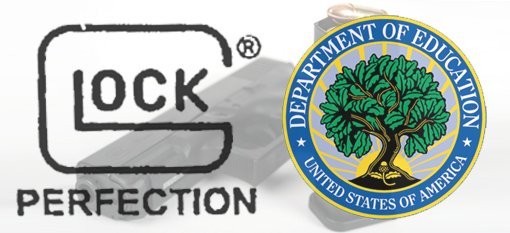 School of hard Glocks: the Department of Education's growing gun library
Agents have pick of pistols and shotguns, courtesy of heavy law enforcement discounts
Since October 2001, the enforcement wing of the Department of Education has issued Glock pistols to its special agents as a matter of course, according to documents obtained by MuckRock. The department has continued building out its arsenal and expanding its agents' weapons selection using discounted law enforcement rates offered to the U.S. Capitol Police and the ATF.
The purchase orders and documents provided to MuckRock user Scriven King— which date back seven years – indicate that the Department of Education's Office of the Inspector General has purchased more than 200 Glocks for its special agents since 2006, spending more than $80,000 on pistols in that span. The OIG also spent $17,000.79 on Remington shotguns in September 2010, according to another purchase order.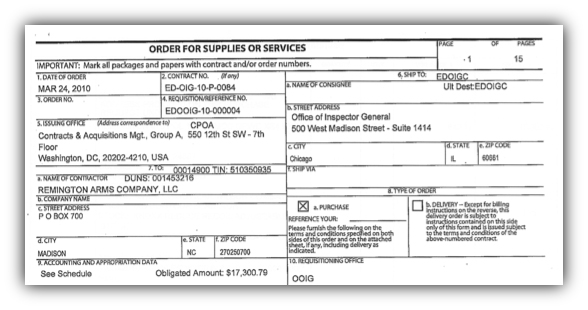 The most recent purchase record in the lot was from July 2013, when the department purchased 30 Glock 27 pistols for $10,800.00.
The mission of the Department of Education's Office of the Inspector General, which purchased the guns, is to "conduct independent and objective audits, investigations, [and] inspections" around misused funds from the Education department, according to the department's website. A series of memos from 2010 outline the agency's justification for purchasing firearms in the first place.
"I believe the requested firearms and parts are essential for the safe, effective and efficient operations of [OIG] Investigation Services," wrote Mary Mitchelson, the former Department of Education Inspector General, in a February 2010 memo.
The memos also indicate that the number of Education Department special agents has been on the rise the past few years, as many of the purchases were for new hires. According to the memos and released chapters from its special agent training manual, the department offers its agents a choice of pistol, with options for left-handed shooters. Per Department of Justice protocol, under which all federal law enforcement agents operate regardlesss of department, special agents require training before they can carry weapons, namely graduating from a ten-week basic criminal investigator training course at the U.S. Dept. of Homeland Security's federal law enforcement training center in Glynco, Georgia.
The Education Department used a multi-year contract between Glock and the U.S. Capitol Police to lock in steep per-unit discount on pistols that the gun manufacturer offers to law enforcement agencies, with Glock knocking down the price by as much as $500 per weapon. ED officials also cited an ATF gun discount for which they had obtained approval, but the details of the ATF discount are not specified.
Notably, on one of the oldest purchase orders from 2006 (see p.1 and p.10 of the full file below), Glock apparently qualified as a small business in the Department of Education's estimation.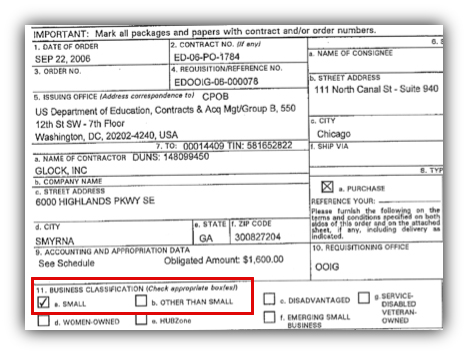 As of 2003, Forbes estimated Glock's annual sales at $100 million. Glock did not win this coveted designation in more recent purchase orders.
These details of the Department of Education's gun purchases pose a number of questions, which MuckRock has spun into additional requests, as is our way. How often have ED special agents used their weapons in the line of duty? Has their capacity to carry weapons in the first place undergone sufficient scrutiny? How much ammunition do they go through in a year?
Here's the full documents for you to scour for yourself. Let us know what you find!
Know another unexpected government armory? Submit a FOIA request by joining MuckRock today. Stay up-to-date on FOIA news by signing up for our mailing list, or by following us on Twitter and liking us on Facebook.
Image courtesy of Seekonk, Mass..