Hunter Moore founded isanyoneup.com, a revenge porn site, in 2010. In 2012, it was shut down.
Moore was unrepentant. "No one put a gun to your head and made you take these pictures. It's 2011, everything's on the internet," he told two women whose photos were posted on the site.
But unsuspecting subjects had claimed they had been hacked; that images which they had never sent to anyone had ended up on the site.
"Everybody can claim they're getting hacked," Moore told the Village Voice. "That's the easiest way to fucking get out of it."
But the feds say people weren't just claiming: in 2013, Moore and an associate, Charles Evens, were named in a federal indictment. The indictment alleged that Moore and Evans "knowingly combined, conspired, and agreed to […] access a protected computer without authorization to obtain information for private financial gain."
Evens would allegedly hack into victims email accounts and then "send nude pictures obtained from the victims' accounts to defendant MOORE in exchange for payment." Moore, in turn, aware of how the images were obtained, "would post the victims' nude pictures to his website, http://isanyoneup.com, without the victims' authorization."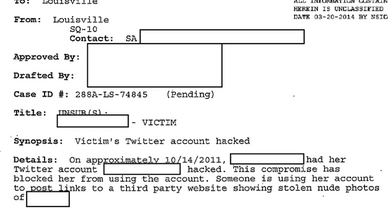 One victim's mother, Charlotte Laws, contacted the FBI. The FBI opened an investigation. That led to the January 2014 arrest of Moore and Evens.
A FOIA request from MuckRock co-founder Michael Morisy to the FBI turned up 65 generously redacted pages from the investigation, many pages sealed pursuant to a court order.
The file contains two interviews regarding the same events of summer 2011.
A woman, redacted, went drinking with a man, redacted, whose website later featured nude photos of her. Both were interviewed.
In her interview, conducted on April 26, 2012, she "described [redacted] as a 'creeper,' but then said they exchanged phone numbers."
On a later night they went out to an Irish pub, Molly Malone's, and got blackout drunk. He slept in her bed in her parents' house that night, and the next morning "stayed [in her room] an abnormal amount of time."
On April 30, he was interviewed. He said that he was aware that her photos ended up on the website, but had "never assisted in any postings" and "never had access to her nude photos." When he slept in her bed, he said "he did not access her computer."
She says that he sent the photos to himself from her email account while she was asleep. He says she sent them "voluntarily."
She later received an anonymous email, "[c]learly from [redacted]," reading, "stop harrasing my boy. u sent the nudes, they got put up, deal with it."
---
Image via Wikimedia Commons