An FBI memo dated August 13, 1968 regarding Susan Sontag ended with the determination that "her activities do not warrant further investigation … UACB (unless advised contrary to by Bureau) no report is being prepared."
By December 4 of the same year, the Bureau was calling for a full report in two weeks. "Give this immediate attention," Hoover wrote to the New York office.
Why had Hoover instructed New York to reopen their file on Sontag?
She'd traveled to Hanoi, and written about it for Esquire.
(The Department of State advised FBI that, unsurprisingly, "there was no record of a request for, or of a validation having been granted in the name of captioned individual, for travel to North Vietnam.")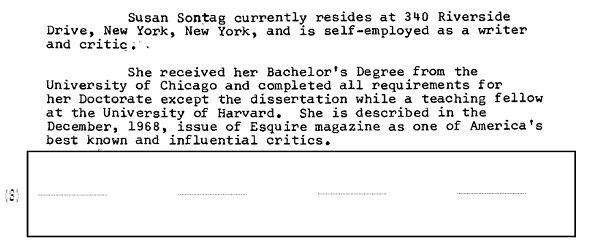 New York replied on December 12, 1968 with general information about Sontag, a summary of the article, and a litany of her appearances at anti-Vietnam protests.
The memo reads, "In the article Sontag states that she has been and currently is 'passionately opposed to the American aggression in Vietnam' and describes herself as a veteran signer of petitions and anti-war demonstrator." The memo also summarized it:
"According to the subject, the adversities of the war have united the Vietnamese as never before. It has improved the moral level of the people, it has further democratized the society by limiting the material goods and restricting the social space available to them. It has deepened their love of the country."

The FBI's Kenneth J. Hunnemeder rolled Hoover's memo and New York's reply into a comprehensive report of December 20, 1968. He listed nine informants (all redacted) who furnished information for the report, and to whom he went for to compile his exhaustive list of her public appearances.
In a response to Hunnemeder's report dated March 6, 1972, the New York office came to two conclusions. First, they wouldn't interview Sontag: on account of "her status as a writer, an attempt to interview her could result in embarrassment to the Bureau. Second, she didn't "qualify" for inclusion in ADEX (the "Administrative Index," a list of people "considered to be a threat to the security of the country").
Read the full file on the request page, or embedded below:
---
Image by Lynn Gilbert via Wikimedia Commons and is licensed under CC BY-SA 4.0