Two weeks ago, we highlighted the San Jose Police Department's puzzling inability to locate any documents regarding its purchase of a small drone- despite overwhelming evidence that they had received federal money to do so. Upon our third request, the SJPD finally released documents indicating its San Jose Bomb Squad acquired a small unmanned aerial vehicle in January 2014 for just under $7,000 - but has yet to fly the unit in operations, train any officers on its deployment, or apply for federal authority to do so.
"The future need for a UAV [unmanned aerial vehicle] in the southern Bay Area is upon us," wrote Sergeant Douglas Wedge of the SJPD Bomb Squad in his grant application for federal homeland security funds more than a year ago.
Invoices and requisition orders signed in December 2013 indicate that the total came to $6,965.08 for SJPD's drone.
Sergeant Wedge picked up the 1.5 pound Hexacopter from San Jose's Helicopter World Inc. on January 28, 2014. Beyond outlining the unit's specs — which includes a GoPro video camera, live video transmitter and autopilot capabilities — released documents also clarify the SJPD's aspirations for its small UAV.
Grant materials suggest that several agencies will share the drone, including all thirteen bomb squads in the Bay Area and fire departments.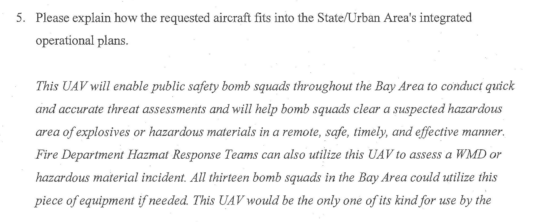 Notably missing are any applications for flight authorization from the Federal Aviation Administration, which manages national airspace and drone flight certification for governmental and commercial applications. While the FAA certification process imposes a battery of training requirements for pilots and largely limits drone flights to unpopulated areas, SJPD materials make no mention of this process.
In a letter that accompanied the document release, SPJD Chief Larry Esquivel confirmed that the department has not submitted any certification documents to the FAA, and that "the program relating to drones has not yet been implemented." Per the chief's letter, the department has yet to develop any policy on drone deployments.
Read the full story at Motherboard.
---
Image via Wikimedia Commons and is licensed under CC BY-SA 3.0