You've painted a pretty appealing picture of yourself on the match making website of your choice. Your profile is primed and ready for its grand debut. But what happens when your online romance starts to have less in common with The Notebook than it does your last bank transaction?
I looked back through the archives to Federal Trade Commission complaints originally requested by users inkookang and craye) and pulled some of the most dramatic romance scams reported on popular dating sites.
From J-Date, the "premier Jewish singles community online," we have this complaint, sent by the users' mother, describing what she believes to be threat to homeland security.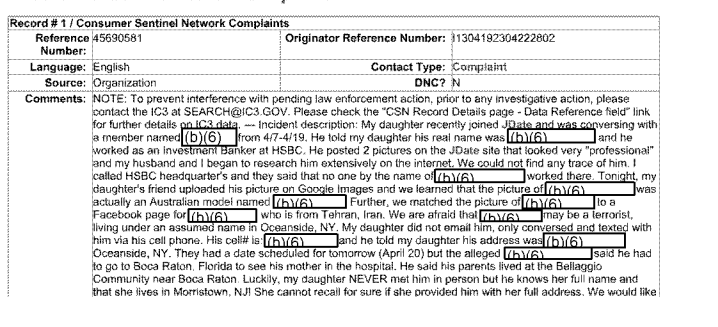 "Further, we matched the picture of (b)(6) to a Facebook page for (b)(6) who is from Tehran, Iran. We are afraid that (b)(6) may be a terrorist, living under an assumed name in Oceanside, NY." Maybe DHS should join the online dating scene.
This next complaint, from OKCupid.com, tells the tale of a user and her whirlwind 'romance' with an orphaned architect in London, whose wife died in a car accident. He allegedly also had a son who lived in the Philippines with his grandmother. The alleged architect claimed he worked for Wahum, a company based in China, but the user discovered upon further research that Wahum was actually based in Nigeria.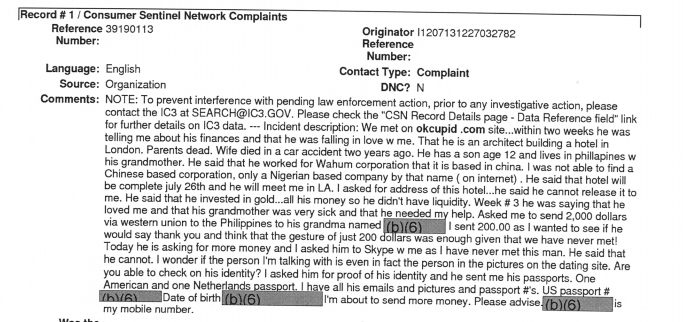 "Week #3 he was saying that he loved me and that his grandmother was very sick and that he needed my help. Asked me to send 2,000 dollars via Western union to the Philippines to his grandma named (b)(6)." The user ended up sending $200 to said grandmother and planned to send more.
This complaint, also from OKCupid.com, describes one users' moral dilemma as he/she is attempting to assist a woman immigrate to the U.S. from Ghana, "We keep having problems with immigration and mostly I am working with the USA Ghana embassy, but all the numbers I try in Ghana are diconnected or I get hang ups, no answer."

According to the complaint, the user had sent $2,000 to Ghana. "I am trying to tell her now to call the USA Embassy if someone is misleading her her such as an agent or someone doing a crime," the user writes. Hmmm.
This last one, from E-harmony, is my favorite - 'George Dremonas' asked an unsuspecting user to send money to his uncle, who needed treatment and to return to the U.S. after he and his currently-deceased wife were robbed on vacation in Dubai. 'George Dremonas' successfully guilted the user into sending $2,000 to him via Western Union.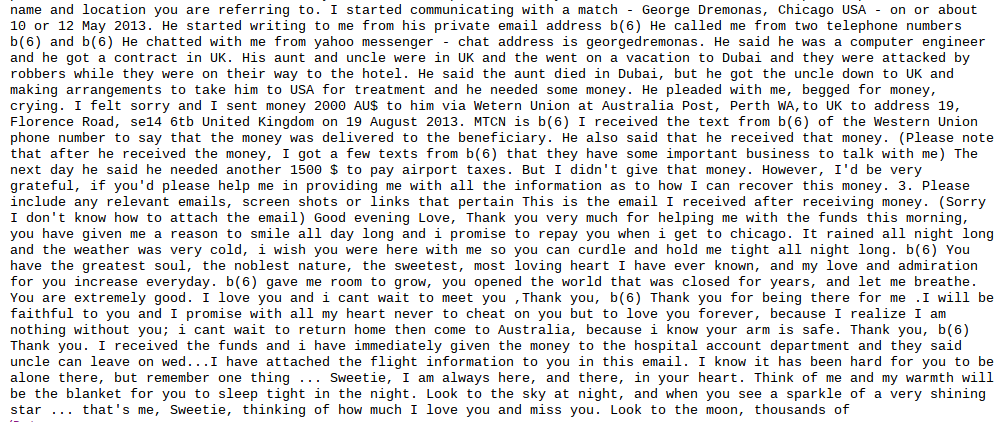 At least he thanks her with an enchanting love note - "Think of me and my warmth will be the blanket for you to sleep tight in the night. Look to the sky at night, and when you see a sparkle of a very shining star … that's me Sweetie, thinking of how much I love and miss you."
Now fork over the cash.
---
Image via Wikimedia Commons