In this week's FOIA round-up, public records reveal the shady associations of President Donald Trump's newly-appointed acting attorney general, tax preparation companies use FOIA to target a university professor, and surveillance video tells the story of police abuse in Indiana.
See a great use of public records we missed? Send over your favorite FOIA stories via email, on Twitter, or on Facebook, and maybe we'll include them in the next round-up. And if you'd like even more inspiration, read past round-ups.
Trump's Acting AG Tied to Scam Business
Trump fired US Attorney General Jeff Sessions this week, temporarily appointing Matthew Whitaker to the role. Reporters at Gizmodo were quick to dig up Whitaker's previous role on the advisory board of World Patent Marketing, a business the Federal Trade Commission called a "scam" that "bilked customers out of millions of dollars" in a complaint filed in 2017. Gizmodo obtained the complaint via FOIA last year.
World Patent Marketing offered clients a "global patent," which does not exist. Also on its advisory board was a host of other military and federal officials.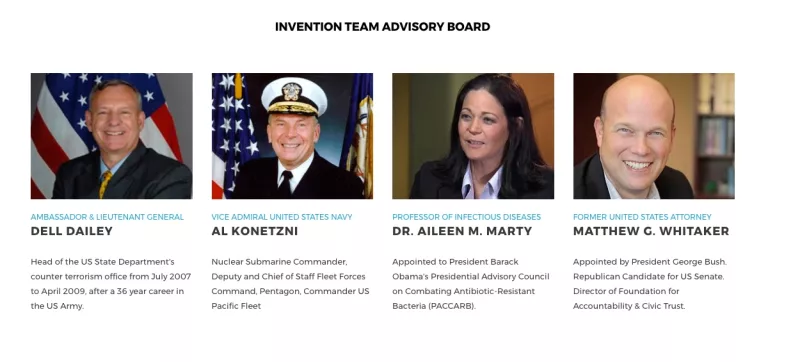 Despite the business almost never delivering anything of value, World Patent Marketing would sometimes make an effort to create a logo or register an internet domain (what the FTC calls "inconsequential services"), which virtually anyone could do, even without patent expertise. After an initial phone call, consumers were encouraged to buy a $l,295 "Global Invention Royalty Analysis" before being pressured to spend even more money, according to the FTC. Packages are said to have cost anywhere from $7,995 to $64,995.
Gizmodo also used FOIA to obtain client complaints to the FTC about the company. In a strange twist, FTC documents also show the company boasted on a blog post about employing an "intimidating security team, all ex-Israeli Special Ops and trained in Krav Maga, one of the most deadly of the martial arts," or "the kind of guys who are trained to knockout first and ask questions later."
Read the full report here.
Corporations weaponize FOIA against professor
This week, the New York Times reported on the commercial use of FOIA in the service of corporate interests. The Times interviewed Dennis J. Ventry Jr., a law professor at the University of California, Davis and outspoken critic of a deal between the Internal Revenue Service and slew of tax preparation companies, including Intuit (maker of TurboTax) and H&R Block. Ventry has written that the agreement "inflicts substantial harm on taxpayers," a finding supported by an investigation by ProPublica.
The companies behind the deal responded to criticism by FOIAing the University of California system for all of Ventry's emails, which he says has had a chilling effect on his work.
The request generated 1,189 pages of documents, university officials said. And it was just one example of how both state-level public records laws and the federal Freedom of Information Act, written to ensure transparency and accountability in government, have morphed into potent weapons in legal and business disputes, raising questions about the chilling effects — and costs — they impose on targets who are doing research in controversial or sensitive fields.
The story highlights the widespread use of FOIA by commercial requesters.
A 2017 analysis of requests filed under the Freedom of Information Act found that "public-oriented inquiries by concerned citizens and their advocates" account for "only a small fraction of the 700,000-plus FOIA requests submitted each year," wrote David Pozen, a law professor at Columbia University, whose paper reviewed studies on the issue. "The bulk of requests come from businesses seeking to further their own commercial interests by learning about competitors, litigation opponents or the regulatory environment."*
Read the full report here.
Video shows police abuse in Indiana
ProPublica, in partnership with the South Bend Tribune, used a public records request to obtain extended video of police officers in Elkhart, Indiana, beating a handcuffed man in custody at a local police station. Police first released a 30-second clip of the incident, which took place in January, on November 2, prompted by a request from a Tribune reporter who noted inconsistencies in public records around the event. The Tribune and ProPublica then used public records law to obtain surveillance camera footage of the events before and after the beating.
In the meantime, a review of the video by The Tribune and ProPublica shows that the mayor's son, Sgt. Drew Neese, and Jason Ray, a corporal who is president of the Elkhart lodge of the Fraternal Order of Police, were in the room at the time two of their colleagues punched the man. They walked over after their fellow officers began throwing punches.
Elkhart Mayor Tim Neese defended Chief of Police Ed Windbigler, who told a civilian oversight board that the two officers involved had gone "a little overboard." Windbigler also said the man suffered no injuries, even though the extended video shows him being taken from the police station in a stretcher.
Read the full report here.
Read a great FOIA-based news story we should highlight? Let us know and maybe we can include it in our next roundup! Send it over via email, on Twitter, or on Facebook.
---
Image via C-SPAN, h/t DeSmogBlog