A month before Comcast announced its planned $45 billion merger with fellow cable giant Time Warner, the company's vice president of legislative affairs invited one of the government's top anti-trust lawyers to a private party for the Sochi Olympics opening ceremony.
The lawyer, Deputy Assistant Attorney General Renata Hesse, regrettably declined the invitation, placing the blame on those "rules folks."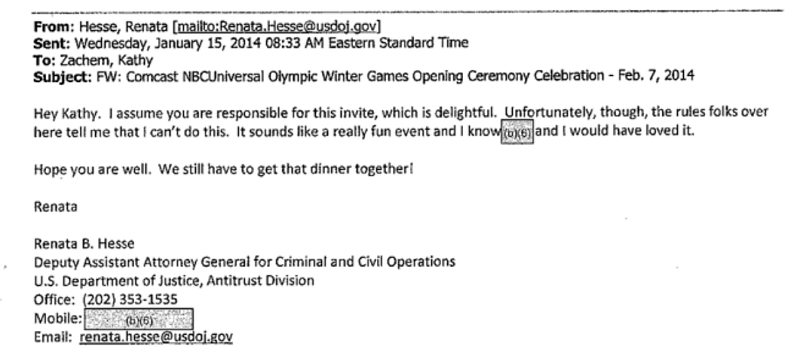 She cited the Department of Justice's "very restrictive" ethics rules, but tempered the blow by inviting Comcast VP Kathryn Zachem to dinner - a longstanding date the two had apparently not found the time to see through.

While the emails do not reveal any wrongdoing, they offer a fascinating insight into the Washington work environment, sticklers and all.

Read the full exchange embedded below, or on the request page.
---
Image via Wikimedia Commons and is licensed under CC BY 3.0