The MuckRock 50 States of FOIA Project aims to shed light on what it's like to work with public records around the U.S., through the voices of requesters state by state.
This time, we focus on the state of Massachusetts. MuckRock spoke with Colman Herman, a freelance investigative reporter whose work can be found in the Globe and Commonwealth Magazine.
How did you first get involved with the FOIA Process?
I had to get records [for a story], so I just took out the law books and read them to death.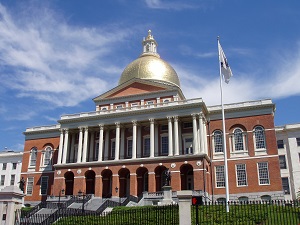 What have some of your successes with FOIA been?
There was a story that I started about two years ago on the Massachusetts Department of Conservation and Recreation. I uncovered lots of issues related to improper management of licenses and permit programs that DCR had. Rents were going unpaid, entities were paying bargain basement rents. I initially started off with one or two examples, and my editor wanted to see if I could find more. That launched me into a 14-month investigation.
A story I did for the Globe involved six district attorneys in MA and contracts with private debt collection companies to pursue people who had allegedly written bad checks. The debt collectors were not licensed by the commonwealth like they're supposed to be. I did a six month investigation of that and it involved numerous public records requests from the district attorneys. Just before my piece came out in the Globe, the district attorneys shut the programs down. But then I subsequently found out that the DAs had continued to pursue the alleged check fraud, so I wrote a follow up piece which included some additional public records requests.
The district attorneys were pretty responsive in terms of getting back to my requests. These things rarely go perfectly but the DA's were pretty responsive. With the DCR however, oftentimes it was like pulling teeth. They're a little better now, but one of the things you have to understand is that you're going to need to be persistent.
Do you have any advice for first time filers in MA?
I typically get what I want because I'm persistent and I know the law. This is what I do. Private citizens who are filing public records requests need to have the time, the information, and the knowledge to pursue it and get what they want. You might get a denial and just walk away, not know what to do.
The Secretary of State publishes a very useful guide and it's available in his office for free and I encourage people to use it. I also wrote an extensive piece on the Commonwealth website about how to use the public records law.
What kinds of roadblocks have you come up against when using the FOIA law in MA?
Governor Deval Patrick claims he is not covered by the public records law, which was the result of a court decision in the Lambert case. It's a very narrow decision and many lawyers I know who are involved with public records law agree that Patrick is interpreting the case too broadly. So when you file a public records request for Governor Patrick, you will get a letter from his lawyer that in essence says "the governor is not covered by this law, so we will look at your case on an individual basis and we'll get back to you." On March 31st I filed a public records request with the governor's office. I was looking for the governor's expense report for a trip to Mexico City and Panama. I wanted to look at his expense reports. After four months passed, the records were not forthcoming. So I asked the supervisor or public records for informal help.
He contacted the governor's office, to no avail.
I told the secretary I wanted to speak with somebody about my public records request, and out comes the deputy chief council. We had a very cordial conversation, but he said to me "I don't know when you're going to get the records." So I walked out and I wrote a piece about it.
Finally they produced a response to my request, but it wasn't the detailed documents I was looking for. It was a mere half-page summary. This is Governor Deval L. Patrick, who rode into office with soaring words of how important it is to be transparent.
Besides the governor claiming he isn't covered by the public records law, the legislature isn't covered by the public records law. They specifically exempted themselves from the law. There's legislation pending that would create a study committee to examine whether the legislature should be covered by that law, but a study committee is typically the kiss of death. The judiciary is also not covered by the public records law.
What's the appeals process like in MA?
There's a requirement in Massachusetts law that says if records are denied the requester has to be given the contact information for the public records supervisor, and told they can make an appeal. That supervisor can then order someone to produce the records.
The question then becomes what happens if the records custodian ignores the order? The reality is that the supervisor of public records has no power to enforce the order. The law says the supervisor may turn the case over to the attorney general for enforcement. It is my understanding that he longer turns cases over to the attorney general because it's so contentious. Three things can happen when the attorney general gets the case. She can support the supervisor, oppose the supervisor, or ignore this supervisor. There was one case where it took so long for a former AG to look at it that the requester had died and the case was moot.
I have a case where the agency was ordered to turn over records but they haven't and the supervisor has done nothing. There's a related issue. If I were to get an attorney and sue the agency, he wouldn't get attorney's fees, There's legislation pending that would add attorney's fees to the law, but who knows what's going to happen with that? The two-year session is almost over, and any legislation that's hanging over will disappear.
There are other things officials will do to avoid producing records, like jacking up the fees. I'm not suggesting that all officials do this, but many do.
If you've got nothing to hide, then why not give us the records? The state of public records access in Massachusetts is awful.
---
Image via Wikimedia Commons