In August, the Associated Press asked the Office of the Director of National Intelligence whether it had issued instructions to monitor or detain journalists Glenn Greenwald, Barton Gellman and Laura Poitras and their associates David Miranda and Edward Snowden. While ODNI claims not to have any guidance documents on tracking these individuals, processing notes from the request indicate that its FOIA office is keeping tabs on requests related to the Snowden leaks.
Associated Press reporter Jack Gillum submitted the FOIA request to ODNI, the principal advisor to the President on intelligence matters and head of the sixteen-member United States Intelligence Community. ODNI is headed by Director of National Intelligence James Clapper, whose "least untruthful" testimony before the Senate Intelligence Committee this March 2013 on the NSA PRISM surveillance program had many calling for his resignation.
Gillum's FOIA request to ODNI, dated August 20, 2013, was two-fold, seeking:
All records related to instructions or directions to federal agencies regarding the communications, contact, detention, seizure of property, or surveillance of journalists Glenn Greenwald, Barton Gellman and Laura Poitras, and their known associates, David Miranda and Edward Snowden. All emails and documents advising or discussing with U.S. or United Kingdom government officials the destruction or apprehension of computer hard drives and other electronic materials at The Guardian newspaper's offices in 2013.
The request came two days after David Miranda was detained at London Heathrow Airport for nine hours, and a month after The Guardian was forced to destroy hard drives by UK authorities.
After an expedited search, ODNI told Gillum that it had found no records that fit his request.

Processing notes from the request indicate that the FOIA office searched for records in the National Counterintelligence Executive (NCIX), National Counterterrorism Center (NCTC), ODNI Executive Secretariat (DNI ExecSec) and ODNI Partner Engagement (PE), the latter being the office "that focuses on integration, coordination and collaboration with the Intelligence Community's domestic, international, military, and private sector partners."
The four components replied in turns that they had "no comments" or "nothing to offer." The Executive Secretariat searched its correspondence database and "DNI Action Tracker (DAT) for each individual's name as well as "Guardian" and "Wikileaks," but the responding officer didn't "believe there is anything in there which fits the request." ODNI sent a closing letter to Gillum on November 7.

Hard as it may be for many to believe that ODNI hasn't considered how to handle these notable figures or at least discussed the Miranda detention and Guardian computer smash, the processing notes do provide valuable insight into the requesting process. At ODNI, this apparently includes tracking FOIA requests related to Snowden and the NSA leaks.
In an August 21 email, the ODNI Freedom of Information Office sent an email alerting unspecified components to Gillum's request, noting that it "falls into the category of similar requests being handled at the IC [Intelligence Community] level."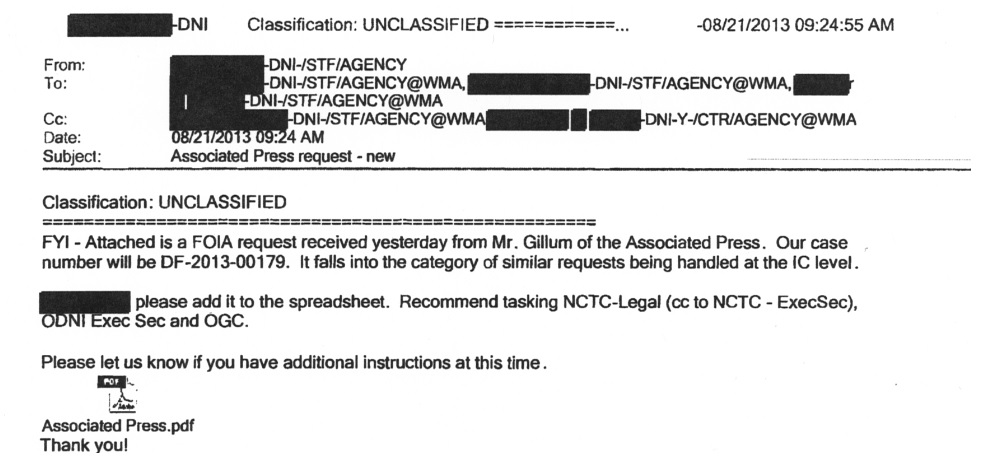 The email directs that the request should be added "to the spreadsheet." This spreadsheet is also noted in a September 17 email from an ODNI FOIA analyst, who indicates that the "NSA_Snowden Spreadsheet" has been updated.

The Associate General Counsel also apparently included the request in its weekly update to Director of National Intelligence Clapper "for his situational awareness."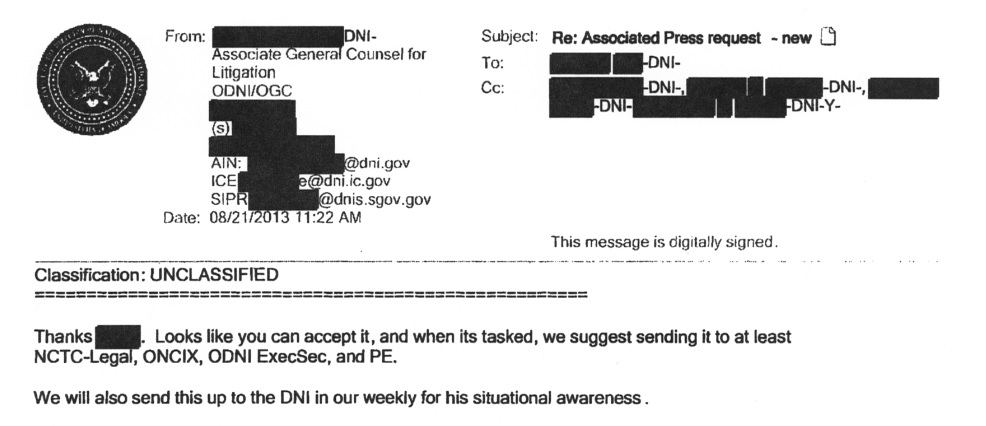 Other federal agencies flag "significant" requests submitted on sensitive subjects or by members of the media, but it is unclear to what purpose ODNI might be tracking requests related to the Snowden leaks. MuckRock has requested a copy of their spreadsheet, which was later released in full:
Read the processing notes embedded below, or on the request page.
---
Image via Wikimedia Commons and is licensed under CC BY-SA 2.0