While Jay-Z and Beyoncé were accused of — and admired for — appearing above the law by spending their wedding anniversary in Cuba, it turns out they file the same paperwork as the rest of us.
Word of a Knowles-Carter wedding anniversary vacation instantly sparked speculation about whether the trip was legal, given travel restrictions placed on the communist country by the U.S. government. According to documents released by the Treasury Department to MuckRock user CJ Ciaramella, the April trip was a carefully structured educational exchange that stayed in line with permitted travel.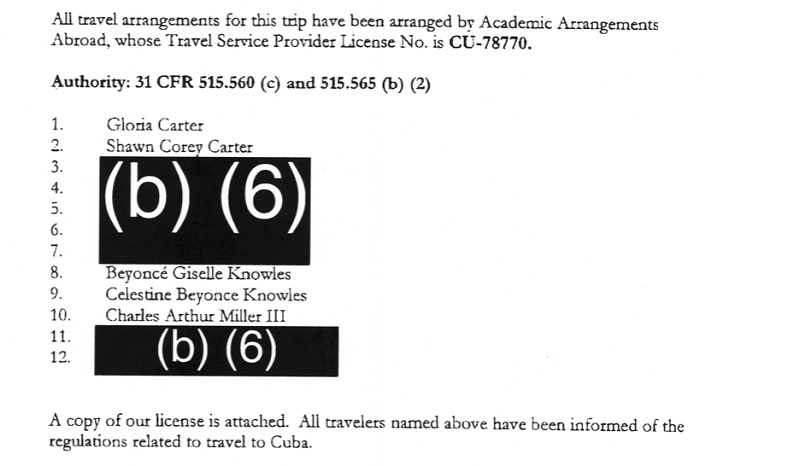 Beyoncé and Jay-Z traveled under the license of the Sir John Soane Museum Foundation, whose Cuba travel license renewal is included among the responsive documents.
Included in the license renewal application is an itinerary from an earlier trip, letters stating the continued mission of the Soane Museum Foundation and Marazul travel agency forms submitted on behalf of Jay-Z, Beyoncé and their parents. Forms presumably submitted for Knowles-Carter children are redacted.
Read the full documents embedded below, or on the request page.
---
Image by Matthew G. Bisanz via Wikimedia Commons and is licensed under CC BY 2.0